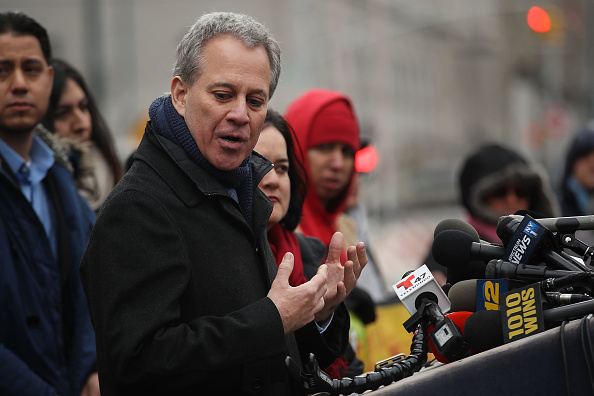 A federal appeals court dismissed a challenge to a $25 million settlement stemming from lawsuits against President Donald Trump's real estate seminar program, Trump University.
In 2016, Trump agreed to pay $21 million in settlements for two class action lawsuits in California, along with another $4 million to settle with New York Attorney General Eric Schneiderman. In March 2017, a federal judge approved the settlement.
Sherri Simpson, an attorney based in Fort Lauderale, Florida, appealed the settlement so she could take Trump to court for more than $19,000 that she spent on courses, as well as a mentorship program.
However, the Ninth Circuit Court of Appeals rejected the appeal, according to POLITICO.
The court's rejection of the appeal means that the approximately 4,000 former Trump University students will be able to start receiving payments from the settlement, POLITICO reported.
"Today's approval of the Trump University class action settlement by the Ninth Circuit means that victims of Donald Trump's fraudulent university will soon receive the $25 million in relief they deserve," Schneiderman said in a statement. "We are pleased that the final settlement we negotiated with our co-plaintiffs ensures that members of the class will receive an even higher settlement than anyone originally anticipated."
Simpson's attorneys argued that notices sent to university participants gave them the option of leaving the class action lawsuits immediately or after any settlement was put forward, but Judge Jacqueline Nguyen, along with Judges Andrew Hurwitz and Steven Logan, disagreed with that interpretation, according to POLITICO.
The judges contended the request had a "whole political aspect" to it and pointed to  "significant hurdles" stemming from a jury trial against a sitting president.
The attorney general said his office would continue to hold Trump and others accountable for fraudulent actions.
"For years, President Trump refused to compensate the victims of his sham university," Schneiderman continued. "His reversal in 2016—and the large-scale settlement that resulted—opened the door for student victims to finally obtain the restitution they deserve. My office will continue to hold those who commit fraud accountable, no matter how rich or powerful they may be."