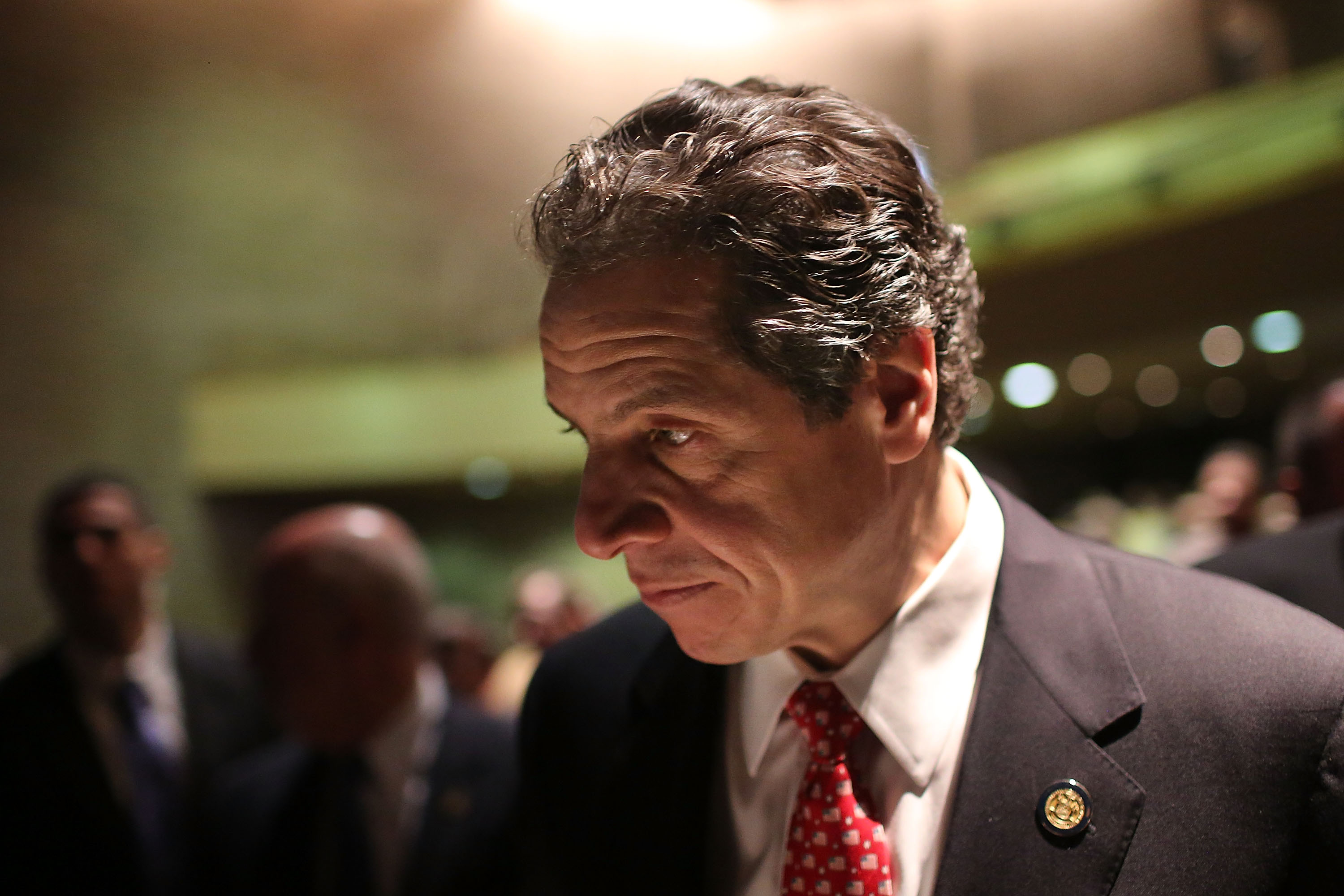 It's an election year, so the monthly polling results from stalwarts like Sienna and Quinnipiac are receiving a lot more attention than they usually do. Today's news from Sienna finds that Gov. Andrew Cuomo has dropped in his favorability (down to 53 percent from 62 percent last month), his job approval (down to 45 percent from 50 percent), and if voters would vote for him for re-election (down to 50 percent from 55 percent). While the re-election metric is the only one that truly matters, none of these numbers are great. But none of them are particularly problematic either.
Are voters tired of Cuomo? Two terms of any executive usually hits the outer reaches of most voters' attention spans. But they're not voting in a vacuum. The election isn't Cuomo versus Cuomo. And that's why this poll isn't as bad as it's being made out to be.
Half of the voters say they want to re-elect Cuomo. This is not an uninformed view—he's been around forever. He has been governor for seven years, attorney general for four, and he had a stint at the U.S. Department of Housing and Urban Development. At this point, voters know how they feel about him. If half of them support a third term—and this is before Cuomo starts spending big money campaigning—something new and materially bad would have to happen to get that number below 50 percent.
Percoco's trial hasn't made anyone involved look good, but it also hasn't implicated the governor in any wrongdoing. Absent a new bombshell, this trial is not going to materially change Cuomo's base of support. The state budget process is too insular to impact many voters, regardless of its outcome (plus it's an election year for everyone, so a smooth, quiet session is in Albany's interests). Trump, as we know him, only helps Democrats running this year, and the odds of Trump changing his behavior are about as high as Cuomo deciding that he doesn't really like politics after all and that he will abandon a third term bid to devote himself to muscle cars.
The possibility of a major disaster poses the greatest risk. If he screws up a hurricane response, everyone sees will see it, and it will immediately impact their opinion of him. But that works in both directions and Cuomo, to-date, has been good about appearing on top of things during periods of crisis.
New York—and especially political insiders—are stuck in the boring dynamic of having a competent, generally effective governor that many of them personally dislike. But misreading personal frustration with Cuomo or schadenfreude over Joe Percoco's trial with actual political risk would be a mistake. Yes, Cuomo's numbers aren't as good as they were a month ago, but the fundamentals of the candidate, the electorate, and the election remain unchanged. And that's why, when we look up a year from now, the person running the state will be unchanged too.
Bradley Tusk served as Mike Bloomberg's campaign manager in 2009, guiding Mayor Bloomberg to a third term.