The women on Dynasty, Scandal and How to Get Away with Murder know how to make a bold statement, especially when it comes to their sartorial choices. As these ladies have clearly learned, one way to elevate any outfit is with elegant and enigmatic accessories—a power move often deployed by Fallon Carrington, Olivia Pope and Annalise Keating.
The CW's Dynasty reboot puts a contemporary spin on the iconic looks from the original series, which debuted in 1981. To top off the '80s-inspired designs, characters regularly frost themselves in decadent details to indicate the wealth of the family from which they come. A show favorite is Vhernier, an Italian jewelry company founded in 1984, during the original Dynasty heyday. The baubles are inspired by contemporary art and architecture and are hand-sculpted, making individual items unique. In the same way that TV looks back to the past, so too does Vhernier, recreating their early collections using titanium. Vhernier also looks forward; marrying elegance and modernity through new designs and materials.
When Fallon Carrington tries to get her own business off the ground in the episode "Private as a Circus," she opts for a super feminine all-pink luxury Italian ensemble; a matching Moschino boutique embroidered skirt suit, pink pumps, Valentino Garavani studded crossbody bag and Vhernier earrings. Even her lipstick is pink. Fallon dresses to the occasion to show that she can command any room. Sometimes it doesn't quite work out to plan, but she certainly looks the part. It is hard to see a matching pink skirt suit without envisioning Jackie Kennedy in Chanel, but Linda Evangelista on the cover of Vogue in the mid-90s also springs to mind. Color coding your entire outfit right down to your makeup might seem a bit much, but Fallon shows how to make each part pop. The Vhernier pink sapphire and white diamond earrings certainly stand out in this sea of pink.
In Dynasty's pilot episode, Fallon gets into a physical altercation with her soon-to-be stepmother Cristal. The confrontation occurs just as Cristal is getting ready to marry Fallon's father, and Fallon's studded Mulger cut-out frock indicates how she feels about the union. Costume designer Meredith Markworth-Pollack has ensured that the gold accents run from her dress down to the René Caovilla crystal embellished pumps. Fallon's 18K rose gold Abbraccio earrings by Vhernier stay perfectly put during the fight, and the matching hand-sculpted ring serves as a threatening would-be weapon. Look familiar? The earrings also appeared in Edward Enninful's first issue of UK Vogue as editor-in-chief.
Olivia Pope was set for a wedding in the recent Scandal episode "Vampires and Bloodsuckers," but Quinn's nuptials don't go ahead—on account of a missing bride. Olivia's outfit switches from guest attire to crisis mode, just by adding a black blazer over her paisley floral jacquard Erdem gown. One of Vhernier's signature styles is bold gold rings, which Olivia pulls off with extreme elegance wearing the Camuration ring in 18K rose gold and Lince earrings in 18K rose gold and diamonds. For her day-to-day jewelry, which includes a variety of Movado watches, costume designer Lyn Paolo told Observer, "Olivia has always been rather understated." But she added, "on special occasions, we have used pieces by Tiffany, Vhernier and Harry Winston."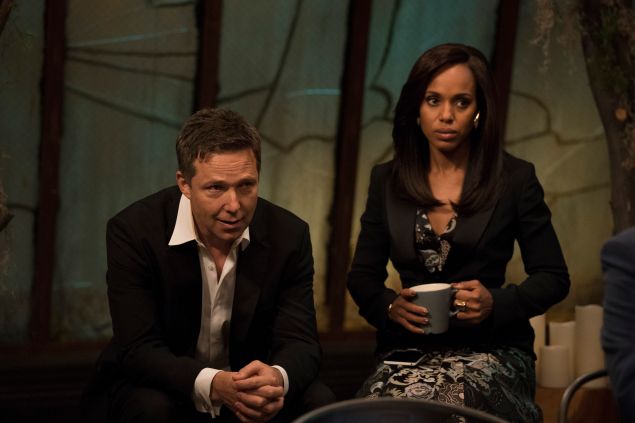 Over on How to Get Away with Murder, Paolo (who also serves on this show's costume team) explained that Annalise Keating has a "much more eclectic collection of jewels." But (spoiler alert!) seeing as Keating's house has recently burned down, her range of styles and accessories has been depleted. "Her collection has become smaller and more delicately designed," Paolo said. The key art for the current season of How to Get Away with Murder features some ear candy from Vhernier's line—Fuseau earrings in 18K rose gold, lapis and rock crystal. One of the attributes that drew Paolo to using Vhernier is "the simplicity and clean lines."
Good relationships with brands is important to a costume designer, particularly when sourcing high-end pieces (as Paolo emphasized when she last spoke with us). Here, she reiterated, "the team at the brand have been very kind to us. I am forever grateful to Christiana Vigano for her help in loaning many gorgeous pieces to both shows. I loved that we were able to highlight the brand by having Annalise Keating wearing Vhernier earrings for our season four advertising campaign."
Statement jewelry doesn't have to be oversized to make an impact, as the women on Dynasty, Scandal and How to Get Away with Murder can testify.