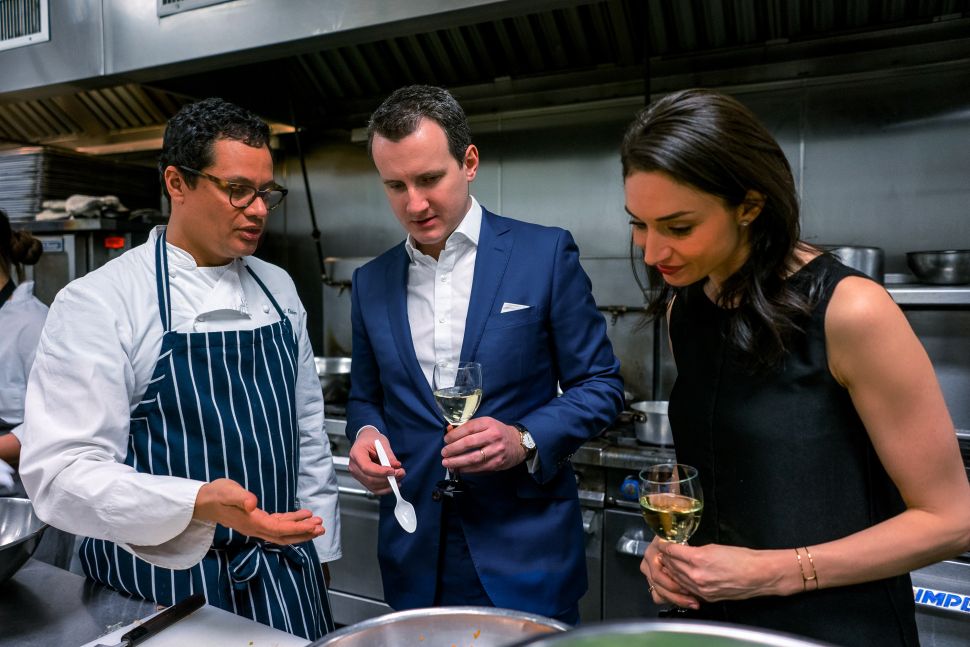 On any given night as friends and family gather to break bread, it's predictable that at least one person sitting at the table will announce a dietary restriction.
"Bread?"
"No thanks, I'm gluten-free."
"Pasta?"
"None for me. I have I.B.S."
"Cheese?"
"Sorry, I'm vegan."
With two in every five people in the U.S. afflicted by a GI disorder such as I.B.S., Crohn's, colitis, celiac, and non-celiac gluten sensitivity, answering the question "What's for dinner?" has never been more complicated.
Enter Richard Bennett and Renee Cherkezian, the cofounders of Epicured, a New York-based health care company that designs and delivers gourmet food solutions for people with chronic disease. But unlike other services, Epicured offers digestion-friendly, non-G.M.O. menus free of hormones, preservatives and antibiotics and gluten. All their meals features foods on the F.O.D.M.A.P. diet—a protocol developed at Monash University that has been clinically shown to have a positive impact on people who suffer from I.B.S.—and 25 percent of Epicured's menu is diabetic-friendly. But if you're envisioning a Blue Apron-like situation where everything is D.I.Y., you're wrong. Epicured comes prepared. It's like seamless—but where every choice suits your dietary needs.
Bennett and Cherkezian first met when they were freshmen at Georgetown University and knew each other for decades before joining together to create Epicured.
"Renee was working as a nurse," Bennett told Observer, "before she made the bold move of leaving Columbia Presbyterian and relocating to France to become a chef." When Cherkezian returned to New York, she worked as a nurse by day—and an intern at David Burke's Kitchen by night. "She basically didn't sleep for a few years," joked Bennett.
As for his expertise, Bennett worked as a health care executive and entrepreneur for years, across hospital administration, physician practice acquisition and supply chain management.
One night in 2015, over dinner with Cherkezian, the topic of friends who were suffering from health challenges came up, and the conversation quickly turned to using food as medicine. By the time the dinner was over, Epicured had been hatched.
Today, Epicured delivers several thousand meals a week from its kitchen in Long Island to hungry New Yorkers throughout the five boroughs as well as Westchester, Fairfield County, Connecticut and New Jersey. By the summer of 2018, the company plans to expand service to the Eastern seaboard between Boston and Baltimore, and efforts to raise Series A capital by the end of 2018 or the beginning of 2019 are in place.
Bennett points out that 50 percent of Epicured's client base are not on a restricted diet. "These people may not need to eat our food, but they still like healthy, portion-controlled meals that taste good," he said. That their food is delicious, attracting those who simply wish to have tasty, hassle-free meals delivered to their door, has been critical to Epicured's success.
"Our kitchen is manned by Michelin chefs," he said. "We consider ourselves to be at the intersection of the culinary and clinical." It's easy to see how menu items such as chicken tikka masala, carrot-ginger soup and truffled mac and cheese (served with mixed greens and Provençal vinaigrette) could whet anyone's appetite.
Bennett feels strongly that one of the problems with a limited diet is not only how it's treated by society, but also how it gets in the way of an essential cultural practice: sharing a meal with others. "We know for millennia that food has been central to civilization and how we interact together," he said. "We try to pay respect to that and make the food a unifying part of our customers' day, as opposed to an isolating experience. Our goal is to lead with taste." Making delicious food that anyone can enjoy helps remove the stigma of diet-treated conditions, allowing people with food restrictions a care-free way of taking part in this elemental social experience.
As for the future growth of the startup, Bennett's vision is to expand beyond the current home delivery. In the future, watch for the company to create a full suite of offerings for diabetics, introduce menus for pre- and post-bariatric procedure menu and even expand into hospitals and therapeutic facilities where meals are an important concern. Epicured is currently in talks with Mount Sinai and is in discussion with a large corporation in Manhattan to be the on-site meal provider.
Still, even as an experienced entrepreneur, Bennett is facing the typical challenges of scale, quality and culture that impact all startups. "Certainly, when you have raised capital you are working for your clients, employees and investors," said Bennett. "There is a new kind of pressure and dynamic in your life when you make that choice and that commitment. I laugh with my board and our investors that there are many easier ways to make money than what we are doing at Epicured. But to me, this is a meaningful way to spend our time and our capital. To do this purpose-driven work is very fulfilling."
Who knows? The next time a Fortune 500 company holds a corporate meeting in midtown, instead of glazed donuts piled high on the conference room table, an elegant tray of gluten-free peanut butter and chocolate energy bites could be the star. Well, at least if Richard Bennett has his way.