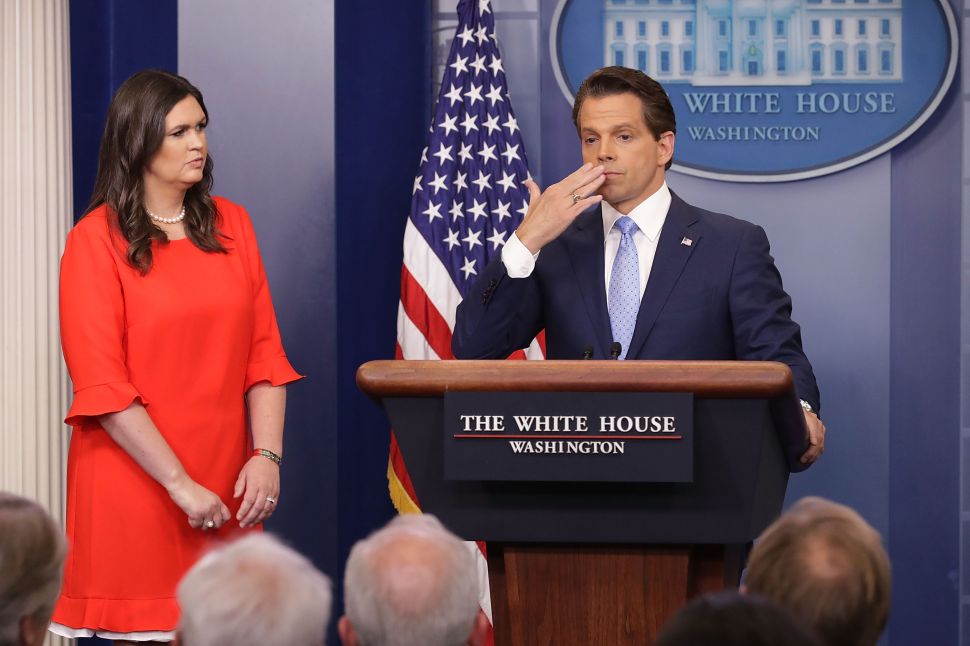 As the Trump administration does damage control over the firing of an aide accused of domestic violence, former White House staffers are using the controversy to influence Washington from afar.
White House Chief of Staff John Kelly has become a bullseye for former officials looking to court President Donald Trump, especially as the Porter conversation turns to national security implications.
Both the briefly tenured White House Communications Director Anthony Scaramucci and longtime Trump advisor Roger Stone have publicly denounced Kelly amid the scandal and recommended the president's chief of staff resign outright.
Responding to FBI Director Christopher Wray's testimony before the Senate Intelligence Committee on Tuesday—in which the bureau contradicted the White House's timeline of events over an investigation into Porter—Scaramucci tweeted that Kelly's handling of events was "inexcusable."
"Kelly must resign," wrote the former aide over Twitter.
The Mooch reportedly consulted with the president before sending the tweet, according to The Daily Beast.
Roger Stone also told the outlet that Kelly should be fired for his handling of the episode, echoing similar sentiments expressed by former Trump advisors Chris Christie and and Corey Lewandowski over the weekend.
"This is about competence," Christie told ABC's This Week on Sunday. "And you have to, as chief of staff, be able to competently run the place."
Ten days into the Rob Porter controversy, the Trump administration has failed to articulate a clear message addressing issues of national security, including the use of interim clearances granted to Porter and other top White House officials. Congressman Trey Gowdy (R-S.C.) announced an investigation into the episode led by the House Oversight Committee on Wednesday morning.
Shortly after Gowdy's announcement, POLITICO reported that White House Press Secretary Sarah Huckabee Sanders was pushing for Kelly to face reporters in a press conference and that the president supported her.
Although Trump is weighing a decision to fire Kelly—and is reported to have spoken with his former chief of staff Reince Priebus on the incident—doing so would exacerbate an already dysfunctional upper-management.
Amid all the reports of chaos, infighting and conflicting narratives, Priebus poured fire on the gasoline in a statement made to a writer covering the Trump administration.
"Take everything you've heard and multiply it by 50," he said.