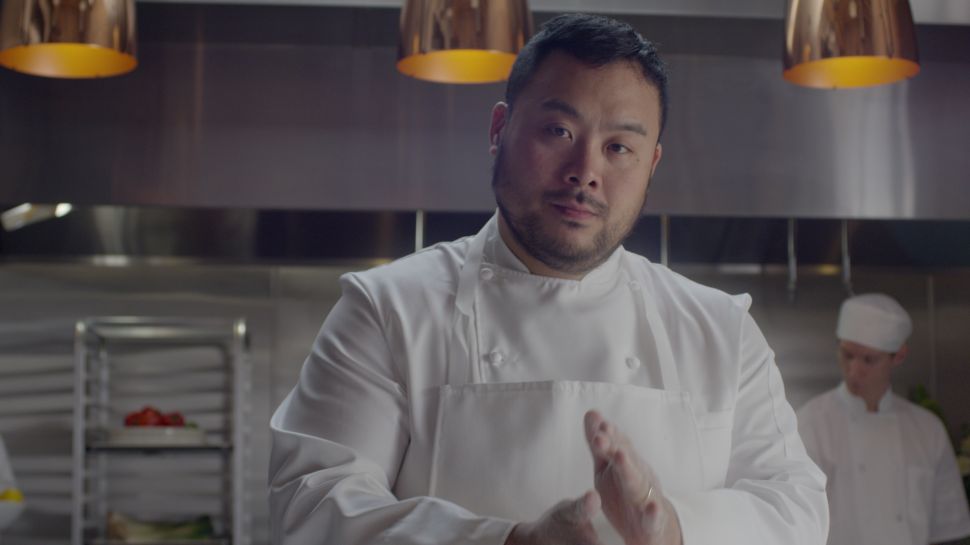 "We wanted to be truthful, we wanted to tell stories that weren't being told," chef David Chang told Observer, describing, in the simplest terms, the reason for making his new Netflix (NFLX) show, Ugly Delicious (out on February 23). "We wanted to show that multiple truths can be true; that often your cultural food beliefs were most likely going to be wrong."
Amusing and provocative, the show centers around the Momofuku chef and his rolling cast of food aficionados and celebrities as they make the case for an underappreciated, yet universally known credo: that the edible is political. Their conversations about iconic foods veer into discussions about race, identity, oppression, authenticity, innovation and not giving a fuck about what others think. 
Traveling the world, Chang delves deep into the stories of people who make wonderful food. But he's not afraid to push those people out of their comfort zones. Watch as he has Domino's delivered to beloved Brooklyn pizzeria Lucali, convincing proprietor Mark Iacono to eat a slice, though Iacono later threatens to kick Chang's ass if he ever does it again. Make up your own mind about whether Chinese dumplings or Italian stuffed pasta come out on top in the hierarchy of food, as Chang and Mario Carbone argue vehemently for their respective favorites.
And you'll learn a lot, too. Find out the origin of Chang's whole-plate short rib (available at his new L.A. restaurant, Majordomo) before watching Jimmy Kimmel enthusiastically feast on the dish. Or marvel at the refinement of your own palate while discovering the flavors that tacos and dim sum both share…something you'd always suspected.
"I think the American experience is an experience of cultural appropriation," David Simon, creator of The Wire, tells Chang in the episode about fried chicken. "It's what we do best."
The reason this show has such an ability to open your mind? Because it's happening to Chang too, right there on screen. Recalling the most altering experience he had while filming Ugly Delicious, Chang talks about meeting the Trans, a Vietnamese family who came to the U.S. as refugees, had to contend with the Ku Klux Klan, and now run a thriving shrimping operation in Texas.
"They work very hard," Chang said. "And I was just surprised to see their political viewpoints. I didn't expect them to be as conservative as they are. They call themselves Vietnamese rednecks."
Since filming the show, Chang has thought a lot about the Trans, and a conversation he had with them about immigration. (You'll see the discussion in the episode focusing on shrimp and crawfish.) "The Trans were essentially persecuted when they immigrated to that town, the K.K.K. was chasing them around," Chang said. "What I learned was, I can't tell them they're wrong." Though he doesn't agree with their conservative viewpoint, "I would probably have the same beliefs. Because, guess what, it's better to assimilate than to be persecuted."
Chang, who's the Korean-American son of immigrants, with a "relatively conservative father," realizes that there are all sorts of forces that power a person's political beliefs. "Man, if I'm in Palacios, Texas, and I'm second-generation Vietnamese-American, I'm most likely also going to have these similar views," Chang said. "I've been really thinking about it. If they had moved to Austin, Texas, and everyone welcomed them with open arms and they weren't persecuted by the fucking K.K.K., maybe they would be a little bit more liberal. So much of it is happenstance."
These thoughts Chang's been having aren't in the show, but they are the point of the show. Food is something we share. It's a way to start conversations, and a good analogy for how we are all united, yet different, and ultimately more blended than we initially appear.