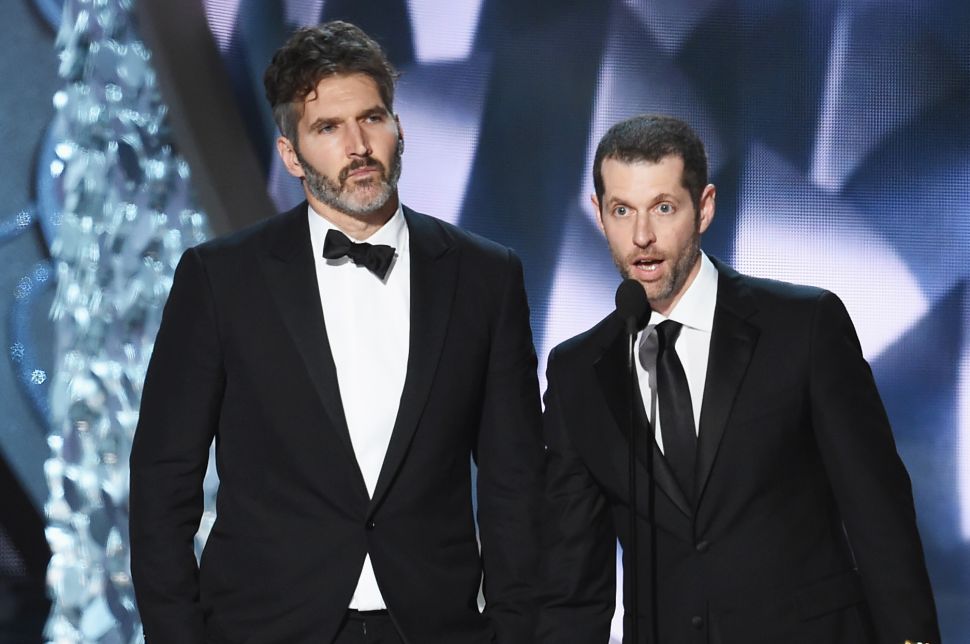 We most certainly do not have a bad feeling about this.
Game of Thrones showrunners David Benioff and D.B. Weiss will write and produce a new series of Star Wars films, Disney announced Tuesday. These new movies will stand apart from both the main episodic saga and Last Jedi director Rian Johnson's planned spinoff trilogy.
"David and Dan are some of the best storytellers working today," said Kathleen Kennedy, president of Lucasfilm. "Their command of complex characters, depth of story and richness of mythology will break new ground and boldly push Star Wars in ways I find incredibly exciting."
"In the summer of 1977, we traveled to a galaxy far, far away, and we've been dreaming of it ever since," Benioff and Weiss said in a joint statement. "We are honored by the opportunity, a little terrified by the responsibility and so excited to get started as soon as the final season of Game of Thrones is complete."
No word yet on when fans can expect to see these films, but as we know from previous comments, Lucasfilm is examining how it can leverage the Star Wars brand for the next decade-plus. It is unclear what this means for the duo's planned HBO slave drama Confederate, which generated considerable controversy when it was announced.
While the creative force behind television's most massively ambitious and successful show should inspire endless excitement in Star Wars fans, it's fair to point out that Kennedy has gone on record with her desire to hire more female talent behind the scenes for the franchise.
As of now, that stated desire has yet to be acted upon.
Last quarter, Disney CEO Bob Iger announced Johnson's new trilogy himself. This time around, the company sent out a press release shortly before earnings announcing the Benioff and Weiss hires. The Mouse House is nothing if not savvy.
https://www.youtube.com/watch?v=ZQT-3JODB8k