Bushwick, formerly a quiet, industrial corner of Brooklyn has emerged over the past decade as a hub for bars packed with cooler than thou patrons, oft-Instagrammed street murals and, the ultimate millennial lynchpin: top-rated restaurants.
Bearing witness to this dramatic evolution is Chef Kevin Adey, an alum of the dearly departed foodie destination, Northeast Kingdom. Living and cooking in Bushwick for nearly ten years, Adey offers a unique perspective on North Brooklyn's sea change. He's also at the helm of two current culinary projects: pasta oasis Faro and brand-new Sichuan eatery, General Deb's.
Reminiscing about his early days as a chef in Bushwick, Adey notes that there were a limited number of restaurants, but boundless ambition and potential. "[At first,] there was only Northeast Kingdom," Adey recalls, of the farm-to-table restaurant from husband-wife duo, Paris Smeraldo and Meg Lipke. "People went there seven days a week, because it was the only place in the neighborhood. For about three years, Northeast Kingdom stood alone." Not long after, there was an influx of chefs "with no desire to make anything but money," Adey explains, noting that their lack of passion led to their swift demise. 
While Adey didn't reveal the specific restaurants to open and close in Bushwick during this transitional period, our research turned up tales of venues attempting to carve out a home in the newly-hip neighborhood. They sabotaged their own efforts with unrealistically-high prices, unfocused menus and a failure to connect with the area's residents. The Village Voice highlighted Hibachi Tiki Hut as a notable example; the erstwhile wood-fired barbecue spot on Broadway suffered from inhospitable environs, dishes without the flavors to justify their high cost and a dismissive attitude from the ownership. After opening in 2009, Hibachi Tiki Hut permanently shut its doors about a year later.  
After the early-aughts, Adey observed a secondary surge of newcomers to the Bushwick culinary scene. To his relief, these aspiring chefs and restaurateurs weren't mere opportunists, but instead came to Bushwick to pursue creative desires and to serve the local community. "The second wave of new people saw the scene growing here, and they had some skill, and they wanted to provide something specific to the neighborhood. They succeeded because they saw an opening in Bushwick to fulfill a need, and they jumped on it," Adey explains. "I think that's where we are now and it's a good place to be."
Following in the footsteps of Bushwick pioneers like Roberta's, these "second wave" restaurants feature excellent ingredients, professionally-trained chefs, and laid-back, inviting atmospheres. The cuisines vary wildly, reflecting Bushwick's multifaceted population; highlights include the wood-fired sourdough pizzas at Ops, the Cajun-influenced bar bites at Heavy Woods and the classic French bistro fare at Le Garage.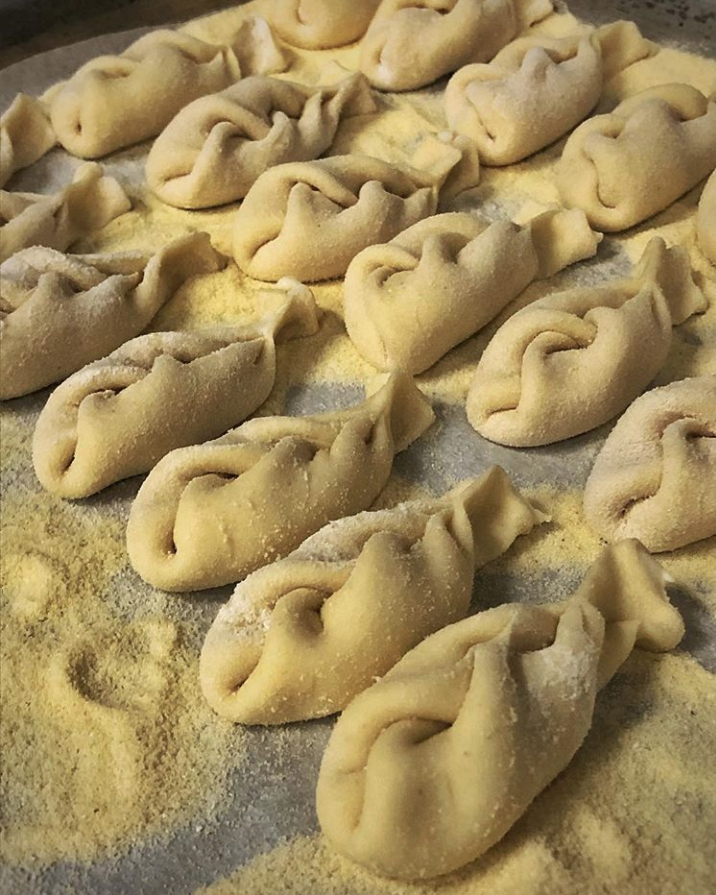 Armed with his own concept of culinary success for the outer boroughs, Adey opened Faro, a seasonal pasta restaurant, in 2015. For his first solo venture, Adey focused on ingredient-driven dishes of the highest possible quality. To that extent, he personally sources produce grown by upstate New York farmers, while his team mills grains and butchers meats in-house.
Now boasting a Michelin star, Faro elevated the culinary landscape around the Jefferson L stop, turning this particular pocket of Brooklyn into a destination fit for even the most elite Manhattan diner. Adey attributes Faro's success to his determination to open a restaurant that felt true to his personal style. In the interest of this goal, Adey consciously avoided tactics that often prove successful for restaurants in emerging areas: "I purposely chose not to put a fryer in the Faro kitchen, because I knew that once we had the set-up, I'd be pressured to add a burger and fries to the menu," he admits. "Things aren't working out? Put a great burger on the menu and turn it around. If I did that, I'd be living someone else's dream, rather than my own."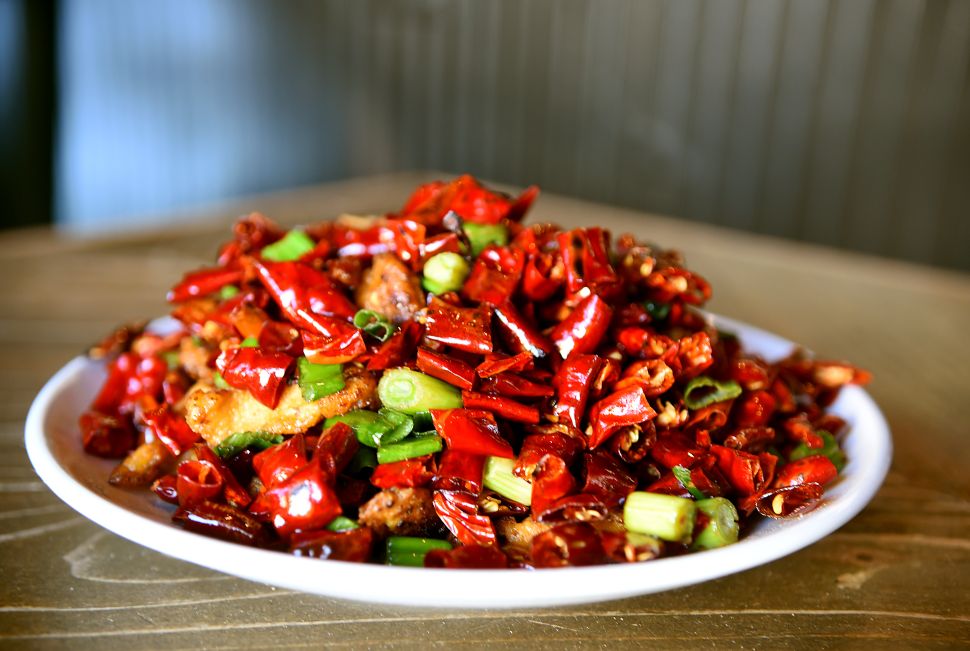 While Faro represented Adey's vision of his own culinary aspirations, his second Bushwick venture—General Deb's, a Chinese destination on Irving Avenue—drew inspiration from the needs of the neighborhood. As a resident of Bushwick himself, the chef was tired of taking the train to Manhattan every time he wanted a solid bowl of noodles and dumplings.
In February 2018, Adey and his wife Debbie, the restaurant's namesake, finally turned this ambition into a reality. Specifically, they opened a cozy 30-seat restaurant just blocks from Faro, serving Adey's inventive spin on spicy Sichuan cuisine. Along with classic dishes like Dan Dan Mien with minced pork, sesame and chili and pork and chive wontons slicked with red chili oil and served with black vinegar and soy, Adey's menu includes harder-to-find examples of vibrant Sichuan dishes, like Niurou Mien—cow head cooked with cabbage, chili oil, ginger, and anise, then served over noodles—and "Bang Bang" steamed rabbit served chilled with a spicy sesame sauce.
"A lot of the food I make at Faro relies on subtle nuance, but sometimes, I just want my mouth to experience some big, bold, awesome flavors. There is nuance and restraint to the food at General Deb's, but it's a very different version than what we do at Faro." So far, Adey is pretty satisfied with Bushwick's response to General Deb's. "In the short time since we opened, we've attracted neighborhood regulars who come in three or four times a week, and that's really making me happy."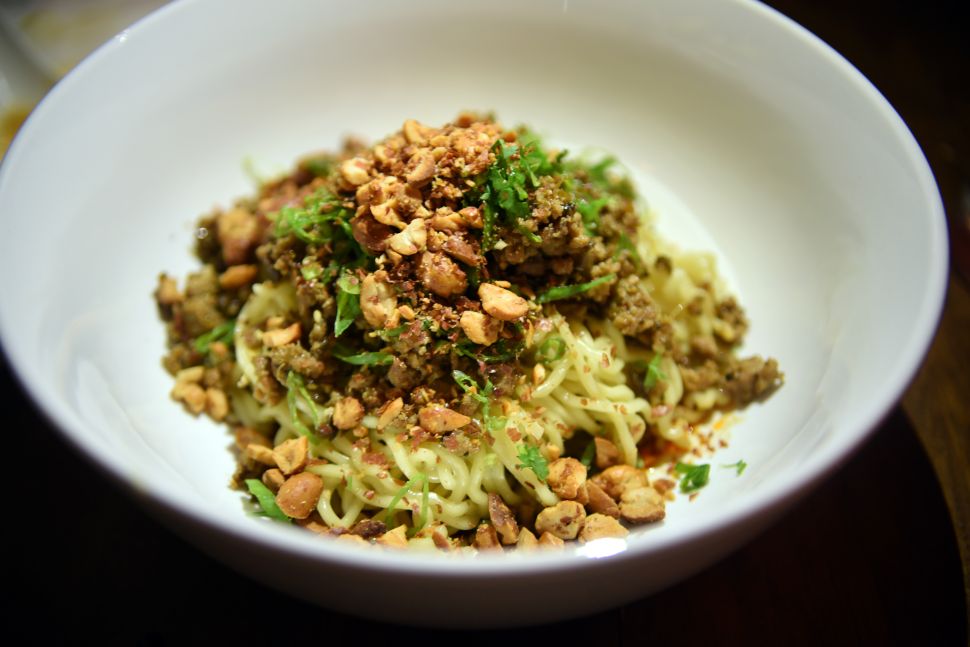 Adey feels a strong attachment to his chosen neighborhood of Brooklyn and he predicts positive developments in the future of Bushwick's food milieu, provided that the neighborhood as a whole continues to invest in its own growth.
"I love Bushwick. I like the people, I like the atmosphere, I like the vibe. But I think that the restaurant scene here would be helped by more housing. I want to see more restaurants and more options for entertainment, beyond food and drink. That's really going to help Bushwick move into the future." And hopefully, so will a good Chinese restaurant.