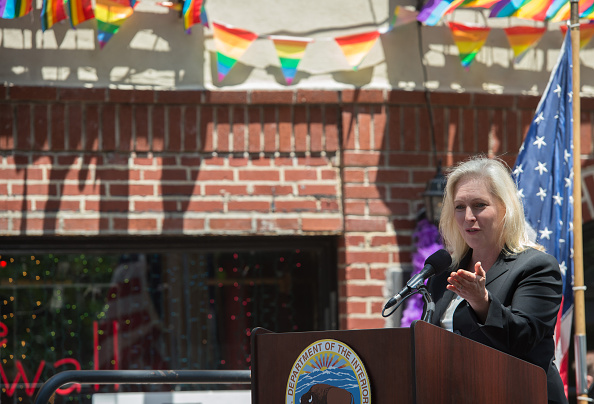 Sen. Kirsten Gillibrand, a rumored 2020 presidential candidate, says the best way to ensure passage of legislation extending civil rights protections to LGBTQ individuals is by flipping the GOP-controlled House and Senate to ensure a "new president" who can sign the bipartisan bill.
At the Greater New York gala of the Human Rights Campaign—the United States' largest LGBTQ civil rights organization—Gillibrand said that as the year progresses, elected officials, LGBTQ advocates and supporters can advocate, organize and vote to guarantee protection of LGBTQ rights.
"That mission starts now," she said before 500-plus attendees at the New York Marriott Marquis hotel in Manhattan on Saturday night. "It starts in 2018 because when—with our votes—we will flip the House and the Senate. When we flip the House and the Senate, we will make the progress we need towards social and economic equality for all."
Gillibrand expressed hope that the Equality Act, legislation that would revise the Civil Rights Act of 1964 to include protections on the basis of sexual orientation and gender identity, will be signed into law if there is a new president. The bill was reintroduced in May 2017 with bipartisan support.
"We know this president will never sign the Equality Act to ensure the civil rights of LGBTQ Americans," Gillibrand continued. "He has neither the decency nor the empathy to do so but even within him in the Oval Office, we can make progress because with a Democratic majority in the House and the Senate, we can create the momentum that we need for a new president to sign that bipartisan bill in 2020," she said.
She vowed to spend the remainder of Trump's presidency and subsequent years marching in the streets and helping the country's most vulnerable communities.
"We must never give up, we must never give in and we must stand up for everyone because our time is now," she added. "At this critical moment in our nation's history, we are up for this challenge and we will prevail."
During her 13-minute speech, Gillibrand recalled her role in getting the military to repeal the "Don't Ask, Don't Tell" policy that prohibited LGBT individuals from serving in the military in 2011, calling it a "monumental task."
"It remains one of the proudest moments of my career," Gillibrand said. "That experience was a turning point too because it taught me a fundamental lesson that I will never forget: Washington only acts when courageous people—people like all of you in this room—stand up and demand it and that's a cold, hard truth: that change only ever happens when all of us unite and speak out to make our voices and our stories heard."
And she immediately took aim at the Trump administration. She recalled a young transgender boy at her 14-year-old son Theodore's school gaining the courage to be comfortable with his identity.
"When President Trump looks at our transgender troops as valueless and when his party tries to demonize this boy and every other like him, this arrogance and bigotry will provoke a fury in me that will not subside," she continued.
She noted that when Trump tried to replace Eric Fanning, the first openly gay Army Secretary with Mark Green—an anti-LGBT state senator from Tennessee—thousands of LGBT advocates fought back, forcing him to withdraw his name from consideration for the position.
Gillibrand also said she and Sen. John McCain (R-AZ) introduced bipartisan legislation to block Trump's ban on transgender people serving in the military.
And she assailed the U.S. Department of Justice for defending a business's right to refuse gay customers. She added that Justice Neil Gorsuch was nominated to the U.S. Supreme Court with one of the "worst" anti-LGBTQ records and noted that 75,000 recipients of the Deferred Action for Childhood Arrivals program for undocumented youth are LGBTQ individuals.
Still, she noted the hate "has't been limited to just policy," pointing to a rise in hate crimes.
"This administration's words and deeds have affected the most vulnerable in our communities, especially people of color, immigrants, women, Muslims and our LGBT communities," the senator added.