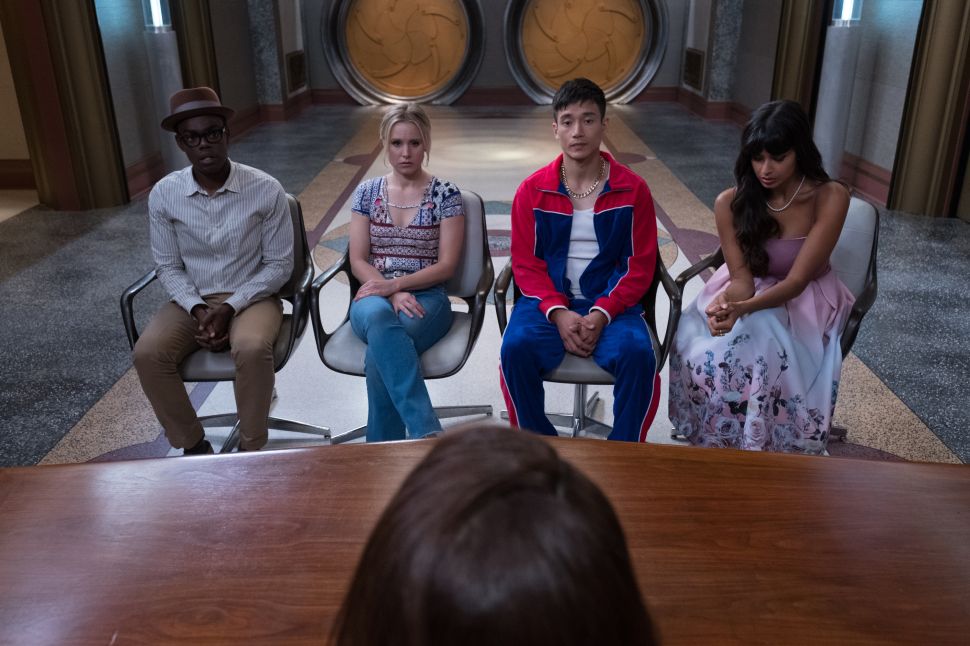 NBC's The Good Place is one of the best shows on television, and if you're not watching it, we legitimately question your intelligence. We also want to offer you a *spoiler warning* in case you are planning to watch it, but haven't yet.
Season one of the well-reviewed comedy shocked audiences when it revealed in the finale that everything that had come before it had actually occurred in The Bad Place.
Yes, the entire season was a brilliantly constructed ruse that opened the door for endless possibilities this season, and the second go-around more than delivered.
But the only downside of this unexpected rug-pull is that fans have been looking for the next "gotcha!" moment ever since. With tonight's season two finale, audiences are on high-alert for any clever trickery that might arise.
However, creator and showrunner Michael Schur is letting everyone know that won't be the case… most likely
"If you just keep yanking the rug out from everybody, and going, 'Everything you thought is now this totally different thing!,' then I, as a viewer, would start to go, 'Well, why should I believe anything you say?'" Schur told Entertainment Weekly.
"All you're doing is watching the show and trying to guess the actual reality of what's going on. So, we don't do that," he continued. "The end of this season is not 'Guess what? We were right the first time—it really is the Good Place!' You could just keep doing that forever, but it's utterly diminishing returns. We tried to remain true to the DNA of the show in that we tried to do things that are interesting and surprising and maybe you didn't see coming, but everything that you have learned about them to this point remains similar. Or actually, really true."
So expect some surprises, but perhaps not any major twists. Have we got that right?
Obviously, Schur wasn't going to go into specifics (this is the same guy behind The Office and Parks and Rec, so this isn't his first rodeo), but he did offer a small (maybe big?) clue for the finale tonight.
"The very, very last thing that happens in this season is a pretty perfect bookend as it relates to the first thing that happens in the season," Schur said. "It feels like a completed journey in some way. Not completed like the show's over, mind you, it's not a series finale. It makes a lot of sense given what happened at the beginning of the year."
The Good Place will wrap up its second season tonight on NBC at 8:30 p.m. ET.