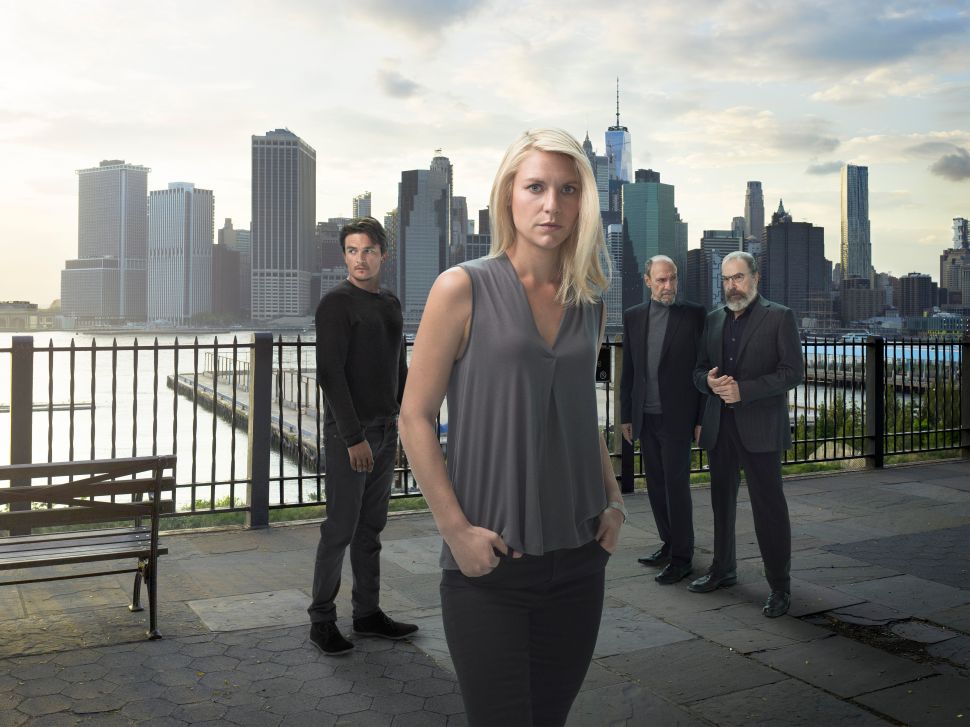 Showtime's Homeland has been on a roller coaster ride of quality ever since the mid-point of the second season. After burning through the best parts of its Brody storyline, the show has struggled at times to find its creative groove. Season six was no different with a bevy of highs and lows.
In season seven, showrunner Alex Gansa and the creative time will attempt to ground the show a bit more in reality by taking direct inspiration from President Donald Trump.
"It's going to be an interesting Homeland season," Gansa told Variety of the show's penultimate run, which premieres on February 11.
The new season will pick up almost two months after the finale of season six, which saw Peter Quinn (Rupert Friend) sacrifice himself to save president-elect Elizabeth Keane (Elizabeth Marvel). As a result, Keane's war of retribution against her enemies has had some casualties, most notably Carrie's (Claire Danes) White House standing and Saul's (Mandy Patinkin) freedom.
When we check back in, Keane is seeing adversaries everywhere, even when there are none to be seen. According to Gansa, her paranoia comes from the current environment in Washington, D.C.
"I'm just addicted to MSNBC, Fox and CNN every night," he told the outlet. "Donald Trump didn't win an Emmy for The Apprentice, but he should win an Emmy for this because he's responsible for some pretty unbelievable television on a daily basis. And he should get props for that."
Specifically, Gansa noted how America's intelligence community appears to be on the defensive from its own government and how he found that lent itself to interesting storytelling possibilities.
"It was hard to say, 'OK, let's go tell a story in Paris. Let's go tell a story in South America.' Something very significant is happening in all our lives right now," Gansa explained. "And Homeland, we're just in a very unique position to comment on it in one way or another. And it proved a temptation impossible to resist. What's going on right now in the intelligence community is exactly what we're dramatizing. And to run away from that would feel it a little cowardly and a little false. So we dived in."
In previous post-Brody seasons, Homeland has often offered up a soft reboot of sorts, moving Carrie around the globe and setting up completely new stories that don't always tie directly into the previous season.
However, that's not the case for season seven. Gansa purposely carried over last year's arcs into this new run of episodes because of the current political climate.
"It was wholly as a result of Donald Trump being elected president. And I honestly think that if Hillary had been elected, we wouldn't be doing Season 7 set in Washington, D.C.," he said. "That's what's going on 24 hours a day on cable news. And that's what we're thinking about all the time. So it seemed crazy not to explore and to delve into Washington politics and to find a president who is opposed by the deep state and to try to tell a relevant story to what is actually happening in the real world. So all those things fed into that decision."
Season six of Homeland averaged 1.2 million live viewers, a drop from season five's 1.5 million, per TV Series Finale. In 2017, it was Showtime's second most-watched series behind Shameless (1.4 million).