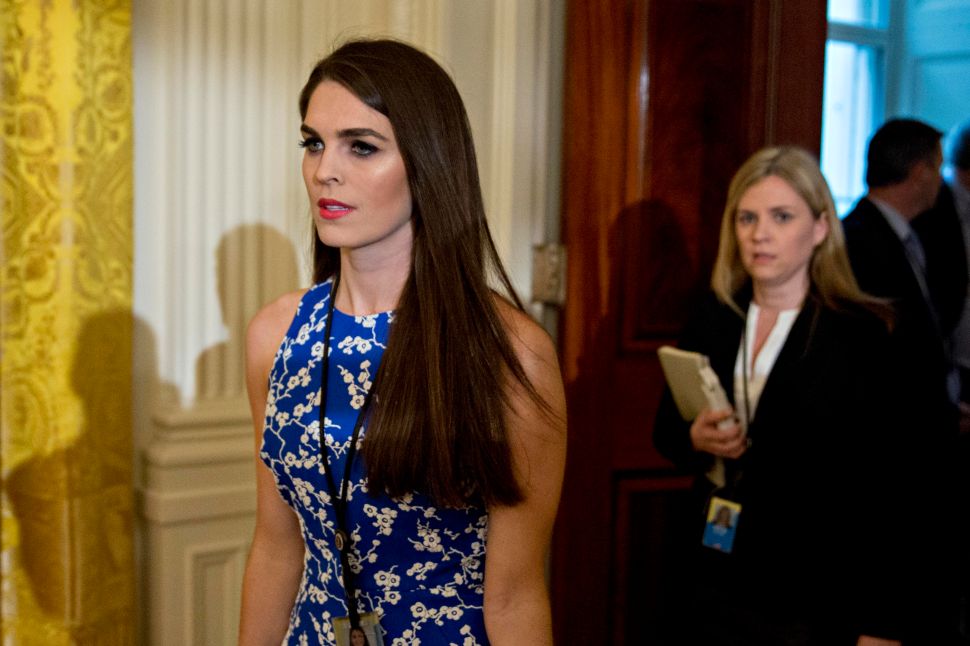 White House Director of Strategic Communications Hope Hicks does damage control for an administration falling from one public relations crisis to the next. Despite this undertaking, Hicks avoids the spotlight and remains elusive in a White House dominated by personalities.
But following the resignation of former White House Staff Secretary Rob Porter on Wednesday, Hicks was thrust into her own Black Mirror nightmare.
Hicks and Porter were dating, and she reportedly drafted a  statement defending him after allegations of physical abuse from his previous marriage surfaced. A second story published Tuesday by The Daily Mail—which included photographs of Porter's second wife with bruises and a black eye— rendered the Trump administration's defense of Porter as a controversy of its own.
After White House Deputy Press Secretary Raj Shah told reporters on Thursday that Hicks had "recused" herself from the scandal, Porter's ex-wife Jennifer Willoughby told CNN's Anderson Cooper later that night, "if [Porter] hasn't already been abusive with Hope, he will be."
The White House's handling of the Porter controversy—including Hicks' involvement and Shah's confession that the administration could "have done better these few days in dealing with this situation"—has infuriated President Donald Trump.
Trump has grown frustrated with Hicks, sources told CNN, and is considering a staff purge.
The president is reported to have asked his former chief of staff Reince Priebus how to manage a dysfunctional White House defined by infighting, controversy and firings. White House Chief of Staff John Kelly is under close scrutiny for knowing about the allegations, even as Porter's profile rose within the administration.
Though Hicks' standing is unlikely in jeopardy, the aide has been swept into her own Trumpian tornado. Whether or not she leverages it is left to her PR instincts.