Thirteen hotels stood near Saranac Lake nearly a century ago, but Hotel Saranac is the only one still standing. Now, after a four-year renovation, the Roaring Twenties edifice stands even taller.

Surrounded by the High Peaks of the Adirondack Mountains, the refresh adds a new chapter to this dog-eared corner of New York, which once was a favorite destination of the likes of Mark Twain, Calvin Coolidge and plenty of Gilded Age tycoons. Beginning in the 19th century, elite travelers, from Vanderbilts to Astors, eloped to the Adirondacks in hot pursuit of summer hideaways from Manhattan's heaving crowds. They planted roots, building grand cottages and camps—now referred to as "Great Camps"—that mirrored old-growth forests. But that's not to say they eschewed luxury, their lodges might have been clad in bark and twigs, but they still kitted it out with a good bowling alley.

Saranac Lake, one of over 10,000 lakes in Adirondack Park (the largest publicly protected wilderness in the country), wasn't on the radar until Dr. Edward Livingston Trudeau brought fame to the area (as well as famed patients and patrons) in the 1870's. Here, Trudeau opened the country's first sanatorium to treat Tuberculosis—with success—by way of nature's cure: Fresh mountain air.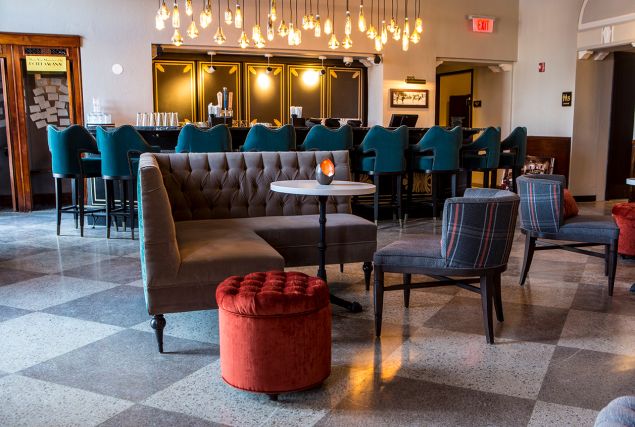 Until the mid-century, when antibiotics finally cracked TB, Lake Saranac was the country's preeminent wellness retreat.
While fires led to the downfall of some of the area's hotels, the Saranac, built in 1927, survived by design: made of steel and brick, it was the area's first fireproof hotel. Later managed by the local Paul Smith's College as an extension of its hospitality program, it never resulted in ashes, but succumbed to dust—the hotel slowly faded to a mere echo of its turn of the century boom. But thanks to a $35 million sweep, heritage shines once again, and just in time for 2020: the Roaring Twenties' take two.
Guided by the New-York Historical Society, artists worked for nine months to restore painted motifs on wooden beams across the ceiling of the hotel's signature feature, a soaring second-floor hall inspired by the 14th century Davanzati Palace in Florence, Italy. A new speakeasy-style bar stirs at one end of the room where bartenders craft Side Cars and Gin Rickeys, nodding to the original hotel's birth in the height of Prohibition. In the summer, doors will open wide to a refreshed terrace for nibbles and sips with views of McKenzie Mountain.
Off the great hall, a Grand Ballroom is restored with handsome wood paneled walls and herringbone floors—double-ringed iron chandeliers, replicas of the originals, hang brighter than ever before.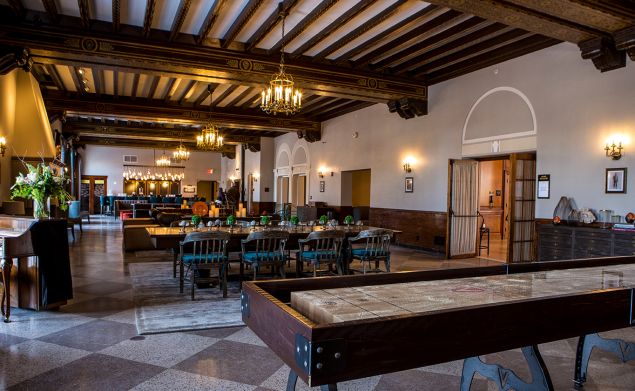 Eighty-two guest rooms offer plain traces of the bygone era with plush blue and burnt-orange fabrics, hints of brass, and dark wooden consoles thankfully updated with contemporary necessities (like U.S.B. outlets). Bathrooms, maintaining the historical architecture, make the most out of tight quarters with rainfall showers and products made by New York City's Red Flower (bringing nature into the fold with ingredients like healing leaf extracts, chamomile and cucumber). Down the road, a separate building—a former office of Paul Smith's College adjacent to the hotel—will add twenty all-contemporary suites into the fold.
The refreshed ground floor sets the scene with a classic arcade—a passageway through the heart of the building lined with service-oriented shops. Among them, Ampersand Salon & Spa taps into nature with treatments like a Mountain Mud Masque, and will soon open a barber shop. Next door, Academy & Main, the hotel's gift shop, stands on its own feet and stocks nostalgic items like old-school board games, cocktail swag and locally crafted items that aren't stocked at fellow shops—so as not to take away their business.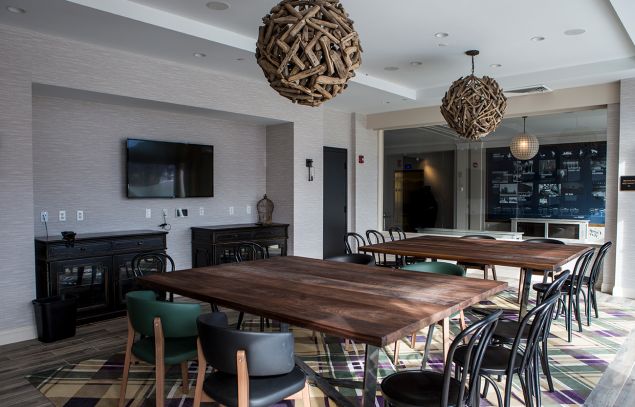 What operated before (two restaurants, one of which was a stodgy white table-cloth affair) won't be missed. Locals have been craving fresh blood, and the new Campfire Adirondack Grill + Bar serves it freely with items like Canadian duck, pork chops and fried chicken from the chef's open kitchen. It's a cozy, home-made vibe, where breakfast starts with a complimentary biscuit, dinner with hot cornbread, and entrées are spiked with local flavor. Their charcuterie boards offer cheeses from mountain creameries like R&G, while the side of Tucker Farms' heirloom potatoes are grown right in the Adirondacks.

There are lighthearted gimmicks, too, like DIY s'mores and cocktails garnished with a toasted marshmallow. The goal, clearly, is for happy campers.
The overarching theme centers on the community, and its stake in the hotel's history. Locals call the hotel iconic, but they actually mean integral. For more than half a century, Hotel Saranac was their dependable venue for proms and weddings. According to the hotel, a handful of couples even put their ceremonies on hold for years just so that, just like their parents, they could tie the knot at Hotel Saranac.
The beards of Brooklyn have yet to nuzzle the Adirondacks quite like upstate's Hudson Valley or Catskills, which makes this charmed pocket of the northern Adirondacks a mostly untapped revival.
Look north—here lies New York's next, original horizon.