When the tenth edition of the India Art Fair opened in New Delhi on February 9, the line of cars to get into the parking lot stretched down the road as far as the eye could see. Some passengers were abandoning their cabs to walk the busy, dusty highway to the entrance by foot because it was at least twice as fast to do so. While stand-still traffic may be an all-too regular occurrence in New Delhi, the steady stream of fair goers indicates an at least cursory and growing interest in buying and collecting art in India.
Make no mistake, the country's art scene has been on the rise for a while, but it's been inconsistent at best, its market sputtering slightly more than other Asian markets after the 2008 global financial crisis and its institutions hampered by ongoing shifts in governmental support. And while the contemporary art world prides itself on its global vision, especially in light of the incessant international fair circuit that drives the market these days, they key to India's success may well stem from a need to focus on itself for a while, promoting its best and brightest artists and galleries.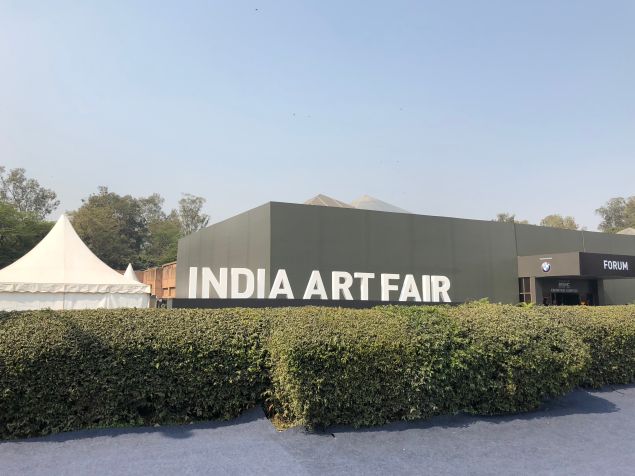 At least that's according to Jagdip Jagpal, I.A.F.'s new director who took the reins this year. She avowed to ensure 70 percent of exhibiting galleries would be from India for as long as I.A.F. was under her direction. "Why would you want to come all the way to India just to see the same art and galleries you see everywhere else?" she said to press in a pre-opening briefing at the start of the fair, although that didn't stop blue-chip New York and London-based David Zwirner gallery from swinging a big booth at the entrance where they plopped one of Yayoi Kusama's ubiquitous polka dot pumpkin sculptures.
Amid the 60-odd booths, there were a handful of other Western galleries in attendance as well, such as Vienna's Lukas Feichtner, London's Grosvenor Gallery, and the  London and Berlin-based Blain Southern, the director of which, Matt Carey-Williams, told Observer, "we've been wanting to give the Indian market a try for years and this year finally seemed the right time."
Indian galleries, however, are driving the bulk of art sales in the region. According to the 2018 South Asian Art Market Report, which was released at I.A.F., gallery sales are up eight percent since 2016, and Indian gallery sales accounted for a whopping estimated $81.1 million of a total $104.5 million in the region. Meanwhile, the secondary auction market saw total sales of $118.2 million, with $48.2 million sold by Indian auction houses, a small 1.3 percent increase from 2016.
It's certainly clear that New Delhi's gallery scene has solidified itself over the past several years, and it continues to grow, which is hopeful for a country that lacks much public art infrastructure and education. The nascent gallery district of Lado Sarai is home to several alternative spaces like Exhibit 320 and Latitude 28. The larger, more established galleries Talwar Gallery and Nature Morte were both relocated to New Delhi in the early aughts, though they were originally founded in New York. And DAG, formerly known as Delhi Art Gallery but which has expanded with locations in Mumbai and New York City, celebrates its 25th anniversary this year.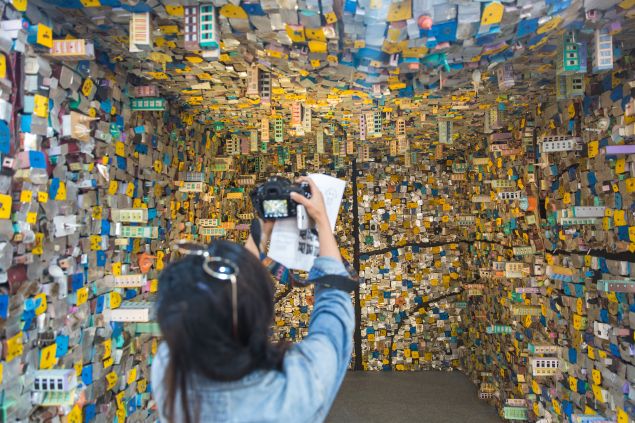 DAG has cultivated a sizable inventory of modern Indian art—a consistently strong seller on the Indian art market—which it highlighted at its IAF booth this year where they displayed works by the country's "nine gems," artists such as the inimitable Indian modernist Amrita Sher-Girl, as well as Rabindranath Tagore and F.N. Souza. These artists were deemed national treasures by the government's 1972 Antiquities and Art Treasures Act. While the legislation was meant to preserve the cultural legacy of these artists left behind, it also mandated that their work could not leave the country—not even to be shown in DAG's New York space—which means they haven't found the international recognition—or market prices—they may deserve.
But according to Kishore Singh, DAG's director of exhibitions and publications, the gallery is less interested in fetching a higher price for these works than just raising their visibility. "There are no art appreciation classes in the Indian education system," he told Observer, also noting that art collecting—on both the private and public museum level—had long been a colonialist pursuit. Indeed, after India gained its independence from Britain, many museum collections fell into neglect simply because they were seen as a vestige of an imperialist, non-Indian past.
Singh said that it's for that reason that Indian galleries and private collectors often have to do double duty as educational institutions as well as commercial ventures. "Ultimately we're trying to provide a structure for understanding 20th century Indian art. It's just as important for us to bring our artists to a broader international audience as it is to add gravitas to our own history of art."