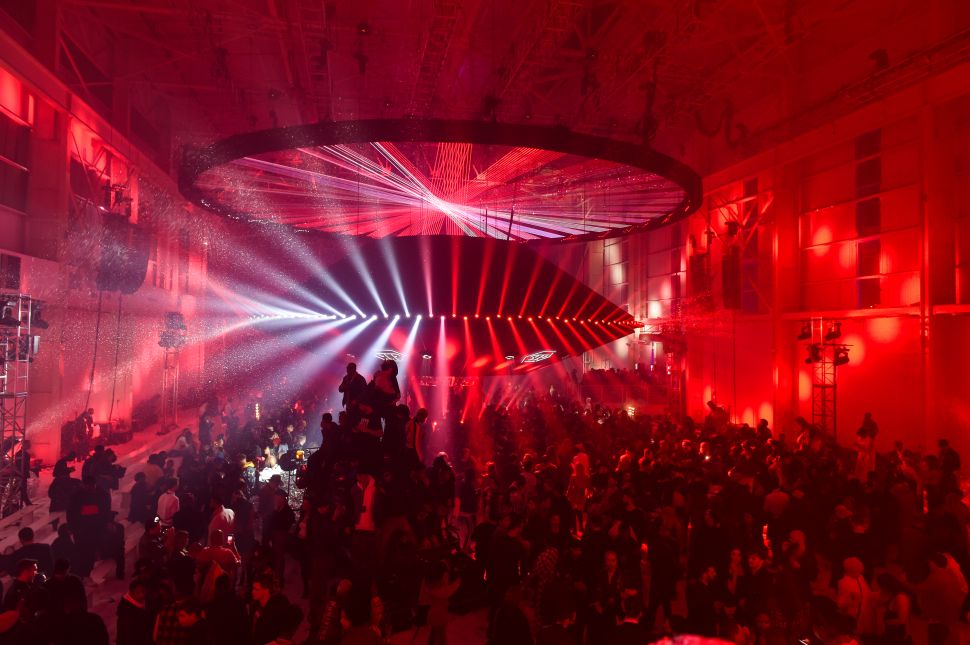 Philipp Plein is not one for subtlety and that was quite apparent during his Fall 2018 runway show, which took place over the weekend at the Brooklyn Navy Yard. In what some consider to be the last spectacle remaining on New York's fashion calendar, Plein transported guests to faraway lands to present his après-ski-inspired collection.
The stage was set with six inches of faux snow and a UFO looming over the room, which ultimately lowered to release a catsuit-clad Irina Shayk. As Frank Sinatra's "Fly Me To The Moon" blared, she sauntered alongside a Plein-branded robot who greeted the crowd. "Are you wearing Philipp Plein?'" the robot asked the front row. "You look great."
This was just a small part of the hour-long circus, which also included a litany of musical acts by rap trio Migos among others, as well as action-packed stunts performed by a troupe of Plein-branded daredevils.
This over-the-top show paired well with Plein's lineup of graphic tees and leather harnesses in addition to luxe furs, studded sneakers, and signature bear-shaped hand bags. However, alongside the otherworldly set and various live performances, clothing seemed like an afterthought at this fashion show.
Later, the designer, who was referred to throughout the evening as The King of The Universe, held a seated dinner for 100 of his closest confidantes overlooking the dance floor packed with a rumored 3,000 guests. They included photogs Ellen von Unwerth and Steven Klein, and street artist Alec Monopoly, who earlier in the evening took a turn on the runway in a jacket bedecked in his own graffiti.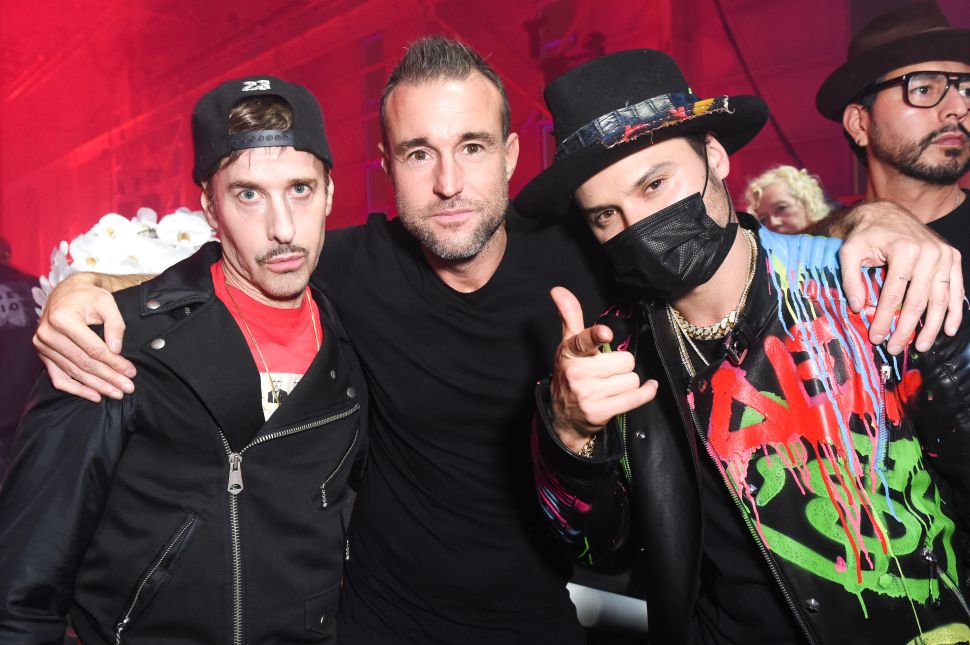 The revelry carried on well past its suggested 3 a.m. finish, as DJs from Plein's favorite nightclub, Circoloco in Ibiza, took their turns in the DJ booth. "It's easy to top myself every season," Plein told Observer, with his new fiancé Morgan Bosman by his side. "It's harder to make her happy," he joked.
Next up, he'll be celebrating both his 40th birthday, which will take place on a yacht in the Caribbean, as well as his wedding to Bosman. "I think we're going to take that UFO," Plein said, pointing to the hulking space craft. "We're going to the moon to get married."