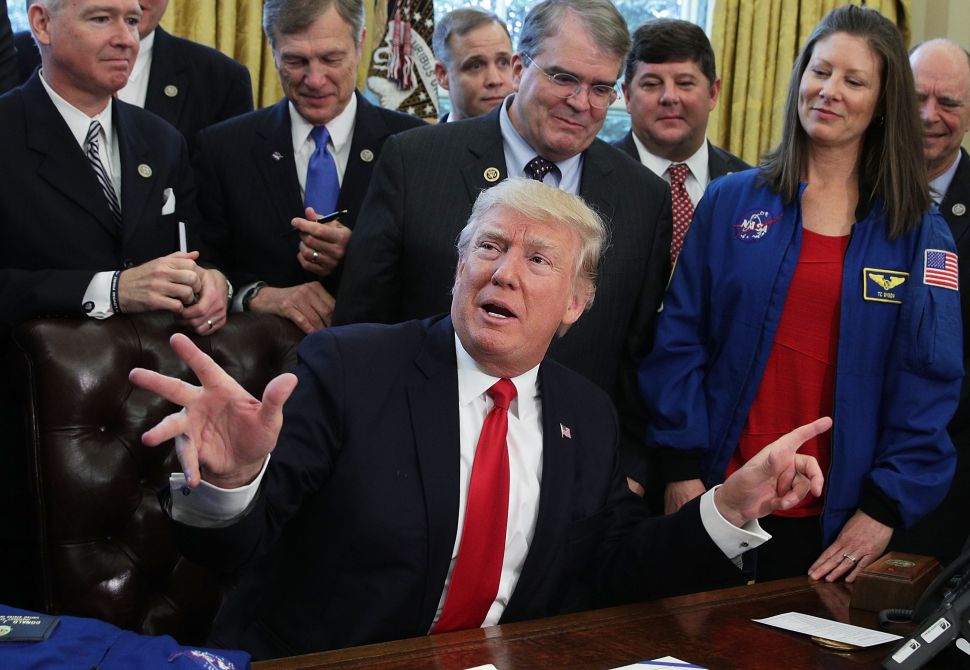 Private companies like SpaceX have taken an outsized role in space travel in recent years—and President Donald Trump wants to keep it that way.
Trump's proposed budget, which will be released later today, includes a plan to turn the International Space Station (ISS) over to the private sector by 2025. Under this plan, NASA would be "one of many customers" of the ISS, along with space industry groups.
The White House said in a budget document obtained by The Washington Post that it hopes "to enable the development and maturation of commercial entities and capabilities which will ensure that commercial successors to the ISS—potentially including elements of the ISS—are operational when they are needed."
Trump's administration proposes allocating $150 million toward this goal in 2019 and $900 million total through 2023. The ISS, on the other hand, has cost the U.S. government $100 billion.
The proposal is already facing widespread opposition, especially since the ISS is still fully functional and may last another 10 years in space.
Texas Senator Ted Cruz told the Post that abandoning the program was "one of the dumbest things you can do."
Retired NASA astronaut Mark Kelly tweeted that cutting ISS funding would be "a step backward for our space agency."
Boeing, which operates the ISS for NASA, also opposes Trump's plan.
"Handing over a rare national asset to commercial enterprises before the private sector is ready to support it could have disastrous consequences for American leadership in space and for the chances of building space-focused private enterprise," the company said in a statement.
Trump's budget doesn't offer any details about how a privatized ISS would work. The White House said it would "request market analysis and business plans from the commercial sector."
The administration also wants to cut NASA's earth science and astrophysics budget. Trump does, however, support the agency's goal to get American astronauts and robots back to the moon.
NASA reportedly wants to refocus its efforts on exploring deep space once low Earth orbit flights to the ISS are fully privatized. But as The Verge pointed out, American astronauts would likely be grounded until NASA developed vehicles for deep space travel.
The new budget awards the space agency $19.9 billion to fund this goal.
NASA hasn't had a permanent leader since Trump took office. Instead, a National Space Council led by Vice President Mike Pence has coordinated military and civilian space policy.