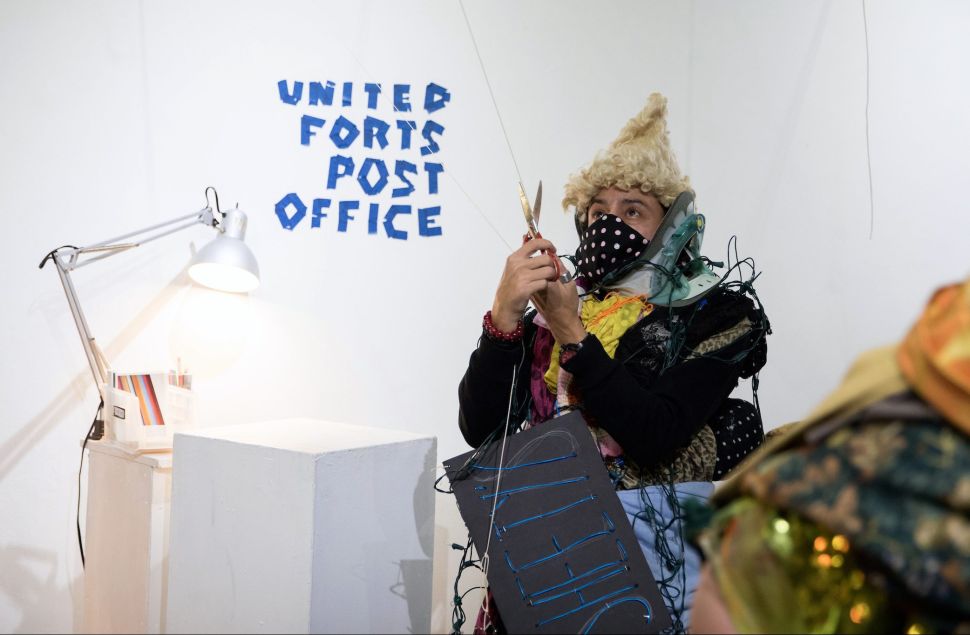 New York–based artist Katya Grokhovsky was born in Ukraine and raised in Australia, so she's no stranger to being in a strange land. This personal experience was the impetus behind her "party for immigrants," which the artist hosted this weekend at Flux Factory in Queens, one of New York's most culturally diverse boroughs. It was, however, decidedly not your typical Saturday night get together. For her so-called Immigrant Ball, Grokhovsky destroyed a cityscape constructed by artists Cayla Lockwood and Sarah Dahlinger through the choreographed debauchery of performers—who were also all immigrants—and the audience, allowing the participants to rebuild a new, more inclusive space to inhabit.
To be sure, Grokhovsky has cause to throw a party. Earlier this month she launched System Failure—a site-specific installation made of clothes, toys, and beach balls, at Muhlenberg College's Martin Art Gallery in Pennsylvania—which investigates the power and labor hierarchies that are the result of systemic oppression, greed and overconsumption. And last week she was announced as one of the ArtSlant Prize IX winners ahead of the organization's show at SpringBreak during Armory Arts Week in March, in which she'll be featured.
Observer spoke to Grokhovsky about resistance, celebrating otherness, and what it means to have a ball.
How do you posit debauchery and destruction as a generative force in Immigrant Ball?

I am specifically interested in the destruction of a city as a metaphor for renewal and regeneration, which allows for the proposition of a new possible future, especially when it comes to immigrant population in the current political climate. Immigrant Ball calls for debauchery as a tool of hope, as a necessary force of leveling the field, laying down a new foundation, fixing, rewriting and reconstructing the mainstream organism through unruly, unapproved actions. Immigrants are often considered dangerous, other, somehow mysteriously uncivilized, so I wanted to bring that idea out in a humorous, energetic, positive way in a form of a grand ball, frequently not associated with immigrant narrative.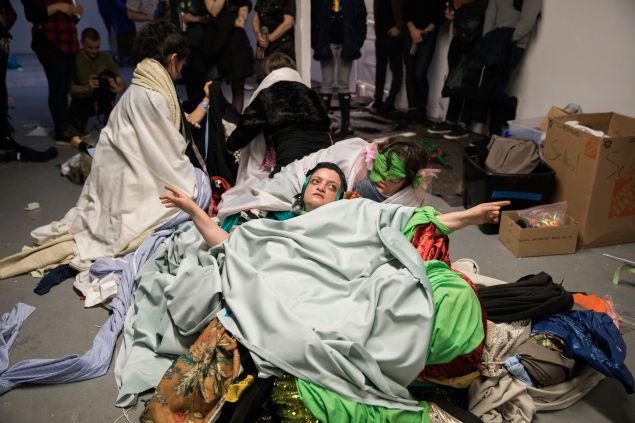 "Choreographed debauchery" seems a bit oxymoronic. Is the tension between control and chaos it evokes intentional?

What does it mean to choreograph a protest or a party or a decadent evening descending into chaos? I don't know and I am open to experimenting and exploring via gesture, movement, voice, text, costume and improvisation.  I am searching for a liminal space, a wobbling strand between control and chaos, where impractical ideas can take flight. I am also getting obsessed with the idea of ball gowns, and what they signify culturally and historically as objects and tools of gender construct and oppression, especially for female-identifying bodies.
Have you staged anything like this previously? What gave you the idea for it?
Immigrant Ball is a new project, which [premiered] at Flux Factory in a certain context, however I have staged various participatory and group performances before. This idea was inspired by my Slow Dance performance, in which I invite people to slow dance with me and other performers, while having a conversation. Immigrant Ball is a political, absurd and expanded gesture, based on my own experiences and feelings about being an immigrant and an artist living in the U.S. today.

How did you activate the audience in the performance? What do you hope the audience takes away from their participation?

We invited the audience to join us in dancing, moving and destroying the constructed city created before us and utilize the materials as instant costumes, highlighting the DIY principle of survival and celebration in an immigrant life. I wanted  participants  to let go of certain boundaries and expectations of what a ball is and what immigrants represent. It was a moment of celebration, but also an allowance to express our feelings of frustration, anger and exuberant delirium of the possibility of change for the better.
Immigrant Ball, at its root, seems like it's calling for revolution and protest, which is something that comes to the fore in your exhibition "System Failure" as well. Can you tell me how this call to action manifests itself in the works on view in the latter? Do you see a lot of overlap in these two concurrent iterations of your work?

My practice in general deals with analysis, protest and rejection of preconceived systematic oppressions, injustices and absurd stereotypes. I'm concerned with how dissent and activism can manifest itself in art in creative ways and what that means for me as a maker. In "System Failure," I am presenting an idea of a deflated world, a domain of consumerist capitalist objects of intense overestimated bloated intoxicating desire, which degenerates and destroys us and our planet."System Failure" advocates, in the same vein as Immigrant Ball, for taking a stance and calling BS on the narrative we've come to know too well, that of a privileged western white heterosexual masculine force.