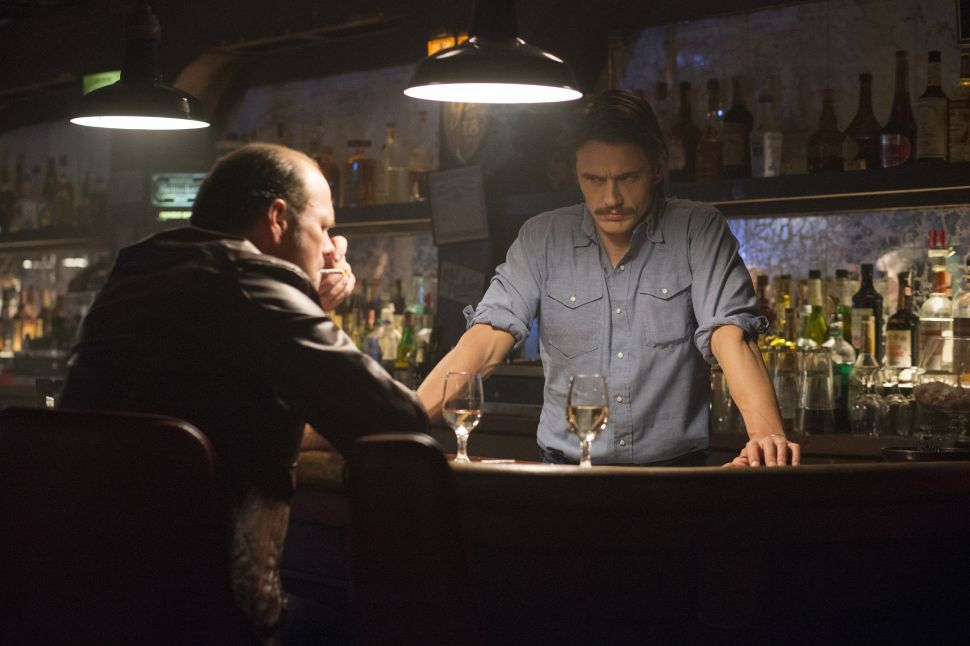 HBO's The Deuce was one of the most critically acclaimed television shows of 2017, earning a 92 percent on Rotten Tomatoes and a spot on our 10 Best TV Shows ranking list.
Among the show's many attributes, James Franco's performance as twin brothers was highlighted as a standout by many critics. However, following several accusations of inappropriate behavior and abuse of power, Franco's role with the series and in Hollywood, in general, was in doubt.
But at the Writers Guild Awards ceremony at the Edison Ballroom in New York City Sunday night, ET confirmed that the 39-year-old actor would be returning for season two.
Many believed the accusations against the actor cost him a Best Actor nomination at this year's Academy Awards and would disrupt his career, at least in the near-future, going forward.
Back in January, The Los Angeles Times published a report in which five women alleged some form of sexual harassment by Franco. Four of the women were his acting students and another described Franco as her mentor. Shortly after, the actor appeared on The Late Show With Stephen Colbert where he denied the allegations.
"Look, in my life I pride myself on taking responsibility for things that I have done," he told Colbert. "I have to do that to maintain my well being. The things that I heard that were on Twitter are not accurate. But I completely support people coming out and being able to have a voice because they didn't have a voice for so long. So I don't want to shut them down in any way."
The Deuce co-creator and executive producer David Simon, best known for creating The Wire, released a statement after the LA Times' report saying that HBO had not received any complaints about Franco.
"I'm still reading it the same as everyone else, trying to discern what is or isn't there," Simon told Variety at the time. "Personally, I can only speak knowledgeably to The Deuce. I've checked with all my fellow producers and other personnel. We have no complainant or complaint or any awareness of any incident of concern involving Mr. Franco. Nor has HBO been approached with any complaint."
"In our experience, he was entirely professional as an actor, director and producer," Simon added.
The Deuce season two is expected to premiere in late 2018.