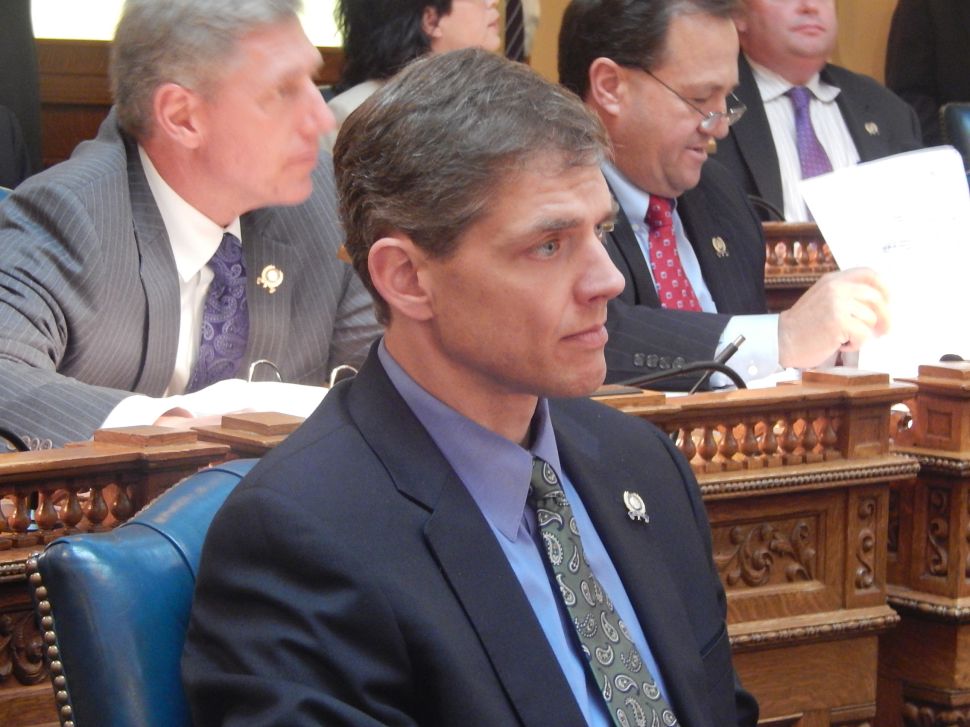 Assemblyman Jay Webber (R-Morris) announced his plans to run for the soon-to-be-vacated seat of retiring Rep. Rodney Frelinghuysen (R-11).
Last week, Frelinghuysen, 71—a 23-year incumbent and chairman of the influential House Appropriations Committee—said he will retire from Congress at the end of his term.
Frelinghuysen did not indicate why he was retiring. But he was considered to be one of the most vulnerable GOP incumbents ahead of the November midterm election, with multiple Democrats preparing to run against him.
A native of Passaic County and a resident of Morris County, Webber—who was first elected to the Assembly in 2008—is a Harvard Law School graduate with a young family. He was first elected to the Assembly in 2008.
He also served as chairman of the New Jersey Republican State Committee from 2009 to 2011.
His district includes parts of Morris, Passaic and Essex counties.
Weber said the 2018 elections present the United States and the Republican Party "with an important choice."
"We can give in to the angry intimidation of the far left who seek to 'resist' every idea that comes from someone who doesn't share their outlier extremism," he said in a statement. "Or, we can stand up for the beliefs and principles that have served our country so well for so long and continue the progress we've made in the last year toward reviving our economy, creating more and better paying jobs, strengthening the rule of law, and restoring America's security and standing in the world."
Webber is known as a staunch conservative: he is pro-life and supports the 2nd Amendment. But he noted he has forged bipartisan coalitions to advance legislation to reduce property taxes, support battered women's shelters and protect schoolchildren from sexual abuse from predatory teachers.
He was also not shy about opposing former Gov. Chris Christie, having voted against the gas tax hike in 2016. At the time, he told Christie to "scrap this raw deal."
Over the last several days, Webber said, citizens across the district and the country urged him to "step forward to represent our shared values." And he pointed to his achievements as an elected official.
"I've led the fight on the Assembly floor against the Democrats' reckless tax hikes," the assemblyman continued. "I have been on the forefront of a bipartisan effort to improve our public schools by rewarding and encouraging good teachers, and making it easier to fire bad ones. And when the Democrats—and some in my own party—wanted to throw billions of tax dollars at the richest companies in the world instead of providing property tax relief for everyone, I said no."
Webber was also considered among several Republicans who could potentially challenge Sen. Bob Mendez, a Democrat, who can now run for reelection without facing bribery charges after the U.S. Department of Justice dropped its corruption case against him.
In November 2017, he told Observer  he had not yet made a decision about whether to run for the U.S. Senate in 2018. But he argued Menendez was weakened by the corruption trial and that the race would be competitive.
The assemblyman said that in the coming months, his candidacy will offer solutions "to our country's most troubling issues."
"Those solutions will be guided by my recognition that so many of our citizens sit at their kitchen tables each day not caring about 'blue' or 'red,'" Webber added. "They simply want a limited and responsible government that respects their rights to live freely and doesn't bother them without good reason."
Other Republicans are considering running for the seat as well.
Sen. Joe Pennachio (R-Morris) and Republican Whip Assemblyman Anthony Bucco have each created exploratory committees. Other candidates that are currently mulling a bid in the GOP primary are Councilman Nicolas Platt and state Sen. Kristin Corrado (R-Passaic).
On the Democratic side, Mikie Sherrill, a former federal prosecutor and Navy veteran, is running for the seat. She is widely viewed as the frontrunner in the Democratic primary, having already clinched support form the Democratic county chairs that make up the district.
The primary is on June 5.