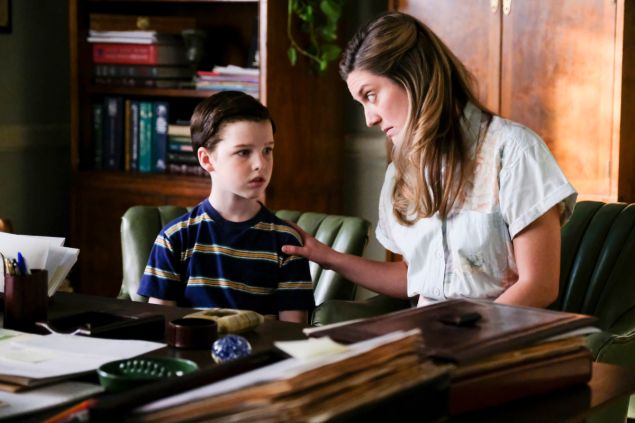 There are no two shows more uniquely bonded than The Big Bang Theory and Young Sheldon.
Although it airs just after The Big Bang Theory, Young Sheldon is actually a prequel of the former. The narrative tells the story of the formative years of Sheldon Cooper, a super-smart scientist featured on The Big Bang Theory. Cooper is characterized by his quirky, somewhere on-the-spectrum, behavior. The prequel delves into just how the adult Cooper came to be the man he is.
Creator of both shows, Chuck Lorre, recently sat on the Young Sheldon set with Iain Armitage who portrays the younger version of the character, and Jim Parsons, who plays the adult Sheldon Cooper. It was a rare opportunity to see the two actors together. They were joined by Zoe Perry, who portrays Sheldon's mother, Mary Cooper.
"We never wanted to [necessarily] lean on "Big Bang," said Lorre. "I mean, the only real thread between the two is Jim's voice [narrating Young Sheldon]. So, it was just really important to build a show that lives and dies by its own merits."
Describing the show further, he added, "We didn't want to just do 'little Sheldon.' He's a work in progress. He's nine years old. There's a lot of growth and change that's going to take place. He's going to college in a couple of years. There's a couple of PhDs that are going to happen before he's 21 years old. There is an enormous amount of life that will change and mold this character, and we want to go slowly, and enjoy the ride."
Parsons added, "I was thinking [that] some of the things that go on in Young Sheldon could be viewed through the lens [that this is] the most intimate diary of Sheldon, where he tells his real truths."
The two series, while connected character-wise, differ in several ways, most notably in that The Big Bang Theory is a multi-camera production shot in front of a live studio audience, while Young Sheldon is a single camera show.
"It's an entirely different way to tell a story, and the comedy plays differently," said Lorre. "The moments on Young Sheldon are more intimate because the camera can be more intimate. On the Big Bang Theory, or any show performed in front of an audience, the actors hold for laughs and it changes the rhythm of a scene."
Armitage said of his character, "I love that he's smart, obviously. He's an interesting character, and not exactly hard to play, but he isn't easy, either. It's kind of like a maze—you know how to get to the end, but it all kind of looks the same, so you still have to navigate."
Parsons turned to his young co-star and smiling he said, "That's it. That's the perfect description.' Then to everyone listening he added, "That's why he's so good at this. He really gets it."
Armitage smiled back at Parsons, clearly touched by the elder's praise.
Fun fact (a phrase that the adult Sheldon often exclaims) about Young Sheldon: the boy's mother is played by Zoe Perry, who is the real-life daughter of Laurie Metcalf, Sheldon's mother on The Big Bang Theory. So, in a twist that Sheldon himself might find cosmic—the daughter is actually playing the fictionalized younger version of her real-life mother. Perry's father is Jeff Perry, an actor as well, currently starring in the one hour drama, Scandal.
"You know, genetics are strong," said Perry, with a laugh about her lineage. "It's been an interesting experience just pursuing this profession, obviously having parents who are actors. I've had funny little revelatory moments where I hear [my parents] coming out of my own voice. I know it's a good thing. I don't have to be scared of it in the way that maybe sometimes we are when we channel our parents."
While some might consider the grown-up Sheldon's habits, like his lack of understanding sarcasm and muted empathy, endearing, others may find these traits a bit annoying. Lorre attributes the fact that the grown-up Sheldon, while difficult to take at times, is still a beloved character the way Parsons plays him, saying, "In the world of Archie Bunker and Danny De Vito, on Taxi, there have been a handful of [actors] who had that incredible ability to make an abhorrent human being beloved." Parsons jumped in to add, "It's very fun, though."
Asked about whether the series, which often highlights Mary Cooper's religious beliefs, favors red state viewers, Parsons responded, "I feel like our show [is] a multi-colored state connector, as far as viewers go, and I never feel that what I see here has any sort of intention, other than wanting to entertain the most amount of people possible."
Casting politics aside, Lorre added, "It's a family show. The very premise of it is how does a family respond to a challenging child, and how does the child navigate that world as well? I don't think we ever had any political conversations at all about this. You can sit down and watch it with your kids." The appeal is obviously there—the show has already been renewed for a second season.
The Big Bang Theory airs Thursday nights at 8 p.m. e/p, followed by Young Sheldon at 8:30 p.m. e/p., on CBS.