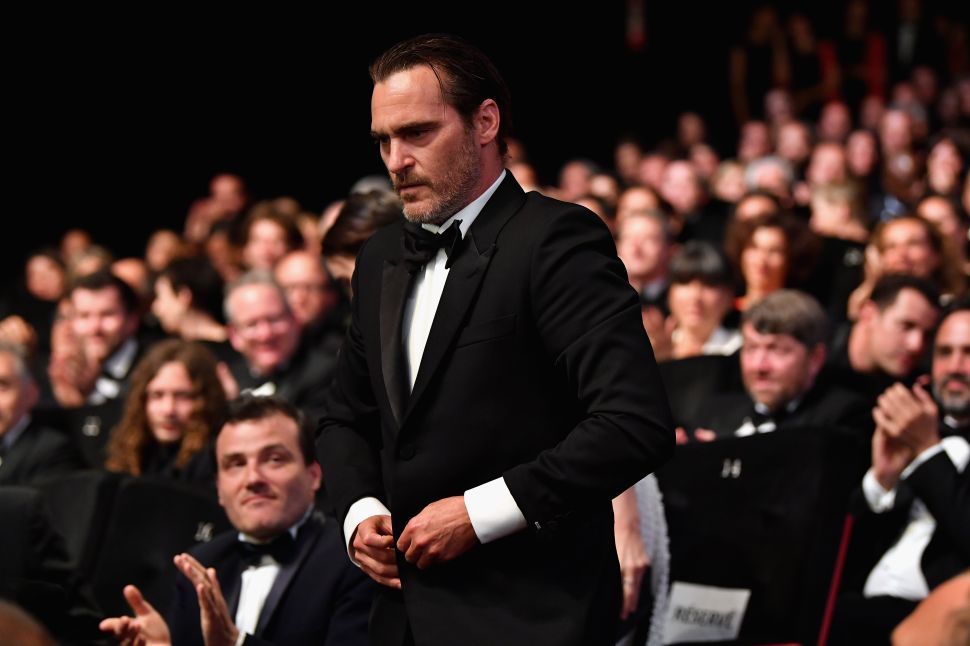 Back in September, it was reported that Warner Bros. was developing a stand-alone Joker origin film that would take place outside the DC Extended Universe (DCEU) continuity and be directed by Todd Phillips (The Hangover).
At the time, reports suggested that the studio was looking for a different actor than Jared Leto, who would remain in the role in the DCEU, for the project and that WB might start developing more filmmaker-driven superhero stand-alone films to maximize the DC brand.
While we didn't agree with an origin story for the Joker, which somewhat misses the point of his character, we loved the idea of Warner Bros. developing genre specific superhero films that could stand on their own as mature counterprogramming to Marvel's always enjoyable but occasionally vanilla MCU.
But now you can consider us slightly more on board with Phillips' Joker idea given who is in talks to take on the role of the Clown Prince of Crime.
Variety reports that three-time Oscar-nominee Joaquin Phoenix is being eyed by Warner Bros. for the part.
According to the outlet, negotiations have not yet begun between the actor's camp and the studio, but Phillips has anointed him as the top choice. Variety also reports that after mulling it over, Phoenix has given a verbal agreement. Warner Bros. declined to comment.
Phillips, who is directing and co-writing, reportedly met with Phoenix before the new year and has been waiting for the greenlight from WB.
As was reported last year, the Joker stand-alone film will be a part of the studio's yet-to-be-named new branch of DC Comics that will allow Warner Bros to "expand the canon of the iconic comic-book characters with unique story angles that aren't included in its current cinematic universe." Martin Scorsese was also said to be potentially involved in a production role, though it is unknown if that is still the case.
Warner Bros. wants to diversify its DC films, and developing stories unconnected to the DCEU frees these projects from the shackles of interconnected world-building, which hasn't gone well for the brand thus far (see: Justice League).
Thinking long-term, this could be the move that finally puts DC ahead of Marvel.
The studio will allow interesting storytellers to plop these iconic characters into bold settings employing unique genres. This Joker movie is said to take place in the 1980s and will examine how the character became a criminal mastermind through the lens of a gritty crime drama.
Leonardo DiCaprio was said to be the first actor Phillips reached out to back in September, though that was always a hail mary.
Phoenix, for what it's worth, has been approached for comic book roles before. Zack Snyder reportedly courted him to play Lex Luthor in Batman v Superman: Dawn of Justice, which Phoenix passed on. The actor was also eyed by Disney-Marvel to play the titular hero in Doctor Strange, but passed due to the lengthy picture requirement such a contract would carry. Here's to hoping he doesn't get cold feet this time around.
Phoenix is one of the most talented actors working today and immediately brings a certain amount of intrigue to this wild idea.