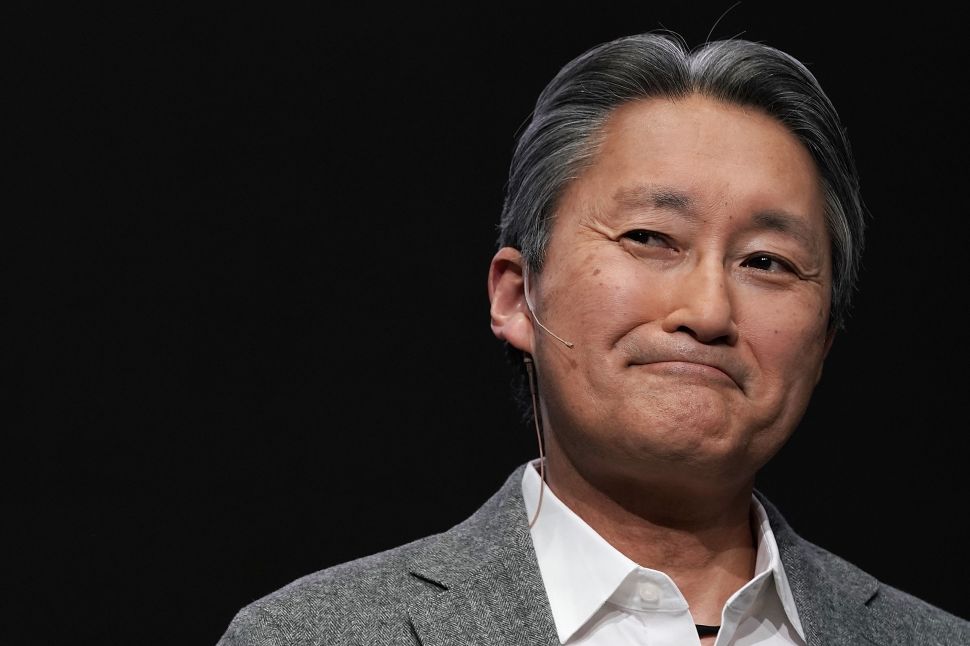 Sony Corp. announced on Thursday the resignation of legendary CEO Kaz Hirai, who is known for turning Sony, a company which was on the brink of bankruptcy, into a revived innovation powerhouse over the past six years.
Hirai will remain as chairman of the company and hand over the CEO role to Kenichiro Yoshida, Sony's chief financial officer, on April 1.
Sources told Variety that Hirai decided to step down because he was tired of the travel schedule he has maintained for six years as CEO and wanted to spend more time with his family.  
"As the company approaches a crucial juncture, when we will embark on a new mid-range plan, I consider this to be the ideal time to pass the baton of leadership to new management, for the future of Sony and also for myself to embark on a new chapter in my life," Hirai said in a statement.
Hirai, 57, has been with Sony for more than three decades.
He joined the company in 1984 as an entry-level salesman in the marketing department of what has become Sony Music Entertainment Japan. He steadily rose through the ranks over the years, and, when promoted to CEO in 2012, he was the youngest person appointed to that position in the company's history.
Hirai took over Sony during a crippling time when the company hadn't turn a profit in four years. He implemented a radical layoff in his first year as CEO and shifted focus from the unprofitable smartphone and television businesses to video game products.
He is regarded as one of the most powerful executives in the consumer electronics and entertainment industries, in addition to being a beloved figure of Sony PlayStation fans.
Here are five lesser-known, or just memorable, things about Kaz Hirai:
1) Hirai is the son of a wealthy Japanese banker. But, contrary to Japanese tradition, he didn't inherit his father's business. Hirai is fluent in English, thanks to his early education in the American school in Japan and schooling in Canada during middle school.
2) The Emmys awarded Hirai a lifetime achievement award in its Technology & Engineering Award category in 2015 for his leadership in Sony's development of PlayStation products. The awards committee said that Sony PlayStation "helped set the standards for technological excellence" in the entertainment industry.
3) Hirai is a hobbyist saxophone player. He occasionally performs at Sony's promotional events, although it seems he can only play two notes on the instrument.
4) Hirai has a loyal following of Sony fans. A parody account of him on Twitter has 120,000 followers. At CES 2016, Hirai showed some of the memes created by this account during a speech.
5) Hirai's last bold move as CEO was relaunching Sony's robotic dog Aibo, which he warmly presented at the 2018 CES at Las Vegas in January.