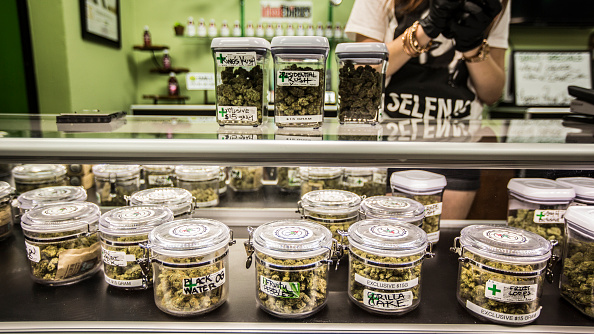 Sen. Kirsten Gillibrand, a New York Democrat, will become the second co-sponsor of the Marijuana Justice Act, legislation introduced by Sen. Cory Booker to end the federal prohibition on marijuana.
The Marijuna Justice Act would make marijuana legal at the federal level and includes incentives for states to revise their outdated marijuana laws and expunge convictions pertaining to use or possession. The legislation would also establish a fund that will reinvest in communities that have been adversely affected by marijuana policies by investing in job training programs, educational opportunities, public libraries and community centers.
Booker, a New Jersey Democrat who is rumored to be weighing a 2020 presidential bid, and Rep. Barbara Lee (D-Calif.) introduced the legislation.
Gillibrand, a junior senator and also a rumored 2020 presidential contender, referred to a recent POLITICO report that black and Latino New Yorkers are nearly 10 times more likely to face marijuana arrests than white New Yorkers.
"Just one minor possession conviction could take away a lifetime of opportunities for jobs, education and housing, tear families apart, and make people more vulnerable to serving time in jail or prison down the road," she said in a statement. "The reality that my 14-year-old son would likely be treated very differently from one of his black or Latino peers if he was caught with marijuana is shameful."
"Legalizing marijuana is a social justice issue and a moral issue that Congress needs to address, and I'm proud to work with Senator Booker on this legislation to help fix decades of injustice caused by our nation's failed drug policies," Gillibrand continued.
The American Civil Liberties Union (ACLU) also estimates that nationwide, black Americans are almost four times more likely to be arrested for marijuana possession than their white peers—despite nearly equal rates of marijuana use.
Booker said he is "thrilled" Gillibrand has signed onto the bill and that legalization "isn't a matter of if" but rather "when."
"The War on Drugs has been a war on people, especially people of color and low-income individuals," he said in a statement. "The Marijuana Justice Act would reverse this trend by not only legalizing marijuana, but by also helping to address the damage the War on Drugs has inflicted on communities disproportionately impacted by marijuana enforcement."
Sen. Ron Wyden (D-Ore.) became the first senator to co-sponsor the Marijuana Justice Act last year. And last month, Lee and Rep. Ro Khanna (D-Calif.) introduced a companion measure in the U.S. House of Representatives, with more than 20 co-sponsors in the House.
So far, 30 states, Washington, D.C., Guam and Puerto Rico have enacted legislation pertaining to physician-permitted use of marijuana, according to the National Organization for the Reform of Marijuana Laws (NORML). And roughly 63 million Americans now live in jurisdictions in which any individuals aged 21 and over can possess marijuana legally.
During his gubernatorial campaign, Gov. Phil Murphy pledged to legalize recreational cannabis. And in his $168 billion fiscal year 2019 budget, Gov. Andrew Cuomo included money for a study that will examine the health, economic and criminal justice impacts of marijuana legalization. The study will also look at how legalization in other states, such as New Jersey, will affect New York.
Mayor Bill de Blasio has maintained his opposition to marijuana legalization but has expressed interest in Cuomo's study. He has also opposed U.S. Attorney General Jeff Sessions' move the begin enforcing federal marijuana laws on the grounds that it hinders states' rights.
Queen Adesuyi, policy associate at the Drug Policy Alliance—which has been fighting for marijuana legalization for a decade—praised Gillibrand and Booker.
"As states and most Americans accept that it is time to end marijuana prohibition and its devastating harms to communities of color, it is incredible to see congressional leadership realize that descheduling marijuana is not nearly enough," Adesuyi said. "The Marijuana Justice Act uniquely centers marijuana legalization in criminal justice reform, accountability and community reinvestment, which are steps in the right direction towards repairing the individual and communal harms of decades of inequitable enforcement."