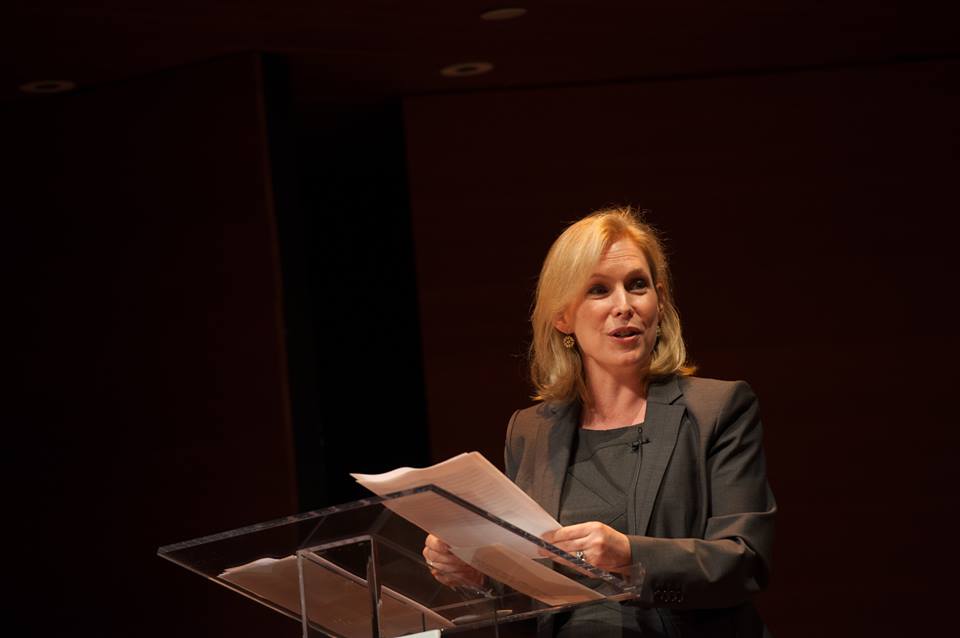 Sen. Kirsten Gillibrand says she is "embarrassed" by her previously conservative views on gun rights and immigration issues—and that she has "learned more about life" since she served as a congresswoman in upstate New York.
Gillibrand, a New York Democrat, had previously used her family tradition of hunting to cater to conservative voters in upstate New York. While serving as a congresswoman from 2007 to 2009 in a rural GOP district, she received an "A" rating from the National Rifle Association (NRA).
She is still a proponent of the Second Amendment but has since argued that the amendment does state that weapons can be regulated. And in a 2012 op-ed, she recalled being distressed when former Rep. Gabrielle Giffords survived an assassination attempt while meeting with constituents in Tucson in 2011. She also spoke out in favor of gun control following the Sandy Hook Elementary shooting in 2013.
"After I got appointed, I went down to Brooklyn to meet with families who had suffered from gun violence in their communities," Gillibrand said during an interview on CBS' 60 Minutes on Sunday night. "And you immediately experience the feeling that I couldn't have been more wrong. You know, I only had the lens of upstate New York."
Indeed, she admitted she was "embarrassed" by her stance on the issue despite having lived in the city for a decade.
"I was wrong," she continued. "What it's about is the power of the NRA and the greed of that industry. Let's be clear. It is not about hunters' rights, its about money."
While serving as a congresswoman, Gillibrand was also against amnesty for undocumented immigrants and so-called "sanctuary cities" for undocumented immigrants. And she opposed former Gov. Eliot Spitzer's plan to give undocumented immigrants drivers' licenses.
When asked if she can understand President Donald Trump's position on immigration given that she once held similar views, Gillibrand said she does not and that his positions are "racist."
She explained that she came from a district that was 98 percent white and did not have many immigrants, adding that she did not take the time to hear stories "about what it's like to worry your dad could be taken away at any moment."
"I just didn't take the time to understand why these issues mattered because it wasn't right in front of me," Gillibrand added. "And that was my fault. It was something that I'm embarrassed about and I'm ashamed of."
She noted that over time, she has evolved and learned more about the issues.
Gillibrand, a rumored 2020 presidential candidate, is among senators who opposed the bipartisan budget deal proposed by Sen. Charles Schumer and Senate Majority Leader Mitch McConnell because it did not include protections for recipients of the Deferred Action for Childhood Arrivals (DACA) program for undocumented youth. And she has expressed support for comprehensive immigration reform.
"I just think as I've gotten older, I've learned more about life and sometimes you're wrong," she said. "And you've gotta fix it. And if you're wrong, just admit it and move on."