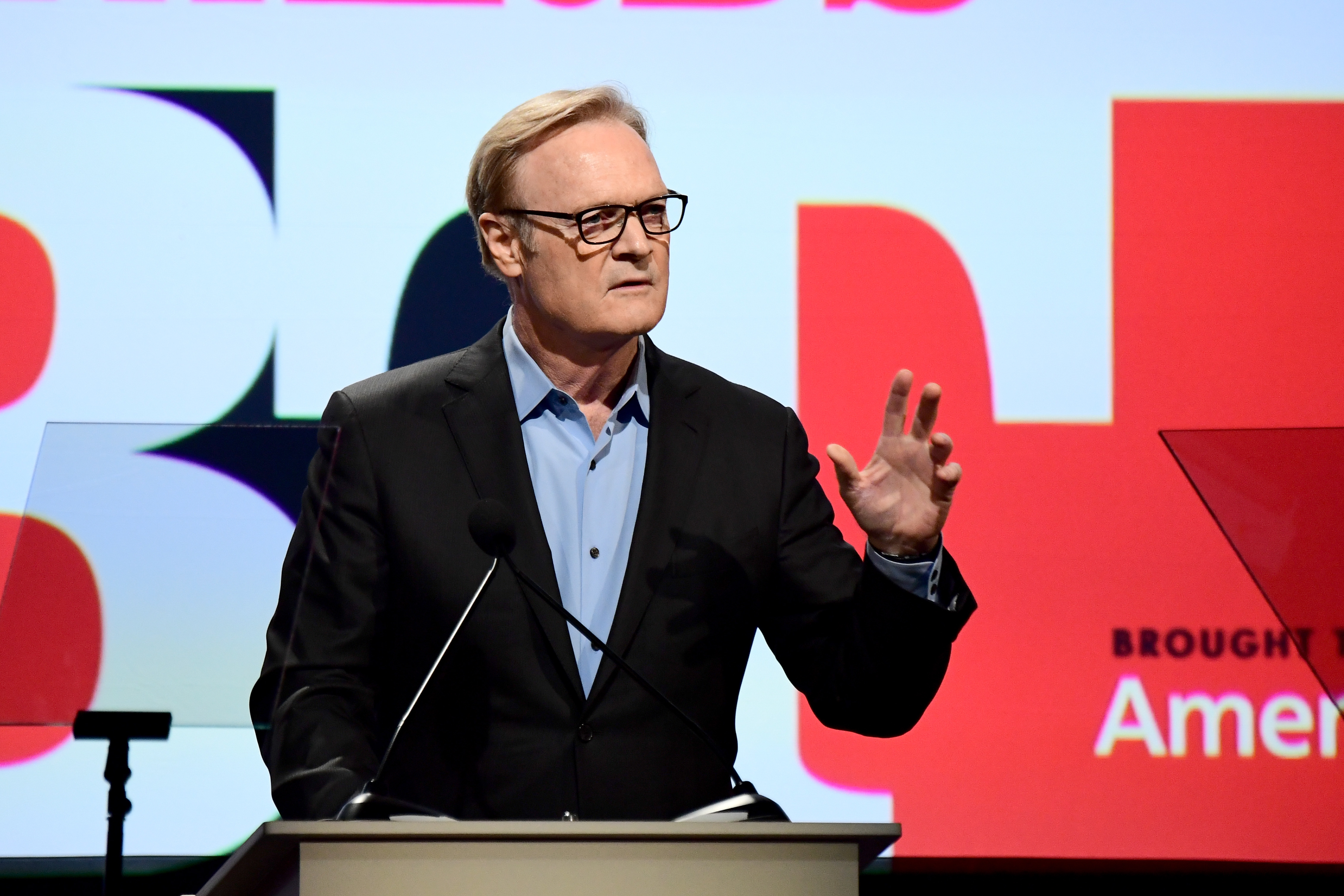 As the opinionated host of The Last Word on MSNBC, the progressive personality Lawrence O'Donnell is a polished storyteller in two of television's most popular forms.
Along with news commentary, O'Donnell is a former writer and producer of the drama The West Wing.
Those credentials, plus his history as a Senate aide, bolster O'Donnell's timely book Playing With Fire: The 1968 Election and the Transformation of American Politics.
In his version of that seminal year for the Baby Boom generation, O'Donnell is hyper-aware of television's still-fresh intrusion into politics, 50 years ago.
This is his description of the violent Democratic National Convention in Chicago, where Hubert Humphrey was nominated to run against Richard Nixon.
"No one had ever seen anything like this before on TV," O'Donnell writes. "…The TV coverage cut to much worse brutality outside the hall… Bricks shattering police car windows, protesters choking on tear gas, police with no nameplates or badges clubbing everyone they could reach… CBS reporter Dan Rather tried to interview a rowdy Georgia delegate being removed by security guards and was shoved to the floor as astonished TV viewers watched."
O'Donnell also recalls a pivotal TV moment 16 years before that, in the 1952 campaign, when Nixon was a young senator from California in danger of losing his vice presidential spot on the ticket with Dwight Eisenhower due to rumors of financial impropriety.
Some American viewers were swayed and others were appalled by Nixon's smarmy but successful "Checkers Speech" of explanation in living black-and-white.
"Nixon's adroit use of television in 1952 was well ahead of its time," O'Donnell writes. "The columnist Walter Lippmann… privately called the speech 'the most demeaning experience any country has ever had to bear.' Lippmann wrote that Nixon's choosing to appeal to the entire country via television has ushered in a new era of electronic mob rule."
These stories set the stage for O'Donnell's observations about later decades, how Ronald Reagan and Donald Trump both mastered television before mastering politics.
Reagan hosted The General Electric Theater and Death Valley Days and Trump hosted The Apprentice.
But wait, as they say on TV, there's more! One chapter is even titled "Great Television." It includes quotes from ABC's 1968 convention coverage conversations between William F. Buckley and Gore Vidal, two leading intellectuals discussing high-minded differences.
BUCKLEY: "Now, listen, you queer, stop calling me a crypto-Nazi or I'll sock you in your goddamn face and you'll stay plastered."
VIDAL: "Oh, Bill…"
Naturally, O'Donnell also tells the much-told tale of the fateful day when Nixon met young TV producer Roger Ailes, who told him what he needed to hear about manipulating the medium.
Seven presidential elections after helping Nixon win in '68, Ailes launched the Fox News Channel.
Of course, Playing With Fire goes beyond television and its dance with politics.
O'Donnell devotes many pages to the stunning withdrawal of President Lyndon Johnson as a candidate for reelection and to the assassinations of Martin Luther King, Jr. and Robert Kennedy.
All three events happened in the spring of '68.
The ensuing election campaign took place at precisely the midpoint of a span of time that began with the assassination of President John F. Kennedy on Nov. 22, 1963 and ended with the resignation of Nixon on August 9, 1974. Those 10 years-plus are what Americans collectively remember as "The Sixties."
O'Donnell evokes the moment they began with touching pathos in his preface.
"In the Kennedys' hometown of Boston it felt as if the world stopped," O'Donnell writes. "I was in Saint Brendan's Elementary School in Boston when the nuns got the news that the president had been killed, the first Catholic president, something the older nuns never expected to see. Now they had outlived the 46-year-old Irish Catholic boy who had made them so proud."
When American politics ignited five years later, the youngest Baby Boomers were entering kindergarten and some of the oldest were pursuing post-graduate college degrees to avoid the military draft and the unpopular war in Vietnam. That's why this 50th anniversary is so meaningful to people who publish (and read) books in 2018.
But it's also fair to wonder how 1968 will be viewed 50 years from now, when the Boomers are gone and history takes a longer look from a greater perspective. Will it loom as large as it has so far?
Then, as now, teens were involved in politics. Then, it was fear of death in a foreign war. Now, it is fear of death by "legal gun" slaughter by semi-automatic weapons in their own schools. They are demanding a response from politicians.
O'Donnell has hit this issue with vigor since the Valentine's Day massacre last week left 17 people dead in a Florida high school. On Tuesday night, O'Donnell discussed what he called a White House trick to avoid student critics.
The White House late Tuesday invited a prominent student leader of the attacked school to a conference with President Trump on Wednesday, O'Donnell said, knowing full well that the student would be in the Florida state capital at Tallahassee and would not be able to attend.
O'Donnell said the White House was trying "to protect the president from what would be the confrontations that some of these students publically promised if they got a chance to speak to this president."
Since the latest gun slaughter, there are echoes of 1968 outside the White House. Teen protestors there chant against the National Rifle Association, which supported Trump's election with $30 million.
"Hey, hey, NRA!" they chant. "How many kids did you kill today?"
In 1968, their predecessors  demonstrated at the same place, chanting "Hey, hey, LBJ! How many kids did you kill today?"
Critics of Playing With Fire have noted that O'Donnell discovered little new in his research and presents a "pop history."
Fair enough. O'Donnell has left much room for deeper dives into primary sources. In addition, he dwells so much on the political campaign and the war that he slights the larger texture of the popular culture in a tumultuous year.
For instance: One of the most popular films of 1968 was Rosemary's Baby, starring Mia Farrow. She plays a wife living at the Dakota in New York who is raped by a Satanic cult (with her husband's complicity) so she can give birth to the devil and he can get better acting jobs. It tapped into a notion that evil was about.
And, during the autumn of 1968, as the election drew near, a major Beatles' hit song called "Revolution" opened with a machine gun burst of distorted guitar notes followed by a long, loud scream. As always, art reflected life.
That year's spiritual end came on Christmas Eve when astronauts orbited the moon for the first time and read from the book of Genesis. We know it happened because we saw it and heard it on TV. If you are of a certain age, the memory might give you goose bumps.
One of those glib clichés about the 1960s asserts that "If you remember The Sixties, you weren't really there." That's nonsense. O'Donnell was there. He remembers them well. And he gets 1968 right in Playing With Fire.