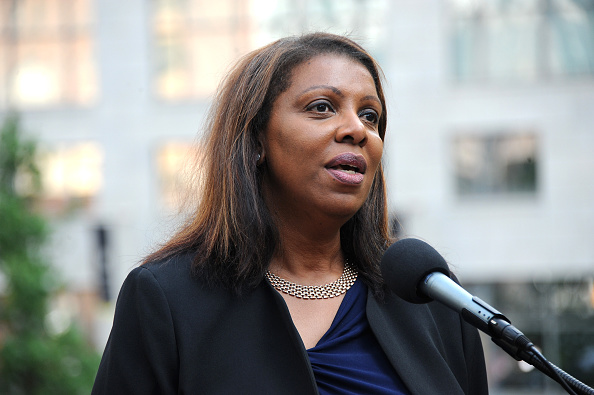 Public Advocate Letitia James filed a new campaign committee with the New York State Board of Elections, appearing to be moving closer to a potential 2021 mayoral bid.
The committee, called Letitia James 2021, was filed with the state Board of Elections on Friday. James, who was first elected in 2013 and reelected last year, was the first African-American woman elected to a citywide position.
Although she has not indicated whether she is running for mayor, she seemed to position herself for a possible bid at her inauguration ceremony in January, where she gave a long speech outlining her achievements while in office.
She pointed to legislation prohibiting employers from asking job applicants about their previous salaries—which Mayor Bill de Blasio signed into law in May—and a settlement she achieved with the city's Department of Education that secured immediate access to air-conditioned buses for students with disabilities who were suffering in dangerously hot school buses.
She has also called for a change of leadership at the New York City Housing Authority amid a lead paint scandal and for homes, as opposed to shelters, to tackle the city's homelessness crisis. And she has critiqued the Administration for Children's Services' treatment of child abuse and neglect cases.
A graduate of CUNY's Lehman College and Howard University School of Law, James previously served as an Assistant Attorney General as well as a public defender. She lives in Brooklyn and previously served as councilwoman from 2004 to 2013 for the district that includes Clinton Hill, Bedford-Stuyvesant and Fort Greene.
Former Mayor David Dinkins, the city's first and only African-American mayor, told Observer earlier this week that James is a "good friend" and that he would "be delighted were she able to succeed."
And when asked whether he would endorse her if she decided to run for mayor, he appeared open to lending her support.
"Maybe, depending on who the other candidates are," he said.
Other rumored 2021 mayoral candidates are City Comptroller Scott Stringer and Bronx Borough President Ruben Diaz Jr. Brooklyn Borough President Eric Adams has already indicated he plans to run for office.
A campaign spokeswoman for James said she is concentrating on her job as public advocate.
"Tish is focused on continuing to be an effective Public Advocate, standing up for working families and the most vulnerable New Yorkers," the spokesperson said.
A Democratic political strategist previously told Observer that James, Stringer and Diaz Jr. all hail from vote-rich parts of the city—James from central Brooklyn, Stringer from the Upper West Side of Manhattan and Diaz Jr. from the Bronx—and that they have continued to keep up with their bases while forming coalitions to elect themselves.
This story has been updated to include a comment from James' campaign.