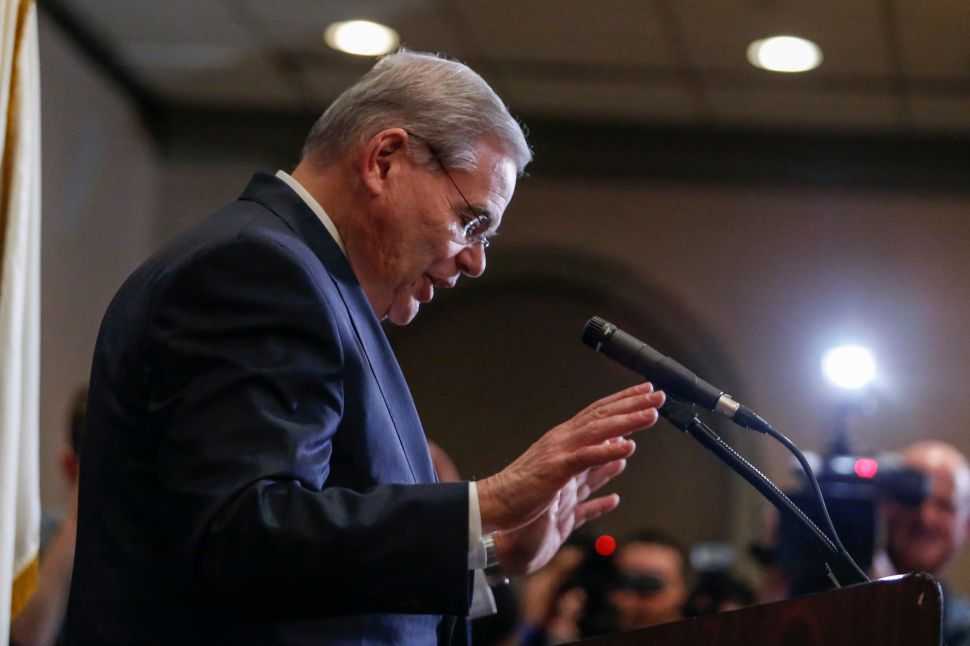 With his legal woes behind him and facing a reelection effort in November, Sen. Robert Menendez is returning to his position as ranking member of the Senate Foreign Relations Committee, Senate Democratic Leader Chuck Schumer announced Tuesday.
Menendez immediately took the opportunity to position himself as an opposition voice to the Trump administration on foreign affairs.
"Since President Trump took office, I have consistently expressed my deep concerns over several pressing foreign policy issues, including his refusal to counter Russia's aggressions and coordinated interference in democratic systems and elections around the world, a seemingly blatant disregard for advocating for basic human rights and upholding freedoms for all people around the globe, and the total absence of a comprehensive strategy to counter Iran's ongoing destabilizing activities," Menendez said.
The state's senior Democratic senator had temporarily yielded his position following his April 2015 indictment on federal corruption charges. But a jury deadlocked in November following the seven-week trial of him and co-defendant, Salomon Melgen.
On Jan. 31 the Justice Department announced it was dropping all charges against the two-term Democrat. Menendez, however, still faces a Senate ethics probe for allegedly failing to disclose gifts from Meglen.
Menendez had served as chairman of the committee from 2013 until his 2015 indictment.
Returning to the leadership post gives Menendez a high-visibility position as he prepares for his reelection effort. It also puts Menendez in position to once again chair the committee if the Democrats were to recapture control of the Senate in November.
"Americans will be able to count on the fact that he, as ranking member, has the expertise and grit needed to strike bipartisan compromises as well as stand up to the president when his rash decisions impact our national security and our allies abroad," said Schumer. "Senator Menendez knows how to hold this administration's feet to the fire, and I have every confidence that he'll be steadfast in his efforts to hold this president accountable for the foreign policy choices he makes that affect the safety and security of every American."
Republicans attacked Schumer and the decision to return Menendez to the position.
"By picking the least popular member of the U.S. Senate, who is still under a serious Ethics Committee investigation, Chuck Schumer is showing how out-of-touch he is," Republican National Committee spokesman Michael Ahrens said to Fox News. "Schumer's own far-left base opposes the move, and Menendez's own constituents don't even want him in the Senate anymore."
A Rutgers-Eagleton poll in November found that more than half of New Jerseyans said Menendez didn't deserve to be reelected.
Menendez, meanwhile, took aim not only at the Trump administration's foreign policy agenda but also the reported problems at the State Department.
"I plan to serve as a vigilant watchdog of our nation's diplomatic and security architecture, ensuring that Secretary Tillerson respects the role of Congress in overseeing U.S. foreign policy," he said. "We cannot sit idly by as the Trump administration allows the State Department to suffer a mass exodus of seasoned diplomatic personnel that could damage our ability to advance American interests worldwide for decades to come."
SaveSaveSaveSave
SaveSave