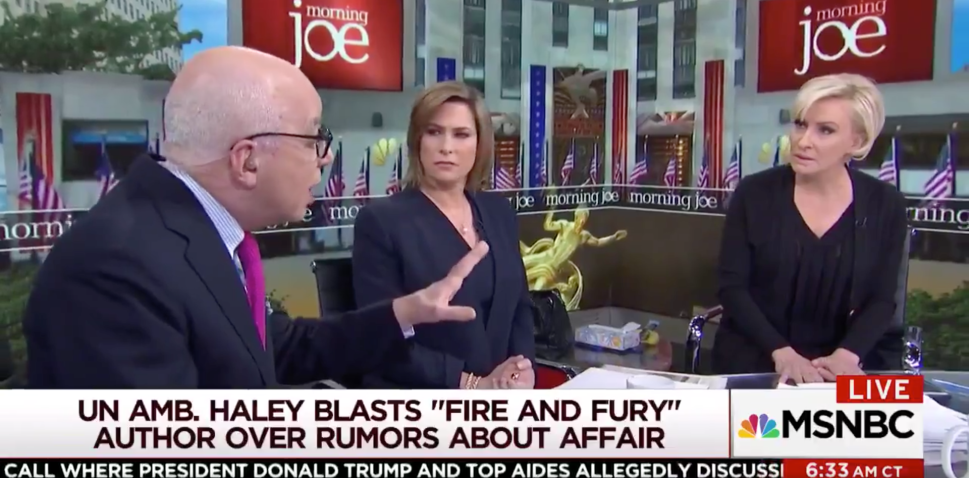 Fire and Fury author Michael Wolff was kicked off MSNBC's 'Morning Joe' on Thursday for refusing to address allegations he made against United States Ambassador to the United Nations Nikki Haley.
"I'm going to go as far as to say, you might be having a fun time playing a little game dancing around this, but you're slurring a woman," MSNBC co-host Mika Brzezinski told Wolff before cutting his mic. "It's disgraceful."
Wolff first insinuated Haley was having an affair with President Donald Trump on Real Time with Bill Maher last Friday, instructing the audience to pay close attention to a final passage in Fire and Fury.
"She had become a particular focus of Trump's attention, and he of hers," reads the section. "The president had been spending a notable amount of private time with Haley on Air Force One, and was seen to be grooming her for a national political future."
The ambassador has denied the rumors, calling them "absolutely not true," "highly offensive" and "disgusting" in an interview with Politico.
Wolff's response?
"I would say she seems to have embraced it."
After being confronted by Brzezinski on MSNBC, Wolff denied that he ever made the rumors, despite claiming to be "absolutely sure" of a White House affair on Bill Maher.
"I didn't go after her," said Wolff. "And secondly, certainly what I meant is that I found it puzzling that she would deny something she was not accused of."
Wolff took to Twitter afterward to say "the President is right about Mika"—a reference to Trump's tweet from last June accusing the anchor of "bleeding badly from a face-lift" while at a party in Florida.