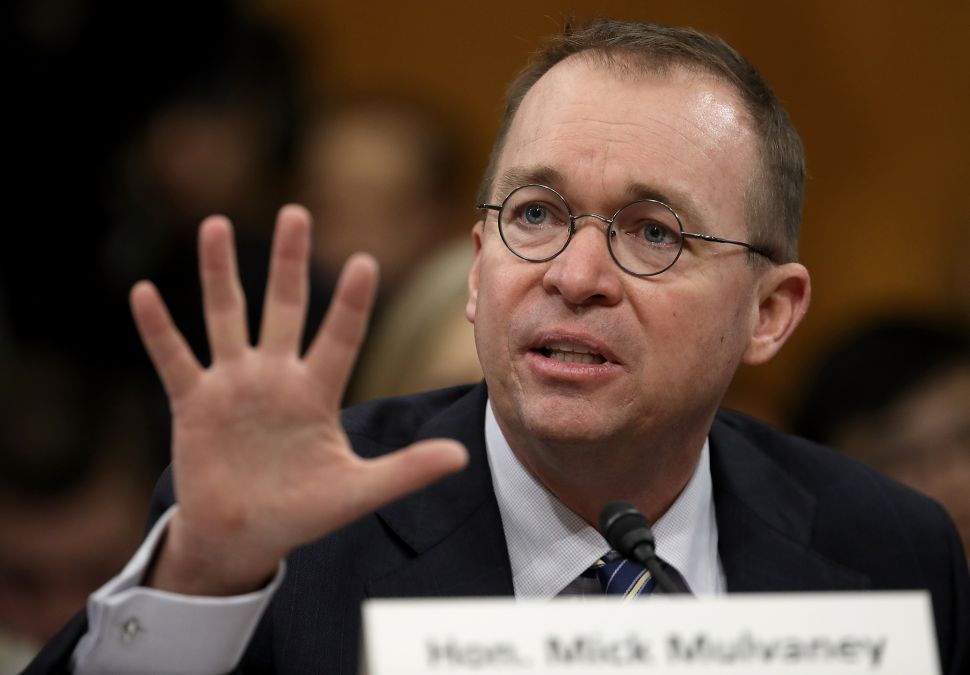 The Conservative Political Action Conference (CPAC) is mostly rightwing spectacle. Conservative celebrities decry "fake news" despite working in media, while politicians peddle President Donald Trump's brand of nationalist rhetoric. Even though the conference is built around politics, very little is ever spoken about the legislative process that turns campaign promises into law.
White House Director of the Office of Management and Budget Mick Mulvaney veered from Republican theatre on Saturday to discuss how his agency is working to advance the policies of the Trump administration. Although Mulvaney became a celebrity in his own right last November after taking over the Consumer Financial Protection Bureau, his main responsibilities at the White House involve defunding initiatives put into place during the Obama years.
Explaining that it was easy to get rid of policies Obama put into place "out the door," Mulvaney added that it was harder to roll back longer initiatives the previous administration fought for over several years. The two examples the director cited included the 'Waters of the United States' rule and the Clean Power Plan—the latter of which Mulvaney described as "the Obama administration's way to bankrupt the coal industry."
"I don't think you'll see as much deregulation during the second year, but you'll see a lot of the bigger pieces come together," said the director, noting that this past year his department eliminated 22 regulations for every single one added.
Attributing the Trump administration's success to acting without the approval of Congress, Mulvaney said that his department encountered resistance from Democratic lawmakers over the White House's most recent budget proposal. To negotiate a passable budget that increased military spending to $80 million, $63 billion had to be allocated to domestic programs for the 2019 fiscal year.
Mulvaney called the non-defense spending "extortion payments" and said that Trump only approved the measures "to defend the nation."
"You cant swing a dead cat in this town without hitting a blue-ribbon commission," quipped the director in a closing remark on the nature of D.C. bureaucracy.