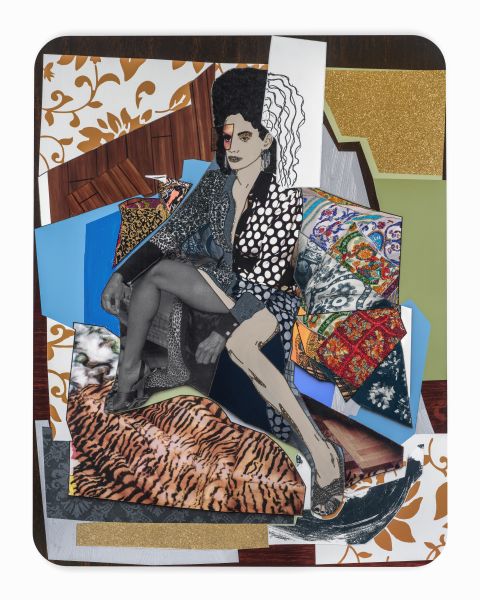 Few contemporary artists have so thoroughly monopolized a material as Mickalene Thomas has the rhinestone. The Brooklyn-based, New Jersey native employs the faux gems in her trademark collages and paintings, many of which depict black women in 1970s-tinged settings. Dark wood and vibrant patterns abound, as do afros. Thomas's broad fan-base ranges from New York Times critic Roberta Smith to Solange, whose "True" EP cover she designed.
While Thomas's vibrant works captivate mainstream audiences, their formal innovations and engagement with art history offer additional treats for trained aesthetic eyes and painting buffs. Thomas has riffed on such white male predecessors as Gustave Courbet and Édouard Manet, reimagining their female-objectifying paintings with her singular, instantly recognizable visual language. Her revisions of the canon feature empowered, confident, rhinestone-adorned representations of black women. On February 15, the Seattle Art Museum (S.A.M.) will open a group show that features her work alongside that of Robert Colescott and Kerry James Marshall.
Called "Figuring History," the exhibition unites three black artists of distinct generations (Colescott was born in 1925, Marshall in 1955 and Thomas in 1971). Together, their works will propose an alternate history of American painting to what most museums' permanent galleries promote. Twentieth century black experience, and some of its most important figurative representations, are central to the show. Included are three new paintings by Thomas, which show that while she's keeping the rhinestones, she's also pushing her practice in exciting new directions.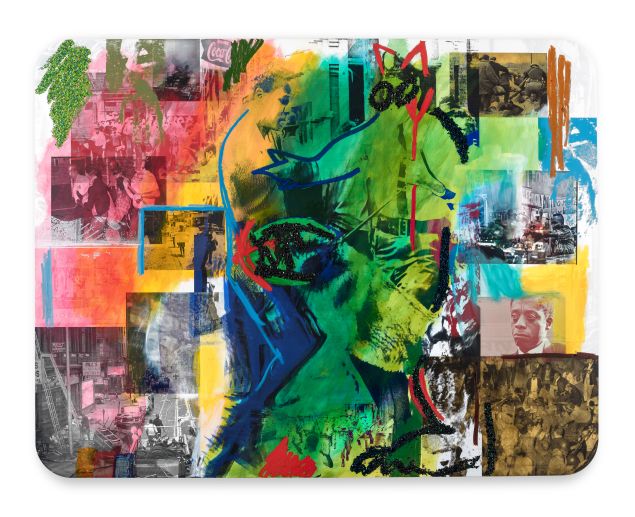 Thomas discussed these works at her Clinton Hill studio one recent January evening, showing them off in the space they were made. If the artist has previously filtered her political commentary through depictions of 21st century individuals, paintings like Resist reveal she's now prepared to offer an alternate, explicitly historical approach. The multi-layered painting features overlapping silk-screened images swimming in a rainbow wash of paint. At the center are policeman and his dog, which appears to be attacking a young black man. With red oil stick Thomas has drawn pointed ears on the policeman and a pitchfork in his hand, making him into a cartoonish devil. Rhinestones coat his eyes and shoulder, as well as the dog's face and leg. The silk-screens feature images of protesters, James Baldwin's pursed-lips stare, scenes from Selma and other archival photos from the Civil Rights movement.
"I've been wanting to do something sociopolitical for a while," explained Thomas. "With everything that's been happening, I started collecting and sourcing these images." She first employed them for performances at the Smithsonian and the National Sawdust. Then, Thomas discussed Colescott's satirical work with a S.A.M. curator and considered what kind of conversation she wanted to depict in her own new pieces. She thought about artists such as Robert Rauschenberg, who used found materials to offer his own narrative about particular moments in American history. Finally, she decided to look specifically at the 1960s, connecting that era's issues with today's.
"I started thinking about James Baldwin," said Thomas. "How would James Baldwin respond to what's happening today? If he was here, he would look and see that nothing has changed." The artist believes that no one has taken up his baton—that we haven't yet reached the next phase of promoting equity in our country.
Notably, each of the silk-screened images has a personal connection to Thomas. One shows a bodega located near the artist's former Bed Stuy home that was bombed in 1977. Thomas laid down the screens at random, aiming to create a sense of vibration and movement. Unhappy with the results the first time, she washed the whole construction out and started again.
The two other works offer more of Thomas's quintessential fare. In Portrait of Maya #10, a woman's rhinestone afro bounds exuberantly upward, cut off by the painting's edge. Rhinestones form her thick brows and red lips. She wears a floral jacket and reaches her arms behind her head, though an image collaged onto her chest depicts another set of hands reaching over half-concealed breasts. In Raquel: Come to Me, Thomas's partner, art advisor Raquel Chevremont, sits wide-legged on a multi-patterned couch. The collage format fractures Chevremont's composition. She's part drawing, part photograph, part painting. Visually representing the complexity of its subject, the work's different styles add up to more than an exuberant, celebratory whole.
Throughout Thomas's oeuvre, the personal has always been political. At S.A.M., Resist will reveal another dimension of her practice. Flanked by more heavily rhinestoned canvases, it'll situate Thomas's subjects within both a larger historical context and today's most critical, ongoing conversations about race and gender in America today.