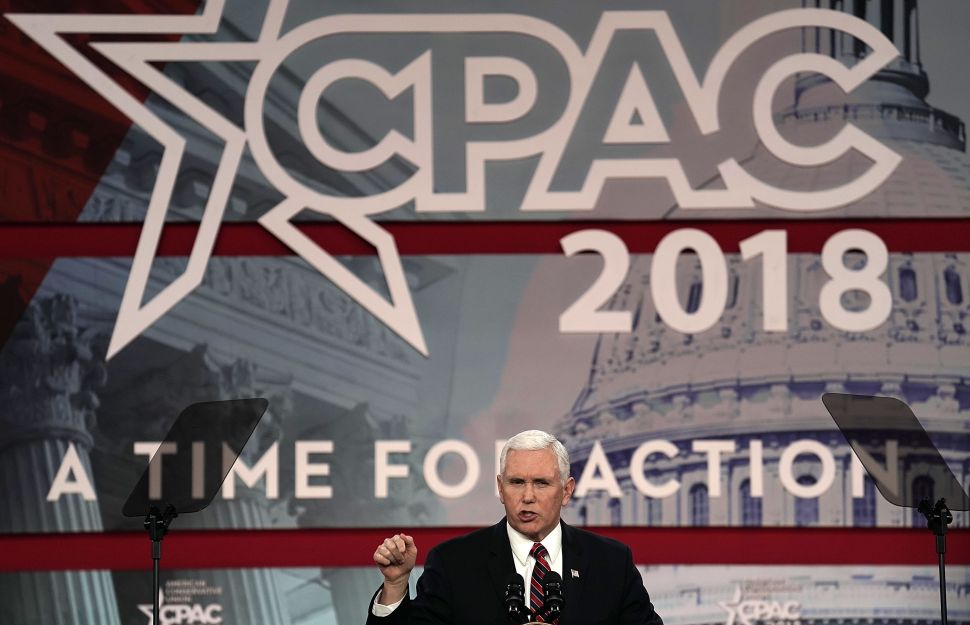 "You may not know this, but Mike Pence is a cartoon artist," the vice president's wife, Karen Pence, told the Conservative Political Action Conference (CPAC) on Thursday. "He loves a good book, especially the Good Book."
After an introduction by Mrs. Pence, the vice president addressed CPAC to tout the accomplishments of President Donald Trump's administration. "U.S.A!" chants reverberated throughout the Gaylord Hotel in Maryland as Pence adopted a Trumpian bravado.
"2017 was the most consequential year of the history of the conservative movement," said Pence. "It's been a year of promises made and promises kept."
"I can assure you all, President Trump and this entire administration will continue to take strong action to make this nation safe," the vice president addressed the recent school shooting in Parkland, Fla.—which he claimed was a problem of "dangerous mental illness," rather than firearms.
Promising to continue "dismantling the liberal legacy of the past administration to turn this country around," Pence threw barbs at the National Football league, Planned Parenthood and House Minority Speaker Nancy Pelosi.
"We always stand for our flag and our national anthem as well," Pence referenced NFL protests against standing during the National Anthem. Last October, he flew to an Indianapolis Colts game just to stand during the opening ceremony as players kneeled in silence.
Addressing a recent photo of Pence shunning North Korean President Kim Jong Un's sister, Kim Yo Jong, at the Winter Olympics, the vice president added, "The United States does not stand to murderous dictatorships, it stands up to murderous dictatorships."
After citing 2.5 million jobs created and the destruction of the Islamic State, Pence touted his success in defunding Planned Parenthood.
"I was honored to cast the tie-breaking vote in the Senate to send a bill to Donald Trump's desk to allow states to defund Planned Parenthood," he said, later transitioning to rhetoric reiterating President Donald Trump's promise to build a wall along the border between the U.S. and Mexico.
But after delivering partisan quips toward Democratic politicians and institutions, Pence changed tone to strike a chord of unity.
"It seems that we're becoming more and more disconnected from one another," said the vice president. "Increasingly, it seems like we've lost sight of who we are as a people. Here in the United States of America, there will always be more that unites than divides the good and great people of this country."
As he left the stage, patriotic music thundered and attendees exited quickly, grabbing selfies.