Jewelry designer Lepa Galeb-Roskopp maintains homes all over the world, but she's highly selective when it comes to decorating. "It has to evoke a feeling of warmth, living and emotion. It has to inspire me," Galeb-Roskopp explained to Observer. "For me, in order to function, I have to go, 'Wow, that makes me feel good.'"
Galeb-Roskopp began traveling around the world as a child, and is still always on the move. Her many travels inspire her creative process, and she eventually decided to fully pursue design when she launched Misahara.
Galeb-Roskopp now has homes in South Africa, Porto Montenegro and Silicon Valley, as well as a beautiful apartment on Great Jones Street in New York. The bauble designer spoke with Observer about her home style, travels and how she finds the most unique and special pieces.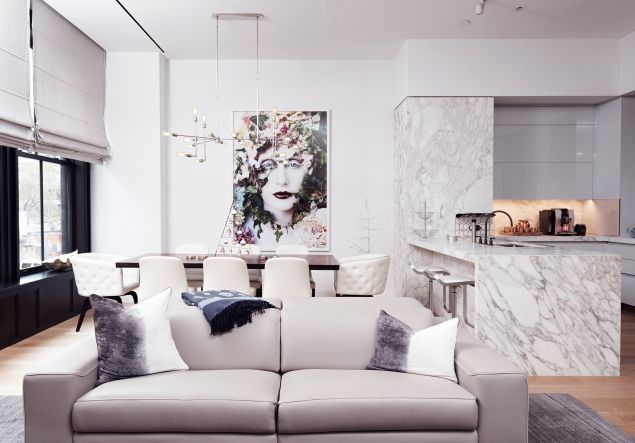 How did you first launch Misahara?
It was five or six years ago. I was always into fashion and I was always into jewelry. My husband was buying me stuff I loved, but that everyone else had. I would go to my local goldsmith guy in Silicon Valley, and he would change it up. And he'd say, 'Lepa, you're spending so much money on top of all this money, why don't you do your own jewelry?' So finally, my husband said to do it, and follow my passion.
Tell us about your Reimagine Heirloom collection.
I was designing for some very exclusive clients in London and other areas. Like this guy, the CEO of Liverpool, he has this amazing story of his children and wife. He's so sincere and genuine, that when he tells you a story, it's so easy to create something for him.
My team said, 'Why don't you take people's heirlooms and recreate something out of them?' People want to keep heirlooms; they go from generation to generation, but it might not be your style. So you can turn it into something chic and hip, and it can still be a part of your generational story. We all want to have a past, and to hold on to something from our past that we admire. We're launching more of it in 2018.
When did you start traveling? 
I grew up going to Europe, everywhere from the ex-Yugoslavia, now Serbia. My aunt is a diplomat, and I spent a lot of my teenage years in Paris. From there, I traveled, mostly in Europe, every summer. When I married my husband [Rob Roskopp, CEO of Santa Cruz Bicycles], it became part of our lifestyle. Suddenly, we just started to settle in certain places. We now have permanent homes in South Africa, New York, Porto Montenegro and Silicon Valley, where the kids grew up, and in Lake Tahoe.
What made you decide on this Great Jones Street apartment? 
I've been here three years. I had a friend come in from Porto Montenegro, and I knew I was looking for an apartment but I didn't know where. We were bar hopping in Soho, and we fell on this place, on Great Jones, which was just being built at the time.  There's so much history here; it's this old fire station, and I was lucky and able to get it—I just fell in love with the area. It's so eclectic, artistic and cosmopolitan.
What's your favorite room here? 
I like to congregate in the living room. If you look outside, it's such a small little street. It reminds me of Europe, and it's just different—you always hear the fire trucks, but it's not obnoxious.
How do you approach decorating your many homes? 
It has to have meaning, create motion and have some attachment—not to the material world, but to emotion. In Silicon Valley, we have lots of pictures, because it's where the kids grew up—the photos are mostly of childhood memories. In Africa, we have a lot of African art, from our travels through African reserves. In Porto Montenegro, we have beautiful artwork too, with crystal and diamonds, and one with Marilyn Monroe. New York is more fashion. You have the Louis Vuitton books, and the butterfly piece of art above the dining table, is by a photographer who's been in the fashion industry forever, her name is Kirsty Mitchell. Each piece evokes a different feeling.
How did you get the photograph?
Everywhere we live, we acquire certain artwork that is special to us—this piece is by [Mitchell], who worked under Alexander McQueen. Her pieces were being showcased Porto Montenegro, and they said she worked under McQueen, who is one of my favorite designers. She has such an eye, and I get inspired by talent and creativity. It's my favorite piece in the apartment.
The egg chair with the racing stripes is so unique.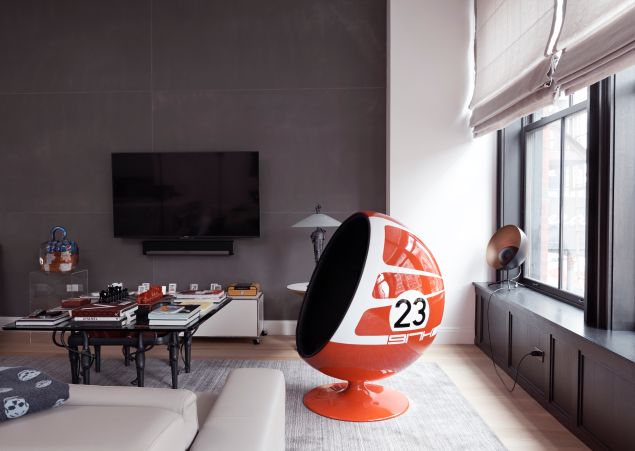 My husband is into racing cars. We have a love affair with Ferrari and F1. I think growing up, you always think of these cars as pretentious, and I always thought it was men who have egos, who want to show off. But as I designed, and got more involved with Ferrari and went to their factory in Maranello, it changed. They're insane with artistic precision and craftsmanship, it goes to another level. And the chair reminds my husband of racing—he absolutely loves it; he's a car collector. I'm more into the craftsmanship of Ferrari.
Tell us about the chess board among the coffee table books. 
It's a Ferrari chess board! My son plays, I don't, so the table is a mix of me and my son.
What are your some of your favorite design stores?
I don't have one specific place—we usually acquire pieces through our travels, as we travel quite extensively, and sometimes connections in the industry. It's my whole philosophy—create your own unique look. I have a lot of art dealers in this world we're in.
Are there certain pieces you like to keep in every home? 
Truthfully, I'm not attached to the material world. Life goes by so fast; it's not about the latest armchair, I don't care about that—it's difficult in the places where we live, because everyone is always trying to keep up, have the latest Van Cleef or Chanel. It's great to love, or admire, but to attach yourself to it becomes dangerous. When I buy something for my house, it has to have the feeling of a journey, what I've lived through and what inspires me.