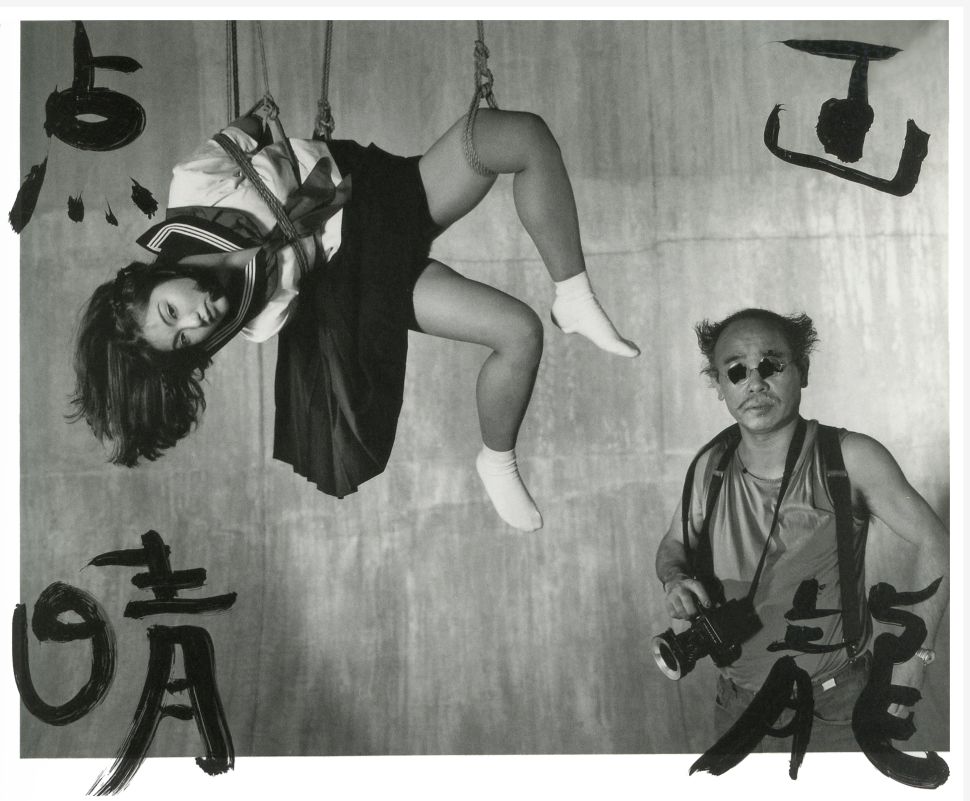 Here are a few of the words that have been used to describe the work of Nobuyoshi Araki: misogynist, liberating, informal, brash, explicit, intense, disgusting, erotic, offensive, sentimental, foul, impermanent, gross, confessional.
They're all true. Born in Tokyo in 1940, the photographer has remained a consistently polarizing figure, both in Japan and elsewhere, a status that he appears to embrace. When working in a jagged street-style born jointly out of pavement-pounders like Robert Frank (an influence he has both claimed and disavowed) and his Provoke-era contemporaries such as Takuma Nakahira and Daidō Moriyama, Araki's images have a diaristic instability; in more delicately composed compositions, always of women and often engaged in Kinbaku, or traditional Japanese bondage, there is an exploitative uneasiness. Sometimes a photograph exists somewhere between the two modes.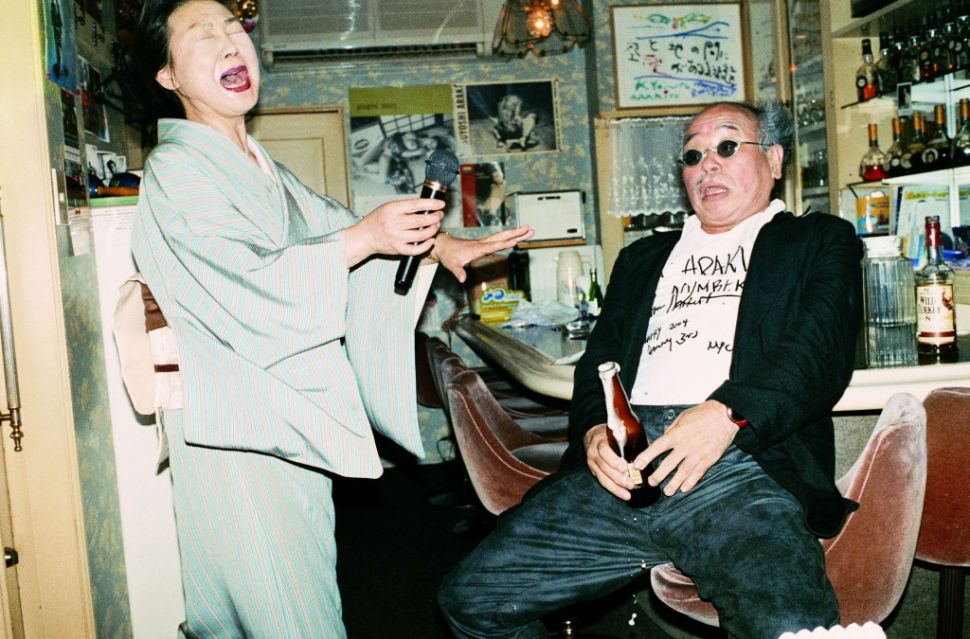 "The documentary and autobiographical impulse is deliberately confused and made very slippery in his work," said Maggie Mustard, one of the curators of "The Incomplete Araki," a new exhibition at the Museum of Sex. "And it's made all the more powerful because he's a photographer who people think of as documenting every single intimate moment of his life."
Araki has claimed that he takes photographs every day, and by the sheer amount of images he has produced over the last 50 years there's no reason to doubt him. His work is littered with shots of clouds, random street scenes, flowers, fruit, his cat and other mundane moments—part of a way of working that he has referred to as the "I-photograph," a play on the modernist "I-novel" in Japan.
When admirers want to counter criticisms of his sexually explicit work, they will often point to Sentimental Journey, a book (first published in 1971; updated in 1991) Araki made detailing his relationship with his wife Yoko, from their wedding and honeymoon through her death from ovarian cancer in 1990. He will sometimes appear in the photo himself, and sometimes not take the photo at all. It can feel panoramic and all-encompassing, amounting to what Nan Goldin has called "one long poem to his city of birth and of choice," elliptical and never-ending. This is most evident in his many, many photobooks, a selection of which are featured across long tables in the exhibition, which displays his ritualistic practice (he has produced nearly 500).
"That he is an obsessive-compulsive artist presents a lot of challenges when you're doing something in the species of a retrospective," Mustard told Observer. Instead of a futile attempt at something comprehensive, she and co-curator Mark Snyder, director of exhibitions at the Museum, decided to structure the show on conversations around culture, politics, sexuality and history.
Before you even get to the work in the exhibition, you are intentionally confronted with questions: Why is Araki controversial? What is the difference between Araki and the performance of himself in his work? What are his obsessions and how are they perceived differently over time? Part of this is "thinking very seriously about controversies around the photographer-model relationship in his work," said Mustard.
What some find troubling in Araki's most graphic images is what Snyder calls the "tension" between author and subject, and what lines are being crossed. The discomfort is not helped by Araki's repeated insistence in interviews that he has sex with all his models. By attempting to contextualize his career and address the most pressing concerns with his work at the beginning, the shock is reduced. "You don't just walk in blindly," Snyder says. "There is a lot to unpack."
Staging an exhibition of Araki's work today looks differently than it might have even two years ago. In the face of Japanese obscenity laws, he was once seen as a rebel, thwarting authorities. Now, in the wake of a growing wave of sexual assault and harassment allegations in the United States and elsewhere, how we view the power dynamics between Araki and the women he photographs has changed. The curators were forced to address "the constructs of power that might go into creating situations where women might not feel like they have the agency with their bodies," Mustard said. They attempt to address this issue by going to the source, bringing in the voices of different models to talk about their experiences.
While this offers Araki more complexity, it doesn't necessarily make his work any easier to process or his persona any less provocative. His world-wide acceptance as a fine art photographer, his absorption into the fashion industry and work with celebrities (Bjork and Lady Gaga being two examples) has allowed him to be normalized to a certain degree. It's a difficult thing to grapple with when encountering an artist and their work. "Even though it still might push buttons, his work is part of the national imagination and part of pop culture in Japan," Mustard said. This process has contributed to a softening of his character, a grandpa taking dirty pictures.
But any attempt to find complete meaning in his work, a narrative arc or common themes, is fruitless. "He thinks of photography as an incomplete medium," Snyder said, referring to the exhibition's title. What you're left with is a series of paradoxes. "There's no way you're going to be able to capture the true Araki."