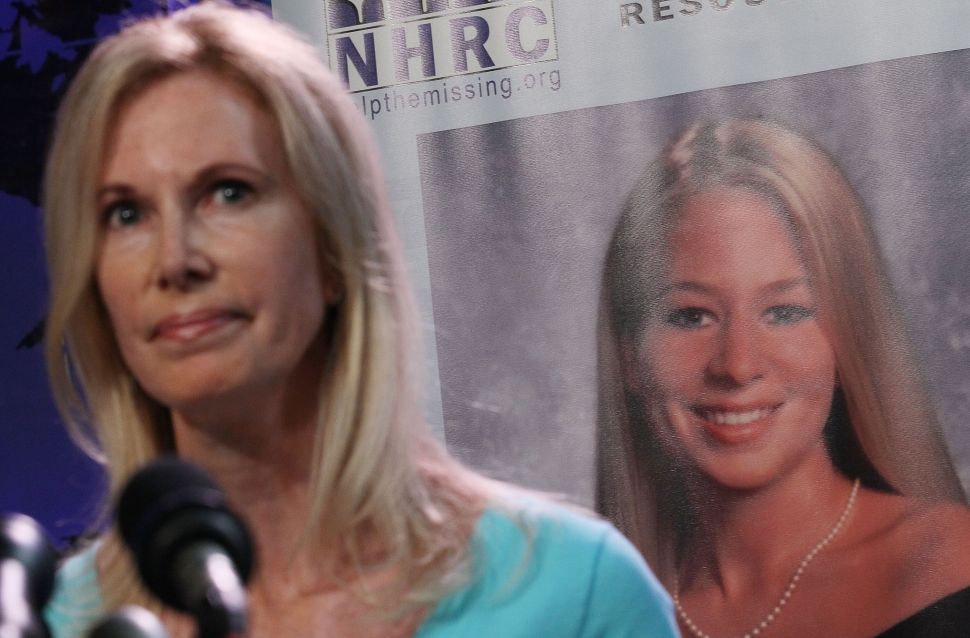 After 13 years, Natalee Holloway is back in the spotlight.
Beth Holloway, the mother of the 18-year-old who disappeared during a 2005 class trip to Aruba, has filed a $35 million lawsuit against production companies Oxygen Media and Brian Graden Media.
According to The Wrap, the elder Holloway alleges that the Oxygen miniseries The Disappearance of Natalee Holloway inflicted emotional distress on the grieving family when it aired last year.
The suit, filed in Alabama federal court on Friday, refers to the TV series as a "hoax" and "a pre-planned farce." Beth Holloway contends the show's "gruesome depictions of Natalee's death and desecration" are "lies."
Natalee Holloway's disappearance remains unsolved. But Oxygen claimed that it had discovered Natalee's body, and the remains had been exhumed and desecrated.
The series alleged that Natalee had been drugged, raped, killed and buried in a burlap sack in 2005. Then, five years, later, her remains were dug up, crushed and pummeled. Her skull was then doused with gasoline, and her bones were cremated.
The show was marketed as an "unscripted documentary investigation." But the lawsuit contends that the entire series was "a pre-planned farce" that was written in advance, and the authorities depicted on the series were all actors.
Beth Holloway also alleges that Oxygen took her DNA under false pretenses "to test against the remains they claimed to have spontaneously discovered."
Going through all of that distress for a series that turned out to be a hoax "completely and utterly destroyed me," Beth Holloway writes in the suit.
Oxygen also published "absurd, grotesque and knowingly false" articles about Natalee's death on their website.
"Defendants' conduct is so extreme and outrageous as to go beyond all bounds of decency and is not to be tolerated in a civilized society," the complaint reads.
Indeed, one of the charges in the lawsuit relies on the legal definition of "outrage," or intentional infliction of emotional distress. The suit contends that Oxygen knew the series would cause great suffering to the Holloway family, but went ahead with it anyway.
The complaint further alleges that Oxygen acted with "actual malice" by airing statements they knew were false and "exercising reckless disregard for the truth."
"We were disappointed to learn of the complaint and its inaccurate depiction of how the series was produced, and we want to reiterate our deep compassion and sympathy for all members of the Holloway family," an Oxygen spokesperson told Observer in an email.
While the complaint is graphic, it's not clear whether it would hold up in court.
Robert Garson, managing partner at the New York firm GS2Law, told Observer that certain aspects of the suit, such as quotes from Beth Holloway's book Loving Natalee, made it seem more like a public relations matter than a legal one.
"There's a fundamental difference between legal and emotional," Garson said. "What Oxygen has done is contemptible—they've strung a mother along, giving her fake hope and solace. But whether what they've done is unlawful is up for debate."
The outrage count of the lawsuit will be particularly hard to prove—but not impossible, according to Garson.
"If you put an emotional case in front of a jury, anything can happen," he said.
Indeed, while $35 million in damages may seem like a steep sum, Garson pointed out that Hulk Hogan, a much less sympathetic figure, was awarded $140 million in his lawsuit against Gawker.
"Here you have one of the most sympathetic plaintiffs you could possibly find going up against unapologetic Hollywood looking to make money," Garson said.
But on the flip side, nothing is set in stone until the jury reaches a verdict.
"Oxygen was heartless," Garson said. "But is being heartless actionable?"