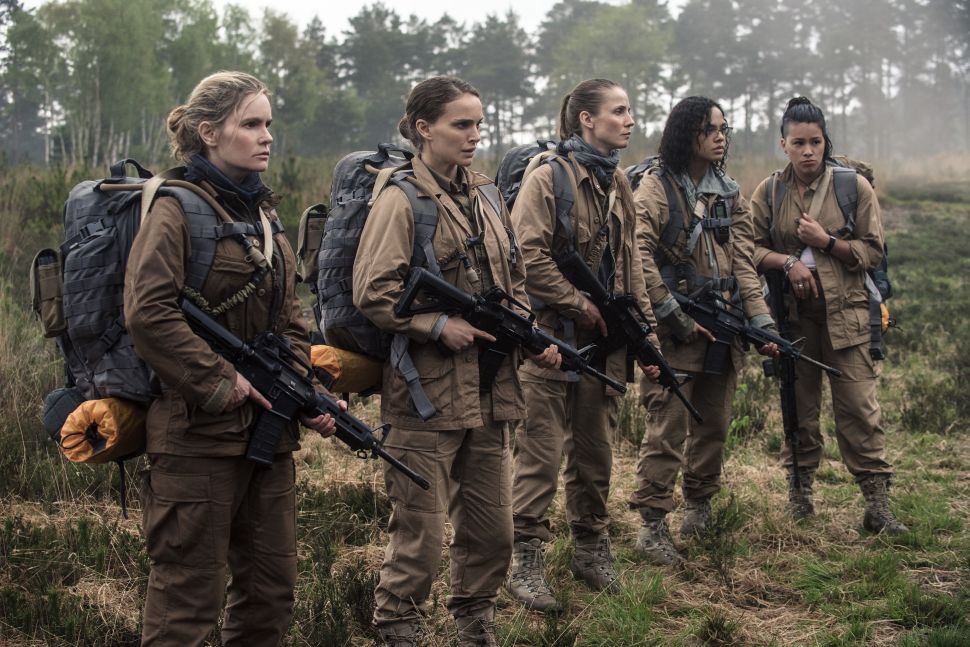 Natalie Portman's new eco-horror Annihilation is facing some backlash amid universally positive critical buzz for potential whitewashing controversies.
The film is based on the stellar 2014 Jeff VanderMeer novel of the same name. As an adaptation of just that first story, writer/director Alex Garland (Ex Machina) cast Portman and Jennifer Jason Leigh in two of the film's main roles.
However, in VanderMeer's sequel book, Portman's character is described as having "high cheekbones that spoke to the strong Asian heritage on one side of her family" and Leigh's character is revealed to be half-white, half-Natavie American.
Garland has said that he did not read the second book while adapting the first for the screen, and the two leading actresses have similarly stated that they were not aware of the character origins until recently. They all have, however, acknowledged the issue of whitewashing in Hollywood.
"Well, that does sound problematic," Portman told Yahoo Entertainment," but I'm hearing it here first."
Leigh added, "It's probably a valid criticism. I didn't know that."
We highlighted Annihilation as one of our 10 most anticipated films of 2018, and we celebrated Netflix's move to acquire the international distribution rights from Paramount Pictures due to our excitement for the film.
But none of that should distract from the overall trend in Hollywood to cast white actors in non-white roles—even when it's done unintentionally.
"We need more representation of Asians on film, of Hispanics on film, of blacks on film, women and particularly women of color, Native Americans—I mean, we just don't have enough representation," Portman said. "And also these categories like 'white' and 'nonwhite'—they're imagined classifications but have real-life consequences. … And I hope that begins to change, because I think everyone is becoming more conscious of it, which hopefully will make change."
Just last year, the upcoming Hellboy reboot headlined by Stranger Things star David Harbour lost Ed Skrein (Deadpool), who dropped out of his role after he learned that the character was Asian in the comics. Marvel's Doctor Strange was criticized for casting Tilda Swinton as The Ancient One, who is Asian in the source material.
In 2017, Garland told Yahoo that his film was based on an unpublished galley copy of the book and that he specifically avoided the sequel novels so he wouldn't be influenced by them in the making of this movie.
"I knew at that time there were supposed to be three books planned, but I didn't know [anything] about the other two," he said at the time, while also noting that VanderMeer gave him permission to make an unfaithful adaptation. "I thought, I'm not going to re-read the book; I'm going to adapt it like a dream of the book."
Still, representation remains at the forefront of Hollywood's continued adaptation to the 21st century. For what it's worth, Annihilation also stars Tessa Thompson, Gina Rodriguez and Oscar Isaac. The film will hit theaters on February 23.