"There were over a dozen extinction level events before even the dinosaurs got theirs! When the Earth starts to settle, God throws a stone at it. And believe me, He's winding up. We have to evolve. There's no room for the weak."
You know who said that? Ultron from the second Avengers movie.
Sure, maybe not the best source for deep and insightful life quotes and perhaps citing a Marvel movie isn't the ideal analog for, well, anything serious, but the idea still fits.
Right now, small screen entertainment is at a tipping point.
The rise of streaming has threatened the very existence of traditional television. There's a battle for our attention being waged this very moment and streaming is winning. Handily.
So much so, in fact, that CEO of the Patriarch Organization and chairman of Reputation Management Consultants Eric Schiffer believes we're roughly "five years away" from the final shift in power.
With Netflix poaching proven hitmakers Shonda Rhimes and Ryan Murphy from traditional TV in recent months with lucrative megadeals, the stage has been set for a mass exodus of content creators.
Pack your bags, ladies and gents.
"I think the largest point of talent will migrate [to streaming] assuming that balance sheets can afford it, and I think that they likely will," Schiffer said. "Linear TV may move much more into production than distribution. These networks doing TV will probably be more producers of content and change to use Netflix as a distribution hub as long as it's exclusive. We're probably five years away from something like that."
That business model is already starting to take root.
The Disney-owned Marvel set up shop with its darker superhero content at Netflix rather than the family-friendly ABC. The CBS-owned CW was developing a Riverdale companion series with a reboot of Sabrina The Teenage Witch before it moved to Netflix. Amazon is set to make the Lord of the Rings the most expensive TV series of all time after HBO passed.
Streamers are already pouncing on exterior content in order to fill its vast libraries.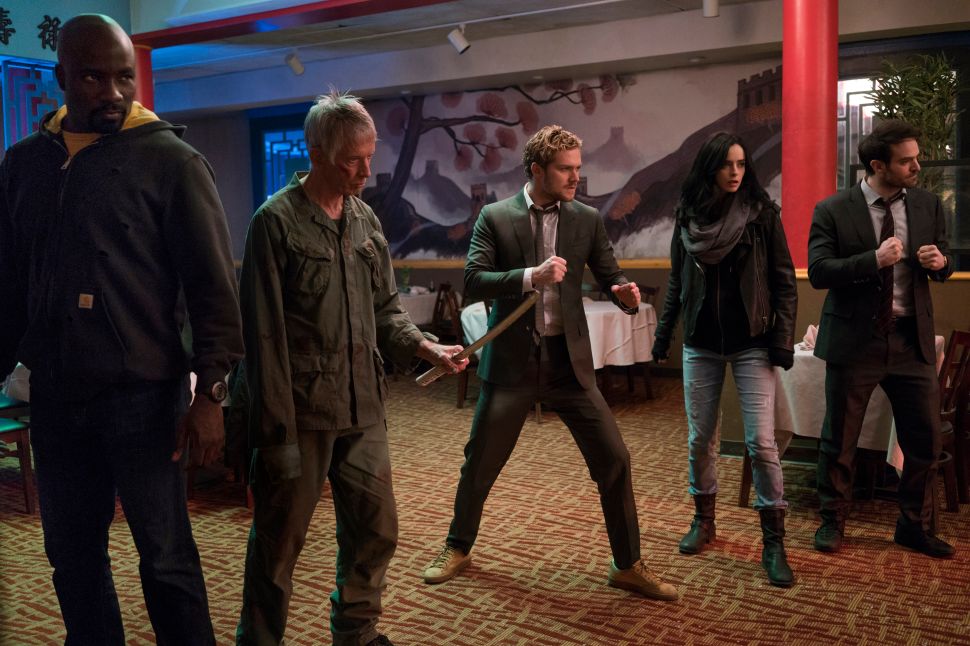 Television is in the midst of an arms race that would have made the Soviet Union blush.
Netflix ($8 billion), Amazon ($4.5 billion), Hulu ($2.5 billion) and Apple ($1 billion) are shelling out billions on content, and the Disney-Fox merger will change streaming forever. The Big Four broadcast networks and cable are doing their best to keep up, but they can't match the creative control, massive checks and lack of pressure to put up ratings that come with streaming.
But there are a few ways that traditional television can stave off extinction—at least for a little while longer. But it's going to take some Ultron-like evolution on their part.
"Advertisers need to reframe value. TV needs to do a better job of seeing whose watching and understanding the demographic and integrating that to revalue shows," Schiffer explained. "Understand the customer experience and try and find a way to be relevant. Work with leading technology firms that really get how to drive demand back. Understand experience and platform utilization. Get yourself in front of the people who still watch. Make them aware of it. Hyper-target the right people and create a much closer relationship with the viewer."
Schiffer is right: to think bigger, TV needs to think smaller.
In 2002, Friends was averaging 24.5 million weekly viewers for NBC, while ER was pulling in 22.1 million viewers to propel the Peacock Network to the top of the ratings chart. Today, NBC's most popular show, This Is Us, rarely tops 11 million.
In 2017, CBS paced the network field thanks to The Big Bang Theory's 14.5 million viewers, an anomaly in these seven-figure days. Viewership is rapidly shrinking, and to hold on to those still remaining, linear television needs to develop a new understanding of its capabilities, the current landscape and its audience.
"Millennials are driving this, behavioral changes are driving this and consumer control," Schiffer said. "People want to watch when they want to watch."
Some may laugh at the $300 million Netflix gave Murphy, but there's a method to the madness. Attracting big names with proven track records is vital for survival in a crowded marketplace that will support upwards of 500 scripted series in 2018. It sends a message to investors that the company will remain aggressive in its pursuit of eye-catching content and talent to further its lead in the streaming wars.
It also builds buzz among subscribers, which expands the company's reach and attracts new customers. It's all an effort to insulate Netflix from the competition so they aren't able to replicate their model of success. And it's working.
While this is sub-optimal for the old guard, its great for fans of quality TV.
"The war is going to be within the streaming arena. Everyone, all the big mammoth companies, will be swinging at each other through great creativity and a clear understanding of show demographics," Schiffer said. "That battle is going to be immense, and the beneficiary will be your eyes and ears as a consumer."