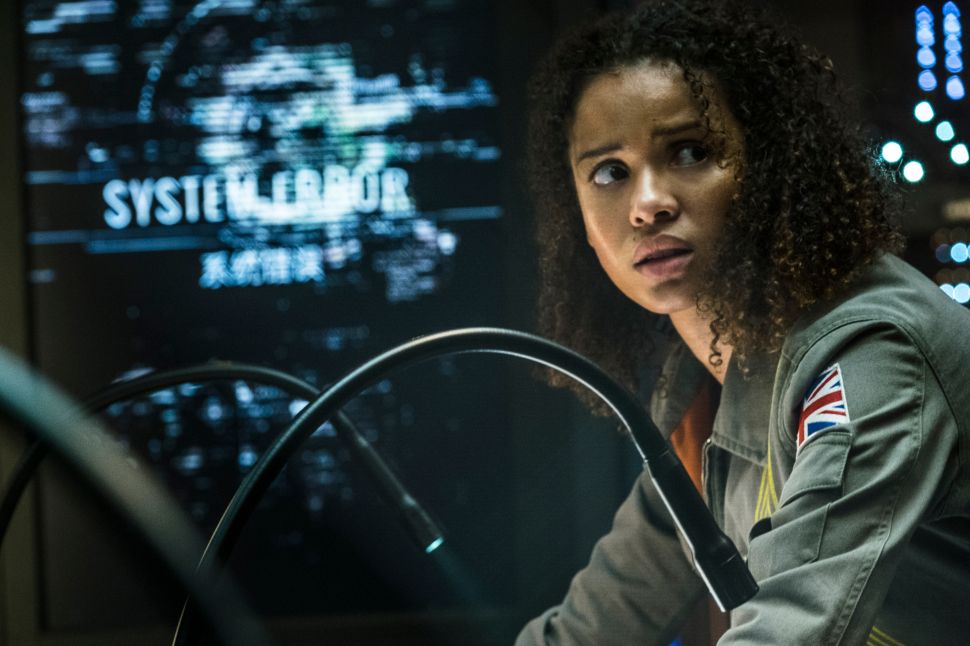 NBC charged $5 million for 30-second ad spots during the Super Bowl, a hefty price Netflix was happy to pay to shock 100 million-plus viewers with the first and what turned out to be the only teaser for the newest Cloverfield movie, a film no one was even completely sure the company had acquired. The streamer then released the movie for everyone to see right after the matchup, going head-to-head with NBC's own This Is Us in the coveted post-Super Bowl spot.
The game was on.
It doesn't matter much that The Cloverfield Paradox isn't very good (the film currently holds a 21 percent on Rotten Tomatoes). What matters is that Netflix disrupted the natural flow of an entrenched linear television tradition—making this move, and this movie, a success regardless of the ratings.
"No doubt this is a turning point for Netflix and other streaming services," Jim Fosina, CEO of Fosina Marketing Group, told Observer. "They are hijacking commercial time on major events to promote streaming events. They are doing 'conquest selling,' and there is no better way to get this done than to intrude real-time programming into live broadcasts when they know the audience will be there."
Let's ignore for a moment the recent report that revealed that Netflix slapped down upwards of $50 million for the movie, because damn. According to comScore, which measures social media buzz, The Cloverfield Paradox teaser generated 41,000 conversations, less than mega-franchise trailers Solo: A Star Wars Story (109,000) and Avengers: Infinity War (161,000), but more than Paramount's Mission: Impossible – Fallout (31,600). The streamer is all about building buzz which expands brand awareness and attracts new customers.
The important takeaway is that Netflix managed to leverage a rare chunk audience TV event to build immediate hype for one of its movies (which have always been the little brother to the company's original TV offerings). It's a strategy we should expect the steamer to employ more often going forward.
"I expect that you will see more of this during large live coverage events," Fosina explained. "I suspect that the Olympics are going to be a perfect venue for this, as well as the Academy Awards and those big TV events that draw huge audiences. Netflix can be opportunistic in the way it plans these real-time efforts."
Anyone dismissing Netflix's handling of the movie as just a "marketing gimmick" because the film itself isn't great is ignoring how big of an accomplishment it was to steal attention away from the post-Super Bowl timeslot.
Streaming is an individualistic activity and that convenience is celebrated because we can consume content on our own terms. But on the flip side, that means we don't always engage with Netflix's content collectively, especially its movies.
Cloverfield Paradox was the streaming service's first movie to be widely viewed and discussed by subscribers at the same time just like a theatrical release. Bright may have had the bigger budget and the biggest movie star and Mudbound may be competing for Oscars, but neither carried the same immediate fear-of-missing-out as Cloverfield. That's a big step forward for Netflix and represents potential progress on the business side of things.
"For Netflix, the goal is to demonstrate that the streaming audience is engaged with the content," Fosina said. "Netflix wants to demonstrate that their content has a real connection with the viewer so that advertisers begin to realize that the streaming audience and programming content is what they should market within to truly reach a more engaged viewer and potential customer."
Of course, The Cloverfield Paradox does not come without risk.
When it was first reported that Netflix was in talks with Paramount to purchase the project, which had suffered through multiple release date delays and been dogged by rumors of a troubled production, we were skeptical. We argued that Netflix should be wary of becoming Hollywood's dumping ground for bad movies.
The actual quality of The Cloverfield Paradox—which is underwritten and nonsensical, but in a fun way—did little to assuage that concern.
But it's possible that Netflix views this deal as a sacrifice of short-term reputation points in favor of long-term strategy building.
"This first effort was a test to understand whether they could grab viewers from a live event," Fosina said. "Netflix is monitoring the performance of this production and will gain great understanding of who viewed it, how many viewed, the level of their engagement, etc. It's a benchmark on the strategy, and I expect they will view other upcoming content based on this performance.
"They will then understand on a viewer profile basis which content will work and which won't based on the viewership of the event that they are marketing against," he added.
In other words: this is only the beginning.