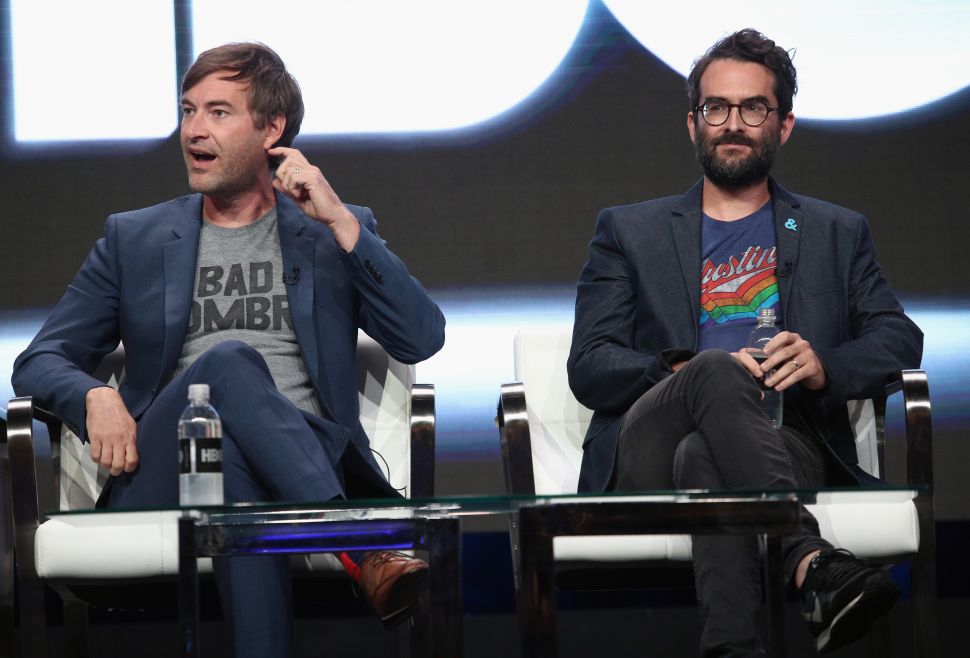 The arms race for talent between the major streaming services and traditional entertainment is in full swing, as more and more content creators opt for the freedom and the deeper pockets of the former.
In recent months, Netflix has signed mega producers Shonda Rhimes and Ryan Murphy to lucrative eight-figure deals. Now, the company has secured the worldwide rights to the next four films from the Duplass brothers.
Variety reports that Mark and Jay Duplass, the duo behind indie films such as The One I Love and Jeff Who Lives At Home and the HBO series Room 104 and Togetherness, have joined the Netflix family. The Duplass brothers also signed a content deal for short-form projects with Snapchat in October. The two are nothing if not versatile.
The first film in the Netflix agreement is the pair's upcoming untitled Ray Romano-led movie, which will hit the streamer later this year. Per the outlet, the movie focuses on "a bittersweet bromance and centers on themes of friendship, mortality and made-up sports."
Mark Duplass co-stars with Romano.
"Turns out when you make films for Netflix, millions of people all over the world watch them. This is not a terrible thing for an independent filmmaker," the Duplass brothers said. "As Netflix continues to grow and develop new ways to reach viewers, we couldn't be more thrilled to grow our partnership."
Netflix had previously co-distributed the pair's first feature film, The Puffy Chair, through Red Envelope Entertainment back in 2005, which marked the streamer's first feature film acquisition.
"Jay and Mark are the most enterprising filmmakers in the business," said Ian Bricke, director of independent films at Netflix. "They have embraced Netflix as much as our subscribers have embraced their films. Having worked with Mark and Jay for over a decade, we have huge admiration for their creative passion and filmmaking smarts. We are thrilled for this next chapter of our relationship."
Streaming offers independent filmmakers a less risky platform to create content.
The Duplass' features have never been the most commercially successful offerings as 2010's Cyrus was their biggest box office grosser with $9.9 million. Transitioning to streaming puts less pressure on filmmakers to sell tickets and stretches the reach of their projects far past what a limited theatrical release could do.