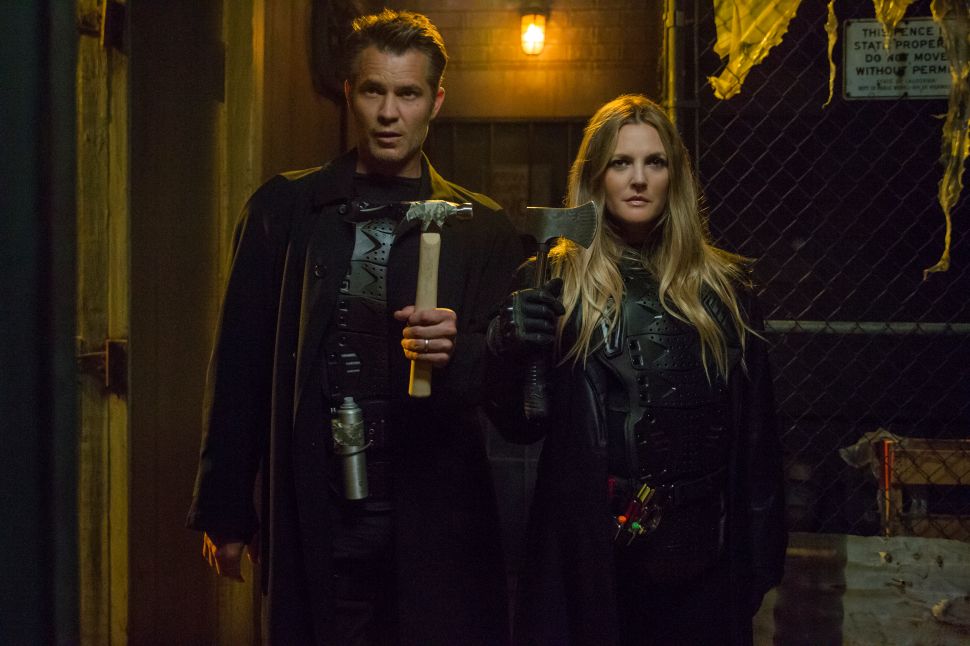 Netflix's Santa Clarita Diet, starring Drew Barrymore and Timothy Olyphant, is gearing up for its second season, marking the continued popularity of zombies. The brain-eating undead beings have been a mainstay in pop culture since George A. Romero's Night of the Living Dead horrified an entire generation in 1968.
Santa Clarita Diet continues that tradition with its mix of humor and thrills and is joined in the current pro-zombie arena by AMC's The Walking Dead, The CW's iZombie, the maybe-maybe not World War Z film franchise and other flesh-obsessed projects.
What is it about zombies that keep audiences coming back for more?
Barrymore and Olyphant have some theories.
"This just felt like more of the old vampire movies to me," Barrymore told Observer and other assorted media last week. "I liked when there was a genre of life and death, high stakes, blood, fucking craziness, 'how is this all going to work out?' feeling… I feel like there is a lot to work with in that whole vampire genre from the '80s and '90s, and Santa Clarita Diet reminds me more of that. These are people who have crazy circumstances, but there's humanity and humanness in it versus total monster. So I liked that."
Olyphant agreed and speculated: "Death is a fascination, so you're never going to go away from it. The idea that you don't die, ya know, people have been talking forever about trying to live your life as though you're already dead because it's freeing. Frees the soul. We're going to keep going back to it forever."
Santa Clarita Diet isn't trying to scare you as much as Romero's zombie classics, and it isn't trying to blow things up as frequently as The Walking Dead. What the show wants to do is provide viewers with a compelling character drama that feels real despite the bone-knawing hunger pains of its central character. It does this by blending laughs and emotion, though Olyphant sees them as one in the same.
"I personally don't see a difference," he explained. "I've never seen any difference between comedy and drama. It's all the same. I've always played my dramas for comedy and my comedies for drama."
He continued: "Aren't your favorite dramatic performances funny? Isn't that what's so fun about watching old De Niro performances? I remember the time people said, 'Wow, De Niro can do comedy. Who knew?' Anyone who watched any one of his dramas knew. And when they said that about John C. Reilly, you're like, 'Of course he was funny. Were you not watching Boogie Nights?' And then on the flip side when people are like 'Bill Murray gives this incredible dramatic performance,' you're like, 'Of course he does. Haven't you seen his comedies?' They're fantastic. There's so much heart and soul to them. Meryl Streep is hilarious. She is!"
Santa Clarita Diet season two will hit Netflix March 23.