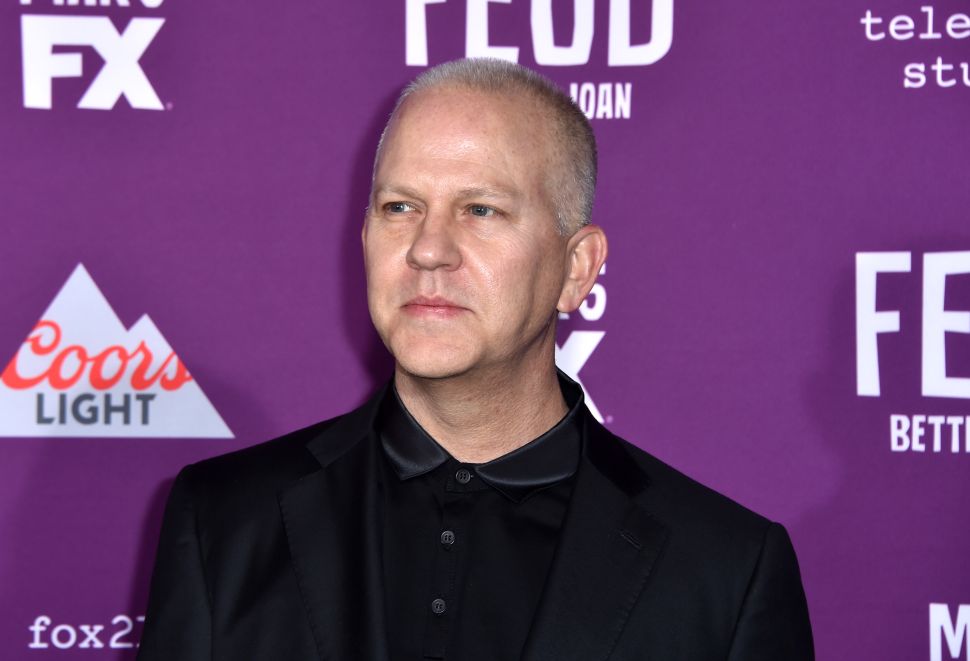 First Shonda Rhimes, now Ryan Murphy. Netflix is collecting proven content creators like baseball cards.
Variety reports that the streamer has signed uber-producer Murphy to a massive five-year deal estimated to be worth between $250 million and $300 million. The contract will begin on July 1, 2018, when Murphy's current deal with Fox expires.
The move comes on the heels of Rhimes jumping ship from ABC in September for a similarly lucrative multi-year deal.
The seeds for the partnership had been planted over the last couple months with Netflix ordering two seasons of Murphy's musical series The Politician with Ben Platt and his One Flew Over the Cuckoo's Nest prequel show with Sarah Paulson, Ratched.
The Disney-Fox acquisition also clouded the writer/director/producer's future with the company, especially with Comcast reigniting its pursuit as well. Whispers suggest that Fox Television Group chairman-CEO Dana Walden could follow, though she is also being courted by Disney.
This marks yet another major get for Netflix as Murphy is a proven hit-maker.
He is responsible for Nip/Tuck, one of FX's first original wins. Since then, he has brought five other popular shows across two networks (FX and Fox) to life: American Horror Story (2.2 million viewers in its most recent season, FX), American Crime Story (1.4 million, FX), Feud (1.3 million, FX), 9-1-1 (6.3 million, Fox) and the upcoming transgender show Pose (FX). He also created Glee which was a big hit for Fox from 2009 to 2015.
With television viewership being sundered to the degree that it has, reliable attention-getters are becoming harder and harder to find. Murphy has a steady following of fans, which is incredibly valuable in a time when television is expected to support upwards of 500 scripted series this year.
The move speaks to the ongoing power struggle currently gripping the small screen landscape and Netflix's increasing influence on the medium. The signing expands the company's allure to notable content creators and its reach to viewers. It's a simple formula: buzz creates awareness which leads to new customers.
Murphy has been with Fox since 2003, and Disney CEO Bob Iger had reportedly courted him to sign on with the Mouse House in advance of the merger's finalization. Consider this a win for Netflix in its looming streaming war with Disney.
"The history of this moment is not lost on me," Murphy said in a statement. "I am a gay kid from Indiana who moved to Hollywood in 1989 with $55 dollars in savings in my pocket, so the fact that my dreams have crystallized and come true in such a major way is emotional and overwhelming to me. I am awash in genuine appreciation for Ted Sarandos, Reed Hastings and Cindy Holland at Netflix for believing in me and the future of my company which will continue to champion women, minorities and LGBTQ heroes and heroines, and I am honored and grateful to continue my partnership with my friends and peers at Fox on our existing shows."
"Ryan Murphy's series have influenced the global cultural zeitgeist, reinvented genres and changed the course of television history. His unfaltering dedication to excellence and to give voice to the underrepresented, to showcase a unique perspective or just to shock the hell out of us, permeates his genre-shattering work," said Netflix chief content officer Ted Sarandos. "From Nip/Tuck—our first licensed series—to American Crime Story: The People v. O.J. Simpson and American Horror Story, we've seen how his brand of storytelling captivates consumers and critics across the globe. His celebrated body of work and his contributions to our industry speak for themselves, and we look forward to supporting Ryan in bringing his broad and diverse stories to the world."