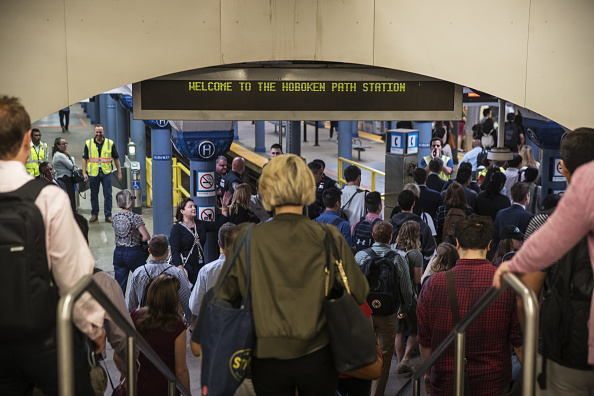 U.S. Rep. Josh Gottheimer (D-N.J.) is looking to standardize federal rail safety standards to keep New Jersey and the United States' rails safe, following two recent major rail accidents and the Hoboken train crash in 2016.
The legislation—known as the FRA Safety Data Improvement Act—calls for codifying safety accountability requirements so that standards cannot be changed from one administration to the next.
It also seeks to streamline the manner in which the Federal Railroad Administration (FRA) collects data, urging the FRA to implement recommendations from the U.S. Department of Transportation's Inspector General.
Gottheimer and Rep. Paul Mitchell (R-Mich.) sponsored the legislation.
"In New Jersey, our rails and tunnels are literally crumbling," Gottheimer said in a statement. "Bergen County is the worst in the northeast for railway crossing crashes. With fatal Amtrak and NJ Transit crashes in Hoboken, South Carolina and West Virginia, we can't afford to sit idly by. When it comes to rail safety, Congress has sat on the rails, watching the runaway trains approach at record speeds. It's time we got moving."
On Sunday morning, an Amtrak passenger train traveling from New York to Miami hit a freight train parked on a side track in South Carolina, claiming two lives and injuring more than 100 people. And last Wednesday, an Amtrak train carrying GOP congressional lawmakers killed one individual as it hit a garbage truck on its way to a Republican retreat at the Greenbrier Resort in West Virginia.
In September 2016, a commuter train plowed into the barrier at Hoboken Terminal, killing one individual and injuring more than 100 people. The National Transportation Safety Board recently determined the crash was caused by the engineer's sleep apnea.
Gottheimer and Mitchell's legislation seeks to ameliorate and formalize reporting and training around railway accidents on railroads like Amtrak and NJ Transit, including those that could have benefited from Positive Train Control, braking technology designed to stave off accidents such as train-to-train collisions and derailments brought on by excessive train speed.
The legislation also requires the FRA to update the House Transportation and Infrastructure Committee and the Senate Commerce Committee on its progress annually.
Mitchell said recent incidents have demonstrated rail safety is a "vitally important issue."
"When accidents and problems occur, there must be a standardized way information can be reported to regulators and policy makers to ensure they can act on it," he said in a statement. "I'm pleased to introduce this bill with Congressman Gottheimer to make FRA's data system more streamlined and effective."