It's almost time for Mardi Gras, the annual celebration that brings an influx of rowdy revelers to New Orleans.
This year, Mardi Gras officially begins on February 13, marking the last day of the Carnival season. It's estimated that over one million people will flock to NOLA to join in on the fun, turning the city into a sea of purple, green and gold, with floats, parades and more fêtes.
There's no denying the annual event attracts plenty of college-age partiers, thrilled with the open-container laws (or lack thereof) in the Louisiana city, but there's also a more refined way to celebrate. For the most stylish, luxurious and authentic Mardi Gras experience, book a stay at one of the best hotels in the city.
Below, see our top five picks for where to stay in New Orleans during Mardi Gras.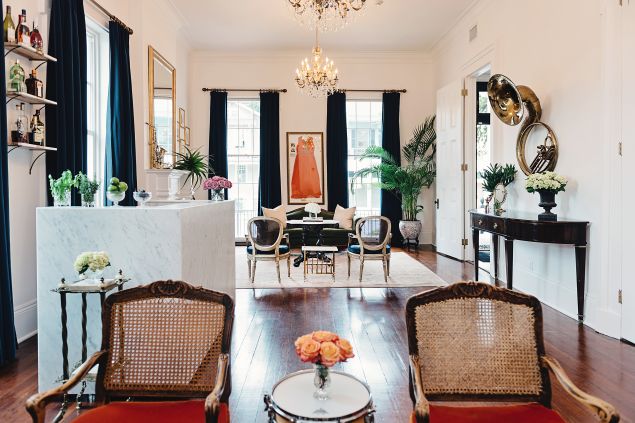 The Henry Howard Hotel opened in New Orleans' Garden District in February 2016. The 18-room hotel is located in a mansion that dates back to the 1860s, and the restored décor reflects its history over the years. Interior designer Lauren Mabry helped curate each room with vintage and custom furniture, as well as works commissioned by local artists. If you really want to splurge, go for the Edward Conery Suite, which occupies the entire third floor and is comprised of three bedrooms, two bathrooms and a large entertaining area. The hotel has galleries with walk-through windows and Corinthian columns—make sure to stop in the bar in the Parlor room, where you can sip a cocktail amid the 12-foot ceilings, red pine floor and floor-to-ceiling windows.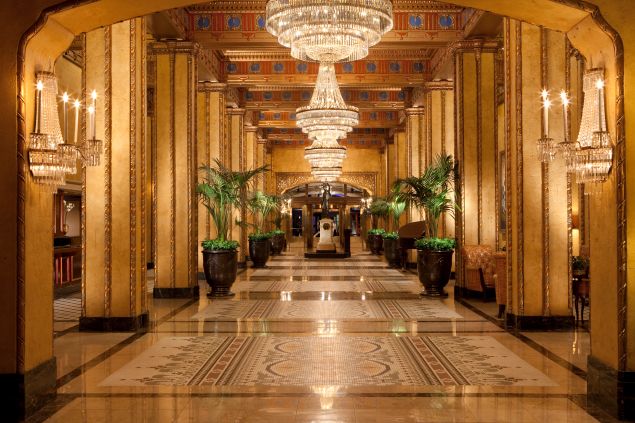 This historic property dates back to 1893 and as one might expect, has traded ownership a few times over the years. It most recently reopened as the Roosevelt Hotel, under the Waldorf Astoria umbrella, in 2009, following a $145 million restoration. The renovation brought many original architectural details back, including handmade plasterwork, coffered ceilings and mosaic tiled floors. They even returned the renowned Sazerac Bar and The Blue Room to their original glory, with chandeliers, woodwork and Art Deco murals. The Blue Room was originally a supper club but is now used mostly for weddings and entertainment.
The 504 guestrooms feature more traditional décor and furnishings, and other amenities include a rooftop pool and a 12,000-square-foot spa.
The Ritz Carlton in New Orleans is located on the outskirts of the French Quarter, in a historic 1908 Beaux Arts Maison Blanche building. The décor of the 527 rooms, including 37 suites, 74 Club Level rooms and one penthouse, is influenced by the Garden District's antebellum mansions, with sparkling chandeliers and plenty of luxurious drapery. The hotel's Maison Orleans Club Level has its own separate entrance, a lounge with a Bloody Mary bar, wine fountain and food. There's also an impressive spa, with over 100 treatments that pay homage to NOLA's culture—there's the VooDoo ritual, with magical and mystical elements and a locally crafted herbal poultice ritual with a full body massage. The hotel is also home to the exclusive Davenport Lounge, where you can catch nightly jazz performances from Jeremy Davenport.
The boutique International House hotel is located just two blocks from the French Quarter, in a Beaux Arts building. The owner, Sean Cummings, worked with designer LM Pagano and architect Brooks Graham on the hotel, which is a combination of European, Caribbean and African influences. The hotel bar, Loa, is headed by "Spirit Handler" Alan Walter, who mixes the cocktails with inspiration from New Orleans' spiritual culture—Loa means "divine spirit" in voodoo. There are 117 rooms, suites and penthouses, all with unique furnishings from Pagano, as well as pieces from local artisans hired to create objects for the hotel. Art lovers may be particularly excited about one upcoming component of International House, which already has a curated art collection; later this year, a Banksy mural is set to be installed in the hotel.
Hotel Monteleone is right on Royal Street, a block away from Bourbon Street. The hotel, a member of Preferred Hotels & Resorts LVX Collection, is composed of 570 rooms, including 55 suites. Many are literary author suites, named for iconic writers and past guests like Ernest Hemingway, Truman Capote and William Faulkner. All of the rooms showcase a French-inspired aesthetic, along with high ceilings and marble baths. The hotel's 25-seat Carousel Bar has been open in some form since 1949, and it actually does rotate—albeit very slowly. There's also a rooftop pool with cabanas, plus the Spa Aria.