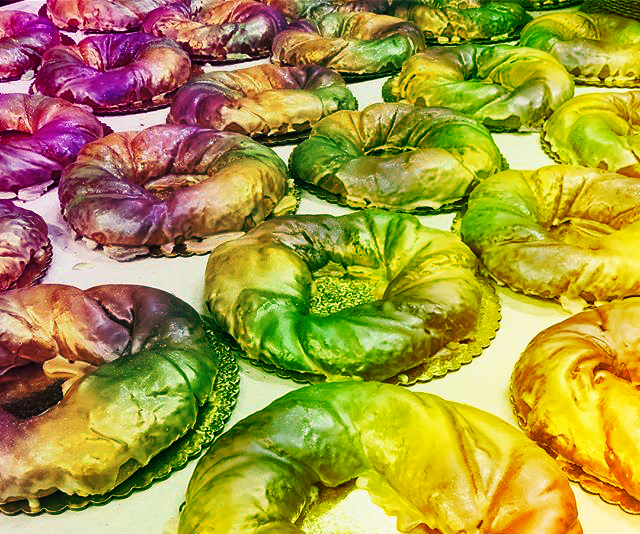 Whether you're a Mardi Gras virgin or spend every year celebrating on the neutral ground, it's time to start preparing for the biggest party of the year. If you've never visited New Orleans before and you happen to be venturing there during the rowdiest week of the year, there are a few ways to celebrate Mardi Gras like an actual grown-up. Guzzling bottomless cocktails might sound tempting, but after about 48 hours of an all-alcohol diet, it's entirely possible you'll be ready for a green juice instead of Chartreuse.
And while Mardi Gras might look like pure debauchery from afar (and to be honest, it does involve ample amounts of alcohol), it's actually a family-friendly event with no flashing involved. In fact, if you do feel the need to lift your blouse, you will probably be escorted away by police officers on horses, unless you're on Bourbon Street. Beads might be flying, but it's usually straight to small children who are sitting in ornate, decorative ladders on the street waiting to catch plush toys.
Mardi Gras is a marathon, not a sprint, and hopefully, you've been training by drinking a little more liquor every day and making sure your body is ready for an onslaught of carbohydrates.
Don't spend all your time in the French Quarter.
While your hotel might be in the heart of the Quarter, it's worth escaping. Sure, you can reenact your favorite scene from Girls Trip (although, there's no Bourbon Street zip line), but at some point, you'll want to see the rest of the city. The best time to explore is during the day, before the parades begin in earnest. If you happen to be staying in the Quarter, head to Frenchmen Street, which is Bourbon Street for grown-ups, known for their live music and late night eats.
Venture uptown.
Spend time on Magazine Street, which is a six mile stretch of Southern boutiques, art galleries and restaurants. Stop in Ashley Longshore's pop-art gallery, which counts Blake Lively as a mega fan and is ideal for Instagram. And while you're nearby, it's worth venturing to Mignon Faget, the Tiffany & Co. of the south.
Plan dinner within walking distance. 
It's more than likely that you're staying downtown, so make reservations within walking distance of your hotel. As much as you might want to Uber around, it's almost impossible to get past the parade scansions, and you'll definitely want to eat after early an early morning Champagne toast. If you're staying near Magazine Street, book a table at Shaya, the Israeli restaurant that was named the Best New Restaurant in the U.S. at James Beard Awards. While it's difficult to walk in without a reservation, there are always last minute cancellations.
For a meal that's a bit more casual, St. James Cheese Company serves inventive charcuterie plates, and there are both uptown and downtown locations. If you're staying in the South Market District at the Ace Hotel, you're in luck; you won't have to leave the area for the enormous, infamous biscuits at Willa Jean or a heaping, fresh bowl of pho (a.k.a. the best hangover cure) at Magasin Cafe.
Upgrade your cocktails. 
While you'll probably be sipping Superior Grill margaritas on the parade route (caution: they're strong, and best chased with queso), you might want a break from all that tequila later on. If you're looking for happy hour cocktails, The Columns is uptown's favorite place to spend a Friday night with a Pimm's Cup in hand. And if you want to escape the crowds completely, try Cure, famous for their historically accurate and complicated cocktails. For those who want to pretend Mardi Gras isn't happening at all, Bacchanal Wine has a courtyard lit with sparkling lights and cheese plates.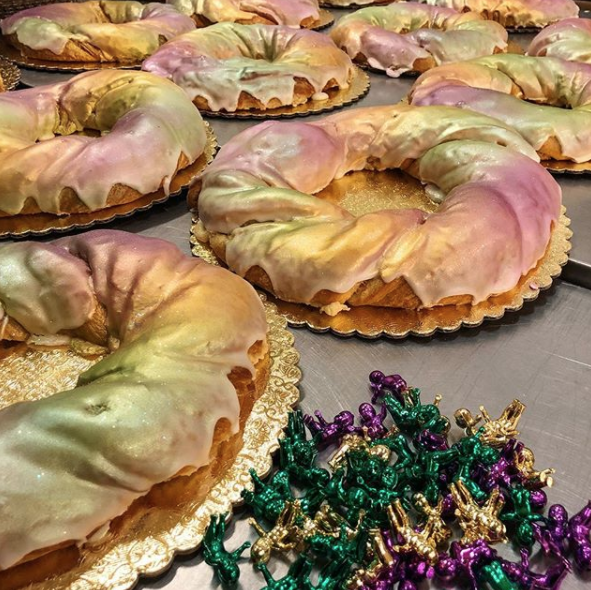 Find the baby.
If there's King Cake on the menu (at Shaya, they're making a babka one, ready for delivery), you'll want to order it—just don't be surprised if you bite into a baby. For an entire King Cake instead of a mere slice, try the phenomenal chocolate shop Sucre, Randazzo's or Gracie's Bakery, a seasonal pop-up that creates custom orders (so far, the most popular flavors have been cream cheese filled with Amaretto icing and bananas). Or, if you can't handle an entire cake, try beignets at Cafe du Monde, which will be slammed with tourists but well worth the wait.