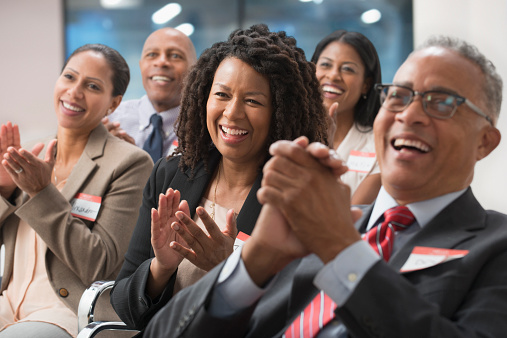 Three of New York City's designated banks are giving a combined $40 million to city programs supporting minority- and women-owned businesses and enterprises (MWBEs)—on top of a $20 million investment from the city.
The biggest commitment came from Amalgamated Bank, which is giving $20 million to the Emerging Developer Loan Fund, a program that offers capital to emerging developers working on real estate development projects.
Bank of America and TD Bank, for their part, each gave $10 million to the Contract Financing Loan Fund, which allows MWBEs to borrow up to $500,000 from the city at a maximum three percent interest rate if they are not eligible for funding from other sources.
With the city's initial investment of $20 million to both funds, the total investment is now $60 million.
Mayor Bill de Blasio, who announced the commitment at the Rainbow PUSH Coalition's Wall Street Project Economic Summit in Manhattan on Friday afternoon, touted the city's status as the safest big city in America—and vowed to take the next step: making it the "fairest big city."
"That's what we need to build," de Blasio said. "We are all very honest about the history that preceded us and it's very clear in New York City. This city was built, so much of what was done to build New York City was by people who never got respect… people of color and women who contributed so much to creating this city but so rarely reaped the rewards."
During his address, he praised Rev. Jesse Jackson—the civil rights activist and Democratic presidential candidate in 1984 and 1988—and former Mayor David Dinkins, the city's first and only African-American mayor, who was the architect of the city's MWBE program. Jackson was in attendance.
"We should never think that a good movement or a good idea has to die," he continued. "It's up to us to give it life."
And he maintained that supporting MWBEs will create more job opportunities for women and minorities.
"We're all quite aware of what happens neighborhood by neighborhood if an MWBE firm in a neighborhood of our city gets a contract," de Blasio added. "What do they do? They turn around and they hire from their neighborhood. Women-owned firms give even more opportunities to women than firms across the board. Firms run by people of color give more opportunities to people of color. These are facts."
In May 2017, de Blasio assembled the city's designated banks to establish partnerships and work on increasing capital for MWBEs. The loan from the three banks marks the first round of commitments.
Jeffrey Barker, New York State president of Bank of America, told Observer that the bank has a diversity supplier network that includes minorities, women, people with disabilities, veterans and LGBT individuals. The bank, he said, has a goal of giving 20 percent of its goods and services to a diverse supplier.
Barker said the city called the bank about six months ago saying that it needed to expand the MWBE program.
"When they called, we said, 'You're calling the right people'…there's tremendous expertise in the business community," Barker said. "Private sector and the public sector [coming together] to help the common good."
Keith Mestrich, president and CEO of Amalgamated Bank, told Observer that in 1924, Amalgamated was the first bank to provide unsecured personal loans for working families.
"There's no doubt that women and minority entrepreneurs need an extra leg up in order to succeed in the world and if we can be part of a city-backed program to provide entrepreneurs with access to credit at affordable rates…that's exactly the kind of way to provide for new opportunity for those business leaders," Mestrich said.
He said the mayor is "trying to put his money where his mouth is."
"Together, it gives us the ability to provide private capital with government backing so that we can actually make this program work," Mestrich continued.
Peter Meyer, president of TD Bank's New York City market, told Observer he expects the bank's commitment to go through in one to three months.
"The banks are part of the community and the more we participate in programs like this, the stronger the communities are and quite frankly it's good business for banks and New York City," Meyer said.
In September 2017, the city announced that it awarded more than $1 billion in contracts to MWBEs for the first time—a year after the mayor unveiled a new vision that included a 30 percent MWBE participation goal to be met by 2021, as well as the first-ever MWBE office.
Although Gov. Andrew Cuomo vetoed legislation removing a requirement that MWBE owners have a personal net worth of less than $3.5 million to receive state certification, he signed a bill enabling the city to give out as much as $150,000 to MWBEs without a competitive bidding process.
Deputy Mayor of Strategic Initiative Richard Buery, the city's MWBE director, anticipates that other banks will follow suit and said the city can now work on "getting the money out of the door" to restaurateurs, contractors, plumbers and others who help MWBEs and "grow opportunity."
When asked why he thinks the three banks were the first to commit, he argued that they "have the right value."
"They understand that to be strong, you have to be a community that is strong, and I think they all recognize that their businesses depend on having a strong financial legal system," Buery said.
And he added that they understand that it is "also about their bottom line."
"We know that MWBEs are good for it," Buery continued. "They know that these are businesses that pay their loans. They deliver on time, so I think it's a win-win."
Jonnel Doris, who heads the city's MWBE office, told Observer Dinkins "absolutely" serves as an inspiration for the city's work on the MWBE issue.
"After Mayor Dinkins started the program, it sort of went away for a few administrations, and when we came in, we sort of found a situation where it needed this infusion of not only cash like we have today or resources or capital but really of a commitment," Doris said.
This story has been updated to include comments from the three banks.