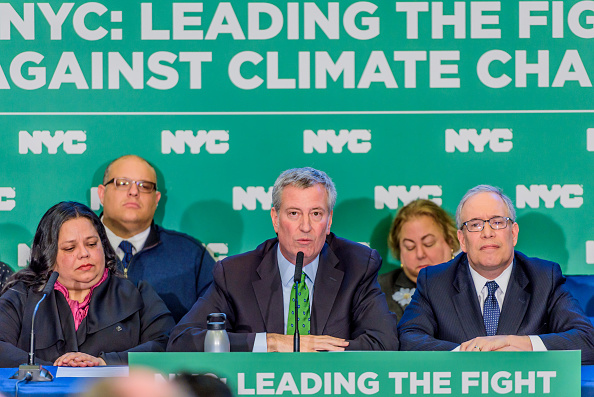 Mayor Bill de Blasio is teaming up with more than 200 mayors to fight President Donald Trump's proposed repeal of the Clean Power Plan, former President Barack Obama's signature policy seeking to rein in greenhouse gas emissions.
In October 2017, the Environmental Protection Agency (EPA) announced that it would repeal the policy, which would have allowed the EPA to mandate that each state meet a specific goal for curbing emissions from power plants. It would also have offered incentives for switching from coal to natural gas, as well as constructing wind farms.
In March 2017, Trump signed an executive order calling on the EPA to reverse restrictions on fossil fuel pollution.
De Blasio and 232 other U.S. mayors from 46 states and territories representing more than 51 million residents—part of the Mayors National Climate Action Agenda, known as "Climate Mayors"—submitted a comment letter to EPA Administrator Scott Pruitt to oppose the move.
In the letter, the mayors said the annual cost of coastal storm damage is expected to reach as much as $35 billion by the 2030s and that coastal property valued at $66 billion to $106 billion will likely be underwater by 2050.
"No one is insulated from the impacts of climate change—people in cities of all sizes, along with suburban and rural communities are all at risk," the elected officials wrote.
"Residents of our communities have experienced harmful impacts of climate change such as dirtier air, increased heat-related illnesses and deaths, damaged and disappearing coastlines, longer droughts and other strains on water quantity and quality, and increasingly frequent and severe storms and wildfires," they continued.
They also noted that reducing greenhouse gas emissions is key to protecting citizens against the "worst impacts of climate change."
Other signatories include Los Angeles Mayor Eric Garcetti, co-founder and chairman of the Climate Mayors; Chicago Mayor Rahm Emanuel; and mayors from Boston, San Francisco, Denver, Dallas, Seattle and Cleveland.
A peer reviewed study conducted by the EPA found substantial differences between a world in the year 2100 in which global warming averages 2 degrees Celsius versus a world in which global warming averages 4 degrees Celsius.
The difference, the study projected, is 57,000 fewer domestic deaths a year due to poor air quality and 12,000 fewer domestic deaths per year from extreme heat and cold in 49 U.S. cities, as well as up to $6.4 million in avoided yearly adaptation costs from severe precipitation in 50 U.S. cities.
That also includes $3.1 billion in avoided yearly damages and adaptation expenses from sea level rises and storm surges on the coasts and a maximum of $2.5 billion in avoided damages from inland flooding.
"Urban, suburban, and rural communities across the country are reducing their contributions to greenhouse gas emissions by investing in energy efficiency, committing to the use of clean energy resources, and reducing reliance on fossil-fueled energy sources—efforts that protect against climate change, and also support clean air and a vibrant clean energy economy," the mayors added.
But they noted the legal authority of cities and other municipalities extends only as far as their state governments and federal law permit.
As a result, they argued, their local efforts to address climate change are "highly sensitive" to national policies such as the Clean Power Plan, which influence markets, guide state action and have "large direct impacts" on nationwide emissions.
"We would benefit from the support and certainty that a federal framework for reducing the power sector's greenhouse gas emissions could provide," the mayors said. "The Clean Power Plan, by providing such a framework, would enhance ongoing local efforts and enable new local initiatives to improve public health, increase air quality and reduce greenhouse gas emissions through energy innovation."
Back in March, New York Attorney General Eric Schneiderman vowed sue the Trump administration if and when it finalizes the repeal.
New York City has recently taken some steps to combat climate change.
In early January, the mayor filed a lawsuit against the United States' five biggest fossil fuel companies—a step that inspired Paris to look into legal options it can also pursue against big oil companies. The city will also divest from fossil fuel companies over a five-year period.
And Gov. Andrew Cuomo announced a plan to divest the $200 million New York State Common Retirement Fund from fossil fuel investments and formulate a "de-carbonization plan."
De Blasio has said that the city is on track to meeting its goal of reducing greenhouse gas emissions by 80 percent by 2050 and maintained that the city would adhere to the Paris climate change accord.