"Just beautiful and not too much. It's always so elegantly done," sighed Lucia Hwong Gordon.
The socialite wasn't commenting on the work of the Upper East Side's most talented plastic surgeon, but instead on the décor at Cipriani 42nd Street, which was dressed up for the 33rd annual Winter Ball, hosted by the Directors Council of the Museum of the City of New York.
Over 440 guests were present for the Michael Kors and Vhernier sponsored evening, that raised over $850,000 for educational programs for children from East Harlem and the South Bronx. Two well-known socialites, one blonde and one brunette, were wardrobed in identical gold sequin flapper dresses from Kors—most recently seen on Nicole Kidman at the Cannes Film Festival—both facts that no one but Observer seemed to notice. But maybe, in this crowd, one just doesn't acknowledge these types of things.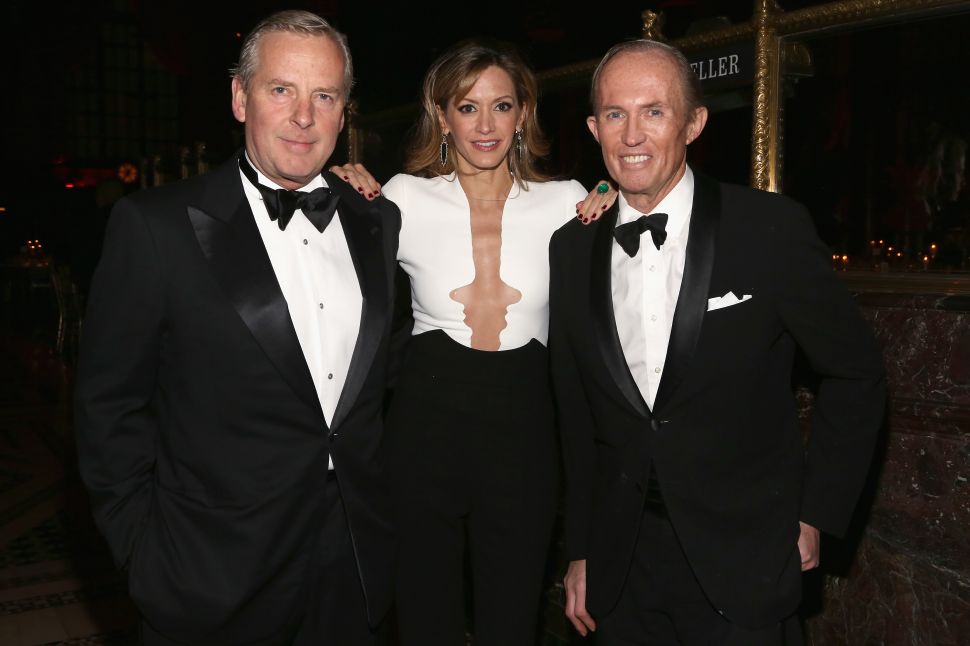 The Museum Party, as it is colloquially known, attracts the same loyal group of supporters year after year, thanks to the tireless efforts of society cheerleader Mark Gilbertson. "I'm a worrier, and I stress about this for months," Gilbertson admitted to Observer. "I'm always so happy when everyone shows up and has a great time."
Indeed, "I'm busy that night" is not acceptable when it comes to Gilbertson's beloved Museum Party. And why would you miss it? "The Winter Ball is a fabulous and festive party that truly captures New York's distinct and dazzling energy," Board Member Stephanie Hessler said. "It's one of the best parties of the year."
"What makes this party so great is you see the people you really want to see," one tuxedoed man observed. The highly sought-after crowd included Steve and Christine Schwartzman, Julia Koch, Alexandra Lind Rose, Kitty and Stephen Sherril, Baird and Alexia Ryan, Jill Roosevelt, Calvert and George Moore, Kate and Andrew Davis, Peter Rockefeller, Libby and Terry Fitzgerald, Dana and Larry Creel and Peter Marino.
The notoriously fun Kamie Lightburn joined Nicole Mancini and Kathy Prounis, all of whom were dressed in Michael Kors, on one side of the dance floor; Ulla Parker and Alex Roepers cut a rug across the way. The mere presence of Dimitri of Yugoslavia, Prakash and Anjali Melwani, Rachel and Ara Hovnanian added a touch of glamour to the bash
This year, Gilbertson welcomed Board Chair Jamie Dinan and the Museum's fresh-faced director, Whitney Donhauser, who presented silver Tiffany & Co. monogrammed picture frames to honorees Alex Roepers, Amory McAndrews and Sara Ayres. Charlie Ayres, the proud husband of Sarah, told Observer that his wife had a prepared speech praising and thanking Gilbertson for his efforts. However, Gilbertson was adamant that she wouldn't deliver the spiel.
"I don't want people to talk about me," Gilbertson exclaimed. "That's not what tonight is about."
So what was the night about? "Its glamour with a purpose," Donhauser carefully clarified. "It's a sophisticated crowd who enjoys a fun and lively evening that supports the Museum's ability to serve 50,00 school children and educate visitors from around the world about our impressive city."