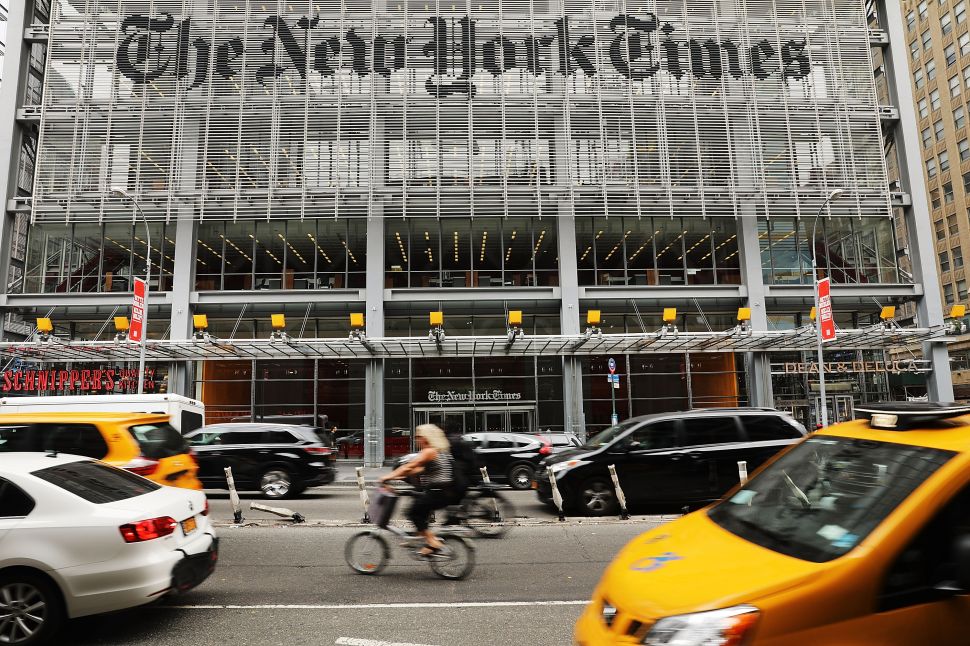 The Gray Lady is going to the movies.
The New York Times announced yesterday that it was partnering with the studio Anonymous Content on film and TV projects based on the paper's stories. The Times will split profits from article rights with the journalists who wrote the original stories.
"We are constantly experimenting with broadening the reach of Times journalism to new audiences," Times assistant managing editor Sam Dolnick told Observer in an email. "Anonymous Content has a shared sensibility that we believe will help us accelerate our move into film and television."
Los Angeles-based Anonymous has already found success with journalism-based drama: it bankrolled Best Picture winner Spotlight. The studio's other projects include films like The Revenant and TV shows such as Mr. Robot and The Alienist.
The Times is following the lead of other media companies that have found success in this space. Conde Nast has worked with Anonymous on television projects, like Vanity Fair Confidential, which were inspired by its print brands.
It's not clear how much profit the Times will get from these adaptations. But as print advertising sales continue to dry up, the deal gives the Times another much-needed source of income. The paper has also invested in podcasts and virtual reality in recent years.
Several films, including the docudrama True Story and the documentary Page One, have centered on Times journalists. But given that the Times publishes almost 2,000 stories a week and has 167 years' worth of stories in its archive, this partnership is a smart way to get more eyeballs on the paper's journalism itself.
The deal was ironically announced a week after the journalism-centric film The Post received an Oscar nomination for Best Picture.
Many Times journalists have complained (somewhat sarcastically) on social media that the film, which centers on the Washington Post's efforts to publish the Pentagon Papers, minimizes the role of the Times (which actually broke the story).
There's no word yet on which stories Anonymous will adapt with the Times. But one likely candidate is the paper's exhaustive coverage of Harvey Weinstein and other sexual abusers.
Several Times reporters are also writing books which could work well on the silver screen.
Amy Chozick's Chasing Clinton, which chronicles a decade covering Hilary and Bill, comes out in April. And White House correspondent Maggie Haberman is working on an untitled chronicle of the Trump White House—she's no longer collaborating with accused sexual harasser Glenn Thrush.