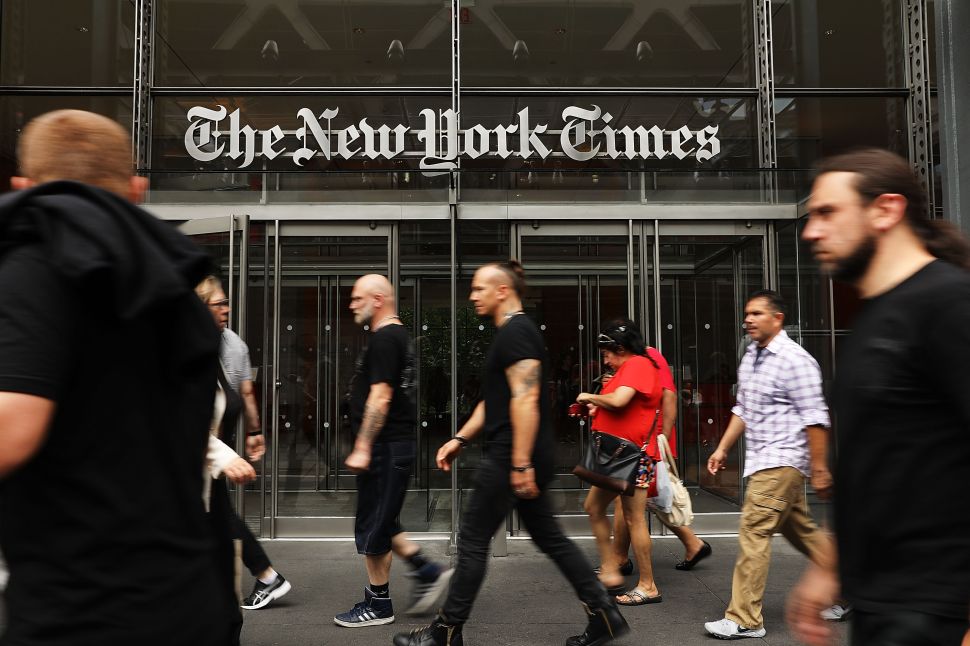 The "failing" New York Times? Not quite.
President Donald Trump's favorite media target released its fourth quarter and full year earnings this morning, which showed the Gray Lady is actually stronger than ever.
The company's overall subscription revenue (from both print and online readers) totaled more than $1 billion in 2017. That revenue also accounted for 60 percent of the company's $1.7 billion total annual profit.
The Times' quarterly performance was also strong—the paper made $484 million.
The company added 157,000 digital subscribers in the last three months of 2017, for a total of 2.6 million online subscriptions.
Digital subscription revenue increased 51 percent for the quarter, to $96 million, and 46 percent for the year, to $340 million.
"2017 was a year marked by growth and innovation both in our groundbreaking journalism and in our thriving business," Times president and CEO Mark Thompson said in a statement.
The Times also made strides in the digital ad space. Online ad revenue rose nine percent for the quarter ($84 million total) and 14 percent for the year ($238 million total).
In its 2015 strategy document "Our Path Forward," the Times vowed to make more than $800 million from digital revenue by 2020. This earnings report, which reflects more than $600 million in online profit last year, shows the company is well on its way to that goal.
As with every media company, the Times' biggest pain point was print advertising. Revenue in that space fell eight percent for the quarter ($98 million total) and 14 percent for the year ($320 million total).
Times stock was up 13 percent following the earnings release.
The Times went through some big changes last quarter, naming A.G. Sulzberger as its new publisher and cutting the number of free monthly online articles in half.
It also dealt with several controversies, most notably reporter Glenn Thrush's suspension over sexual misconduct allegations. The Times recently reinstated Thrush, which rubbed many observers the wrong way given how closely the paper tracked Harvey Weinstein's misdeeds.
This seeming hypocrisy hasn't yet affected the Times' bottom line. Only time will tell if that changes.