Quinn Norton's career at The New York Times lasted seven hours.
At 3:30 p.m. yesterday afternoon, the Gray Lady announced that Norton was joining the paper as an opinion writer focusing on the "power, culture and consequences of technology."
On paper, Norton was qualified for this position.
She's a tech journalist who's written for Wired, and she also dated Aaron Swartz, the hacker and internet folk hero who committed suicide in 2013.
But at 10:18 p.m. last night, the Times fired Norton—and the reasons why had everything to do with the consequences of technology.
Shortly after Norton's hiring was made public, Twitter users began surfacing old tweets in which she defended neo-Nazis and used words like "nigger" and "faggot."
Many users also balked at Norton's friendship with Andrew Auernheimer, a neo-Nazi who has said that Jewish children "deserve to die." Auernheimer now writes for the alt-right website The Daily Stormer.
Norton tweeted after she was let go that she only talks to Auernheimer about "the stupidity of racism."
It might seem strange for an august institution like the Times to even consider a writer with such sordid views. And in a blog post about her hiring, Norton wrote that she had told the Times her past was "weird."
"They made it clear they weren't going to get put off by a little weird," she said.
No, but they were put off by thousands of angry tweets.
"Despite our review of Quinn Norton's work and our conversations with her previous employers, this was new information to us," Times editorial page editor James Bennet said in a statement. "Based on it, we've decided to go our separate ways."
The question remains, however: Why was this new information to the Times?
Even with the many recent buyouts in its newsroom, the Gray Lady still has one of the most expansive copy editing and fact checking operations in journalism.
Given the state of modern media, it would've made good business sense for just one Times staffer to comb through Norton's Twitter account for objectionable content. They certainly would've found quite a bit (and avoided plenty of bad publicity).
But instead, the Twitter hive mind took over and did the Times' job for them. Citizen journalists showed the Gray Lady the error of its ways.
Armchair critics on Twitter often reach the wrong conclusions, but this time they were spot-on. And because of that, the Times ended up with even more egg on its face.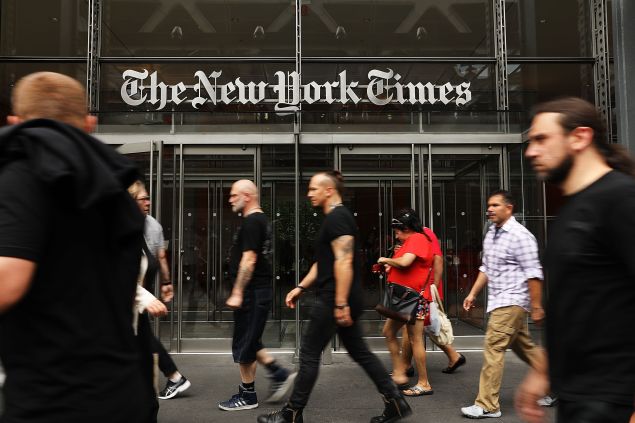 This was actually the Times' second social media controversy this week.
After figure skater Mirai Nagasu landed a triple axel in the Winter Olympics, Times opinion page editor Bari Weiss tweeted, "Immigrants: we get the job done"—a line from the Broadway musical Hamilton.
The only problem is, Nagasu was born in California. Many critics thought Weiss was implying that anyone who's not white has to be an immigrant.
Weiss deleted the initial tweet but still bristled at being called a "racist ghoul." The Times has not taken any action against her.
The Norton and Weiss controversies call to mind the story of Justine Sacco, a public relations executive who was fired by IAC in 2014 (she has since returned to the company).
En route to South Africa for the holidays in 2013, Sacco tweeted, "Going to Africa. Hope I don't get AIDS. Just kidding. I'm white!"
During her 11-hour flight, the tweet became a worldwide trend and inspired the hashtag #HasJustineLandedYet.
Ironically, just like Sacco, Norton was indisposed for a while after her announcement. In Norton's case, she was seeing a movie.
We're guessing it wasn't The Post.