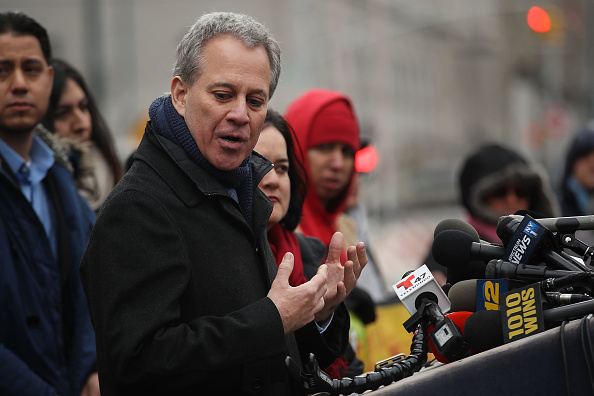 A Brooklyn federal judge granted New York Attorney General Eric Schneiderman's motion for a preliminary injunction to block President Donald Trump's rescission of a program that protects Dreamers—the second time a federal judge has blocked Trump's repeal of the program.
In September 2017, after Trump ended the Deferred Action for Childhood Arrivals (DACA) program for undocumented individuals brought to the United States in their early childhood, Schneiderman and 15 other attorneys general throughout the country filed a lawsuit over what they alleged was the "discriminatory animus" of his decision to end DACA.
They argued that he flouted the equal protection clause of the U.S. Constitution by discriminating against DACA beneficiaries of Mexican origin, who constitute 78 percent of DACA recipients.
At the end of January, the judge, Nicholas Garaufis, said he would consider Trump's "incendiary" comments about the Latino community when making a decision.
Last month, San Francisco-based U.S. District Judge William Alsup ordered the Trump administration to start accepting renewal applications for DACA again.
"Today's federal court ruling is a victory for the over 42,000 New York Dreamers and more than 700,000 Dreamers across the country," Schneiderman said in a statement. "There is much more work ahead to permanently preserve DACA and protect the millions of American families, businesses, hospitals and universities that depend on Dreamers every day to succeed, but today is an important step forward in that fight."
The attorney general said the ruling not only reflects the unconstitutionality of Trump's move to end DACA but the "clear and demonstrable benefits" DACA provides to New Yorkers.
The Mayor's Office of Immigrant Affairs projects that more than 470,000 New York City residents could benefit directly or indirectly from the bipartisan DREAM Act if Congress passes it.
Schneiderman leads a coalition of 17 state attorneys general who have been fighting to protect Dreamers since September.
"We are pleased the court ordered the Department of Homeland Security to restore DACA under the same conditions set forth by a federal court in California," he continued. "We are also pleased that the court made clear that United States Attorney General [Jeff] Sessions was wrong when he claimed DACA was illegal and that the DOJ was wrong to claim that any court has deemed DACA unconstitutional."